Investors nervous ahead of Cabinet reshuffle
Jakarta |

Mon, April 25, 2016

| 08:33 am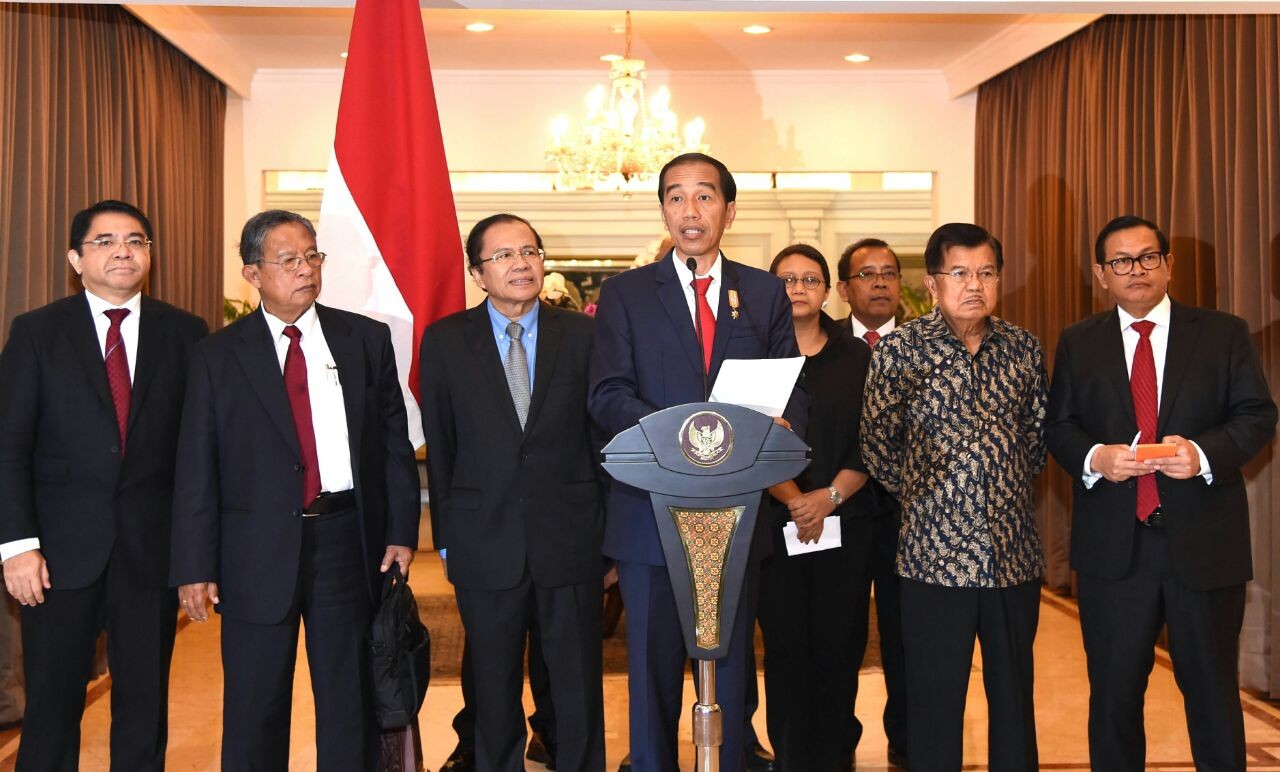 Flanked by Cabinet members, President Joko "Jokowi" Widodo (center) holds a press conference on Saturday at Halim Perdanakusuma Airport, after returning from a five-day EU visit. The President spoke to journalists about achievements from the tour. (State Secretariat/Rusman)
Jakarta is again abuzz with rumors of an imminent Cabinet reshuffle, and investors and political observers are busily trying to extract meaning from the smallest of details.

In an environment where shifting priorities and contradicting policies often make it difficult to determine the broader policy direction, Cabinet reshuffles can be moments of clarity. Who sits where when the music stops provides important clues to investors about future policy direction.

The over-arching question on investors' minds is whether President Joko "Jokowi" Widodo's upcoming reshuffle will energize and embolden his nascent economic reform drive or rather signal that reform fatigue has set in.

More particularly, eyes are keenly focused on the fate of the handful of ministers seen as the strongest proponents of economic reform. For a country still on fragile economic ground, the stakes are high.

Jokowi's last reshuffle took place in August 2015, and marked the start of the most ambitious economic reform program seen in Indonesia since the late 1980s and early 1990. Nine months in and 11 deregulation and economic stimulus packages later, the President has started delivering on a long overdue reform agenda aimed at removing or reducing the voluminous regulatory and licensing barriers to doing business in Indonesia.

For much of the decade preceding Jokowi's assumption of power in October 2014, an economic growth model overly reliant on rising commodity prices and a middle-class consumption boom undermined policymakers' commitment to the hard reforms needed to keep the industrial and manufacturing sectors competitive.

Economic ministries steadily lost ground to line ministries focused on protecting local interests.

A raft of "economic nationalist" policies reduced import competition raised barriers to foreign workers, and created policy instability and investor confusion. The impact that these policies had on the underlying health of Indonesia's economy became plainly and painfully clear once global commodity prices dropped and China's growth began to slow.

Ten months into his term, Jokowi, according to his close advisors, concluded that his ambitions of ramping up GDP growth rates and addressing the country's massive infrastructure deficit weren't likely to amount to much without a frontal assault on the competition-thwarting regulatory quagmire Indonesia had sunk into in recent years.

Over the past few months, Jokowi and his reformist ministers have shifted the country's economic rhetoric to emphasize the critical need to enhance Indonesian productivity and competitiveness. They have resuscitated dormant talks on regional trade agreements abroad, and adopted a softer-touch, more market-realistic approach to regulation at home.

The President has also made encouraging strides in bringing transparency and good governance to Indonesia's extractives sector, which for decades has been firmly in the grip of vested interests.

Since coming into office, one of Jokowi's main priorities has been delivering on his campaign promise to disrupt the "oil and gas mafia", courageously flushing into open the corrupt practices that have historically plagued the sector.

Similarly, his focus on strengthening Indonesia's maritime sovereignty has led to some much needed "shock therapy" being applied to the deeply entrenched and costly problem of illegal fishing.

While the president's deregulation drive has been enthusiastically received by the investor community, it is only nine months old and the momentum behind it is far from unstoppable. Unsurprisingly, the president's reforms have attracted resistance from established political and business interests, many of which have benefitted handsomely from Indonesia's recent bout of protectionism.

Members of the old-guard have started to turn up the pressure on the President, calling for him to remove the more reformist-minded ministers and appoint more political party figures to the Cabinet. To heed these calls would risk jeopardizing investor confidence in Jokowi's commitment to bureaucratic reform and anticorruption — two principles at the heart of his campaign platform — and potentially slow Indonesia's economic recovery.

The deregulation packages released so far by the new administration are only a drop in the proverbial ocean of problematic regulations. The President himself has identified 42,000 regulations at the central government level and 3,000 more at the regional government level that need to be adjusted or eliminated, and has said continuing the deregulation drive will remain a top priority for the remainder of his term.

Beyond regulatory reform, much more needs to be done to put Indonesia on a sustainable, high-growth trajectory. Reforming a wayward judiciary, bringing more transparency and efficiency to lumbering, loss-making state-owned enterprises, and comprehensively modernizing the land-licensing system are just three examples.

To effectively address these are other pressing challenges, Jokowi will need more reformers in his Cabinet, not less.
***
The writer is CEO of Asia Group Advisors, a Singapore-based strategy and communications advisory firm, and author of A Nation in Waiting: Indonesia's Search for Stability.
---------------
We are looking for information, opinions, and in-depth analysis from experts or scholars in a variety of fields. We choose articles based on facts or opinions about general news, as well as quality analysis and commentary about Indonesia or international events. Send your piece to [email protected].
Disclaimer: The opinions expressed in this article are those of the author and do not reflect the official stance of The Jakarta Post.
Topics :
You might also like :
Comments