Q&A: Jokowi's visit to Europe - What is the good news?
Devina Heriyanto

The Jakarta Post
Jakarta |

Mon, May 2, 2016

| 08:36 am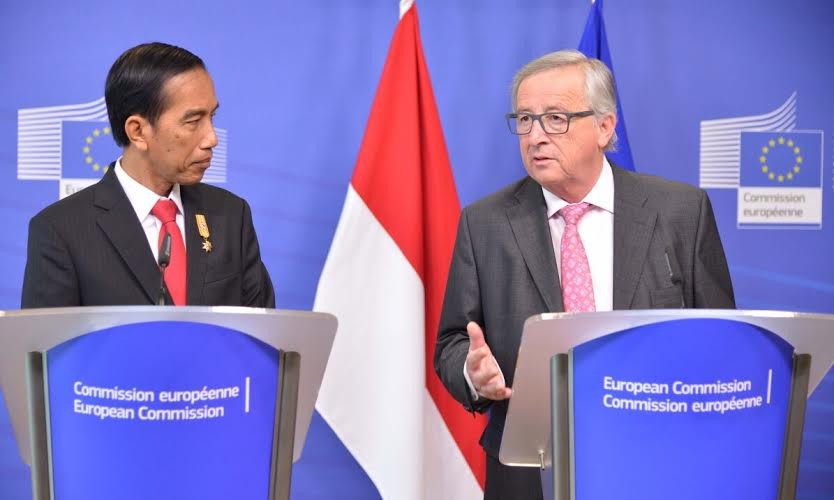 President Joko "Jokowi" WIdodo and President of the European Commission Jean-Claude Juncker during a joint press conference in the European Commission office in Brussel, Belgium on Thursday local time. ( Courtesy of Presidential Press Bureau / Laily)
President Joko "Jokowi" Widodo visited Europe on a five-day trip last week. Jokowi was set to visit four countries, namely Germany, England, Belgium and the Netherlands. The presidential communications team said the trip would mark the first time Jokowi had met with three EU presidents – the presidents of the European Parliament, the European Council and the European Commission.
Why EU?
Simply, the EU is one of Indonesia's top trading partners. The trade value between Indonesia and the EU was US$26.14 billion in 2015, making it the country's fourth-largest trading partner. Meanwhile, the EU is Indonesia's third largest investor, injecting $2.26 billion in investment in 2015.
President Joko Widodo's visit to Europe shows the government's concern over declining EU trade with Indonesia. According to data from the Central Statistics Agency (BPS), Indonesia's exports to Europe have decreased by 5.6 percent annually over the last five years. In 2015, the overall trade fell by 11.74 percent while the balance of trade dropped 12.9 percent.
Institute for Development of Economics and Finance (INDEF) director Enny Sri Hartati blamed Indonesian trade attachés for not actively seeking and delivering trade information to help Indonesian traders improve their export performance.
In 2015, total Indonesian trade with EU members amounted to $26.1 billion with a trade surplus of $3.5 billion. Germany is Indonesia's biggest trade partner in the EU, trade with Germany amounting to $6.1 billion, followed by the Netherlands that shares $4.2 billion in trade with Indonesia.
What was the focus of German visit?
Foreign Minister Retno LP Marsudi said cooperation in the education sector was the main focus of President Joko "Jokowi" Widodo's working visit to Germany.
Fauzi Bowo, Indonesian ambassador to Germany, attributed Germany's low level of youth unemployment to professional skills gained through vocational education. Retno said enhancing cooperation in the education sector was particularly important for Indonesia, as it was now facing tighter competition following the implementation of the ASEAN Economic Community (AEC) at the start of the year.
The issue of the death penalty arose during a meeting with German President Joachim Gauck at the president's office in Berlin. The President asked Germany to understand that Indonesia's stance on capital punishment was related to the emergency status of drug abuse in the country. Indonesia has faced criticism from the international community for continuing to allow capital punishment for drug-related crimes.
During the meeting, Jokowi and Gauck also discussed peace and security in both countries. Jokowi claimed that Indonesia was an example of how Islam, democracy and tolerance could go hand in hand. He said that despite being the most populous Muslim majority country in the world, Indonesia had managed to develop democracy and tolerance.
Investment was also high on the agenda for the German visit. At an Indonesian-German business forum in Berlin on Monday, Jokowi tried to convince business actors to invest in Indonesia. He boasted that Indonesia had grown at 5.03 percent pace in the last quarter of 2015 despite the global economic slump.
German investment in Indonesia is small compared to that of the UK or the Netherlands. According to the Investment Coordinating Board (BKPM), German investment amounted to only $552 million between 2010 and 2015, across 547 projects, or less than 1 percent of German investment worldwide.
Counterterrorism was also discussed by Jokowi and German Chancellor Angela Merkel.
Results:
What about UK?
Indonesia and the UK signed agreements to tighten cooperation in five fields: the creative economy, sports, fisheries and maritime affairs, education and an agreement between Garuda Indonesia, Airbus and Rolls Royce.
The MoU between Garuda Indonesia, Airbus and Rolls Royce aims to develop the capacity of the Garuda Maintenance Facility (GMF). The MoU included a $1.2 billion procurement of several new aircraft engines from the UK's Rolls-Royce and the training of Indonesian engineers.
The Indonesian Chamber of Commerce and Industry (Kadin) aims to ink 11 business agreements with UK companies totaling Rp 10 billion ($759,446), in the fields of energy, telecommunications, consumer products, agribusiness and industry.
In front of the UK Parliament, Jokowi discussed Islam and democracy going hand in hand in Indonesia. Almost 3 million UK citizens are Muslim according to the Pew Research Center.
Jokowi visited an exhibition showcasing five Indonesian designers, showing his support for the creative industry.
During the presidential trip to London, a statement from a daughter of former PKI member shocked trip organizers. Soe Tjen Marching spoke out about her disappointment regarding Coordinating Political, Legal and Security Affairs Minister Luhut Pandjaitan's refusal to apologize to 1965 victims. In the same week as Jokowi's visit, a two-day symposium on the 1965 tragedy was held in Jakarta.
Results:
The third visit was Belgium. What interests does Indonesia have in Belgium?
Belgium is important because its capital Brussels is also the capital of the EU. Indonesia is trying to revive talks about an Indonesia-EU comprehensive economic partnership agreement (CEPA).
Before Jokowi's departure, Trade Minister Thomas Lembong stated that the initial phase of a CEPA with the EU would be discussed. The focus was to be the scope of the agreement, hence the term "scoping paper". The government addressed 14 issues in its scoping paper, including as goods trade, customs and trade facilitation, technical regulations, trade in services and investment, public procurement and intellectual property rights.
Kadin has prepared several recommendations for the negotiation, including the elimination of an EU ban on Indonesian airlines. Currently only Garuda offers direct flights to the EU. Foreign Minister Retno Marsudi has pointed out that Indonesia received almost 1 million visitors from the region last year.
Talks of a CEPA were initiated in 2010 by the Indonesia-EU Joint Vision Group, but have stalled. Jokowi has requested that the Trade Ministry finish the talks within two years.
A study on the CEPA was completed last year by Indonesian think tank CSIS. According to the study, a successful, comprehensive CEPA will lead to an increase in Indonesia's exports by up to $1.1 billion, a continued trade surplus with the EU and more investment from the EU. On the other hand, without a comprehensive CEPA, Indonesia's exports to the EU could drop by 20 percent, or $4 billion, CSIS found.
In addition to a CEPA, Indonesia and the EU also discussed forest-law enforcement, governance and trade (FLEGT). Improved FLEGT will help Indonesia obtain a license to export timber to Europe. Previously Indonesia has had difficulty exporting timber to the EU due to illegal logging.
Results:
Lastly, what news do we have from the Netherlands?
The presidential visit to the Netherlands marks the first visit by an Indonesian leader to the country in 16 years, according to Foreign Minister Retno Marsudi. This was the third visit by an Indonesian president, after Soeharto in 1970 and Abdurrahman Wahid in 2000. In 2010, Susilo Bambang Yudhoyono called off a planned visit after the Republic of South Moluccas (RMS) separatist group, based in the Western European country, called for Yudhoyono's arrest for human-rights abuses.
Jokowi invited the Netherlands to invest in Indonesian infrastructure projects, particularly those that support Jokowi's maritime sector development program. Two projects highlighted were the Sorong deep seaport and the Makassar deep seaport.
The Netherlands is one of Indonesia's principal partners in trade and investment in Europe. However, the value of bilateral trade has shown a decline recently. In 2014, the trade value was $4.89 billion, while in 2015 it was only $4.22 billion. Investment from the Netherlands in Indonesia also declined from $1.73 billion in 2014 to $1.31 billion in 2015.
Jokowi said the Dutch prime minister would visit Indonesia in November with a business delegation.
Results:
---------------
We are looking for information, opinions, and in-depth analysis from experts or scholars in a variety of fields. We choose articles based on facts or opinions about general news, as well as quality analysis and commentary about Indonesia or international events. Send your piece to [email protected].
Topics :
You might also like :
Comments