Widows, the invisible vulnerable group
Maya Dania

Research fellow at the Asia Research Institute, National University of Singapore
Singapore |

Fri, June 24, 2016

| 08:15 am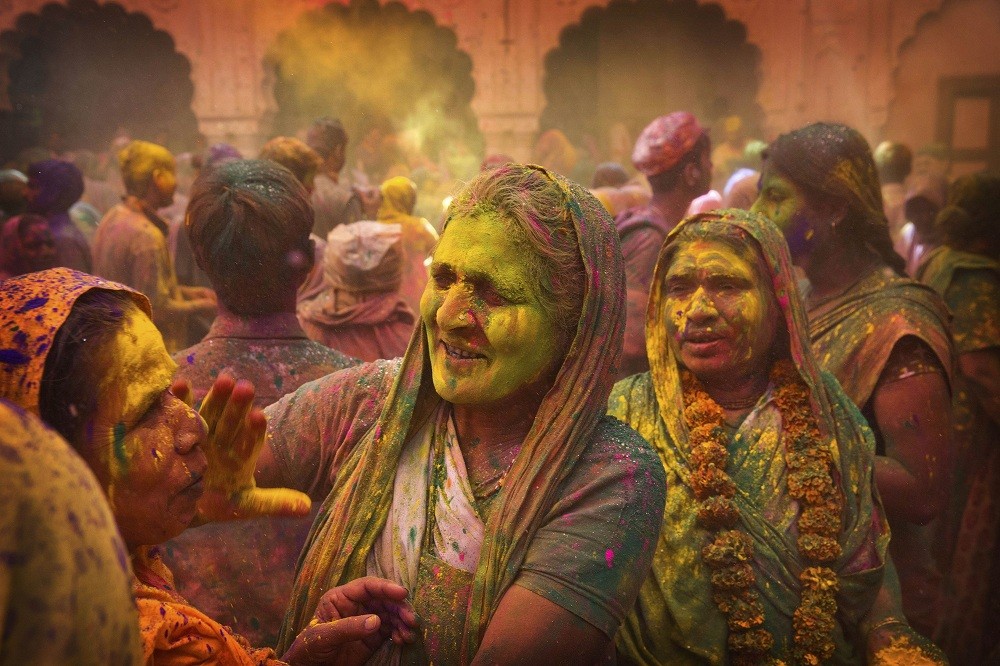 Hindu widows apply colour powder to each other during Holi celebrations at the Gopinath temple, 180 kilometres (112 miles) south-east of New Delhi, India, Monday, March 21, 2016. A few years ago this joyful celebration was forbidden for Hindu widows. Like hundreds of thousands of observant Hindu women they would have been expected to live out their days in quiet worship, dressed only in white, their very presence being considered inauspicious for all religious festivities. (AP/Manish Swarup )
Popular culture in Indonesia exposes widows to stigmatization; they are labeled sexually lascivious and given other unsavory traits, like the image of the West's femme fatal. While widows are commonly portrayed as objects of men's sexual desire, being a widow is actually economically depriving.

The UN declared June 23 as International Widows' Day to address the poverty and injustice faced by millions of widows and their dependents in many countries. Widows are among the world's most disadvantaged groups and are prone to poverty and marginalization. According to the Global Widows Report of 2015, there are 258 million widows and 590 million children of widows globally. In developing countries, 15 percent of all widows live in extreme poverty and widows with daughters and no sons to inherit their husbands' property experience even more serious conditions.

In several cultures, widows are subject to patriarchal customs, confront discrimination inheritance rights and suffer abuse in the context of property disputes, as the UN has noted.

For example, in India, the sati ritual used to be common among widows, whereby the wife would throw herself onto the funeral pyre of her husband. While the practice is no longer popular, thousands of Indian widows who have lost their income and are ostracized in their home villages move to the Hindu temple town of Vrindavan, known as the city of widows. When men die, their wives are often left without a permanent place to live or any useful property.

Undeniably, Asia is home to the largest number of widows. Following China and India, Indonesia is in the top five countries with the highest number of widows in the world, according to the Loomba Foundation. According to its 2015 report, in 2010 there were almost 10 million widows in Indonesia, covering almost 10 percent of the country's female population and the highest in ASEAN.

In Indonesia, a much higher proportion of widows are reported to be older women. The 2010 national census reported that 61 percent of widows were older females living alone, mostly in rural settings, as they often outlived their older husbands. Furthermore, widows are less likely to remarry than widowers. The smaller number of older men and the reluctance of younger men to marry older women diminishes the odds of widows remarrying.

There is also a segment of young widows as the result of early marriages, usually with small children. A lack of education and inadequate income continue to be an imminent driver of "survival sex" to escape poverty. When widows can only choose sex work to make an income, this may contribute to the spread of HIV/AIDS, as the UN noted in 2004.

Also, another survival strategy of widows to improve their lives is to withdraw their children from school and depend on child labor, or even to sell or give away young daughters for child marriages, according to the 2015 report of the Women's UN Report Network.

Our patriarchal culture expects women to be the passive actors in marriage, where men are the breadwinners. Living in reliance, the loss of a husband often pushes women into poverty. The loss of an adult male disrupts already deprived families.

Indonesian widows are evidently highly vulnerable to extreme poverty, social exclusion, the threat of HIV/AIDS transmission and insecure property rights. Furthermore, many widows still suffer stigma and often experience marginalization and deprivation of their rights to shelter, inheritance, child protection, food security and justice. However, widowhood is still invisible and remains under the radar in society and among policymakers.

The post-2015 sustainable development agenda promises to leave nobody behind — but widows are constantly left behind. Widowhood was not addressed in the former Millennium Development Goals, and it is also not among the 17 Sustainable Development Goals.

Correspondingly, in the ASEAN Community's post-2015 vision, widowhood is not a common concern in its "people-centered" approach. In Indonesia, widowhood is neglected by social care policies and widows are excluded by key players and crucial agents in sustainable development.

Widowhood is a root cause of poverty. Therefore, it is vital that Indonesia accommodates actions to reduce the poverty of widows and to empower them.
***
The writer graduated in Southeast Asian studies from Chulalongkorn University, Bangkok, and is a research fellow at the Asia Research Institute, National University of Singapore.
---------------
We are looking for information, opinions, and in-depth analysis from experts or scholars in a variety of fields. We choose articles based on facts or opinions about general news, as well as quality analysis and commentary about Indonesia or international events. Send your piece to [email protected]
Disclaimer: The opinions expressed in this article are those of the author and do not reflect the official stance of The Jakarta Post.
You might also like :
Comments