Indonesian peacekeepers: Making home proud
Jakarta |

Fri, July 8, 2016

| 11:10 am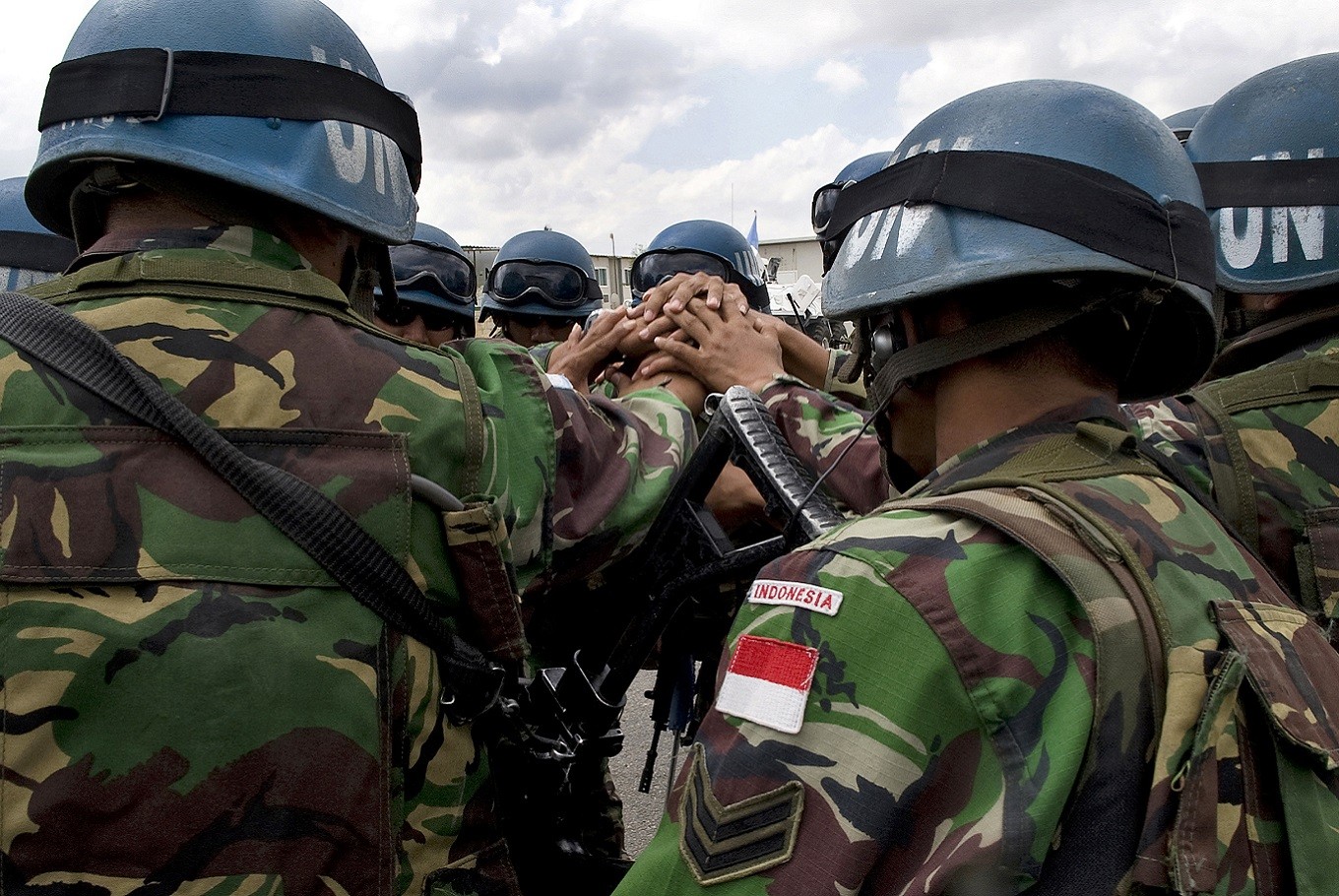 Indonesian peacekeepers with the United Nations Interim Force in Lebanon (UNIFIL) prepare to leave their base for a patrol near Al-Taybe, South Lebanon, 28 August 2009. In 2006, UNIFIL expanded its deployment to Southern Lebanon, a high-tension area near the Lebanon-Israel border (also known as the Blue Line), when the two countries resumed hostilities. (UN Photo/Pasqual Gorriz)
War is tearing lives apart. It's destroying homes and schools, killing children and devastating entire countries.

The need for professional and well-equipped peacekeeping forces and personnel is greater than ever before.

Conflict has resulted in the highest number of displaced people since World War II, with 65 million people risking their lives, searching for places safer than home.

War has destructive immediate and long-term consequences on the progress of nations, like Syria. Nine out of 10 countries with the lowest human development indicators have experienced conflict in the past 20 years.

However, with its up-scaled peace keeping efforts, Indonesia is significantly contributing to promoting immediate stability and long-term growth in the world.

The Indonesian government envisions contributing 4,000 peacekeeping personnel by 2019 — an increase from the current 2,857 currently serving in UN peacekeeping missions. If this vision is achieved, Indonesia could become one of the world's top ten contributors to UN peacekeeping. The UN strongly supports Indonesia's peacekeeping goals.

Since the first deployment of Indonesian peacekeepers in 1957, 34,371 Indonesian soldiers have served around the globe, risking their own lives to save others — to date 34 Indonesian soldiers have lost their lives in the service of peace and humanity.

The complex and multidimensional nature of modern conflicts requires highly trained soldiers and police. On the ground, Indonesian peacekeepers face some of the most difficult situations in the world.

So pre-deployment training is paramount in providing relevant skills and education around International Humanitarian Law, rights of refugees, HIV prevention, gender-based violence, international crime organizations, and drugs and arms trafficking.

The UN is partnering with the Government to equip Indonesia's peacekeeping forces with pre-deployment trainings at the Indonesia National Defense Forces Peacekeeping Center in Sentul.

"Peacekeeping is not a job for soldiers, but only soldiers can do it". Secretary-General Dag Hammarskjöld said this when he led the UN during Indonesia's first peacekeeping mission to Sinai, Egypt in 1957.

The Government of Indonesia's vision for UN peacekeeping forces will save lives. They'll save even more if the brave soldiers and police stepping up to serve are prepared and armed with knowledge — in a world ravaged by war, this is Indonesia's gift of peace.
***
The writer is the UN resident coordinator in Indonesia.
---------------
We are looking for information, opinions, and in-depth analysis from experts or scholars in a variety of fields. We choose articles based on facts or opinions about general news, as well as quality analysis and commentary about Indonesia or international events. Send your piece to [email protected]
Disclaimer: The opinions expressed in this article are those of the author and do not reflect the official stance of The Jakarta Post.
Topics :
You might also like :
Comments