An unseen threat to 'kretek', symbol of culture and history
Intan Soeparna

Senior lecturer in international law at the School of Law at Airlangga University
Jakarta |

Mon, August 1, 2016

| 11:17 am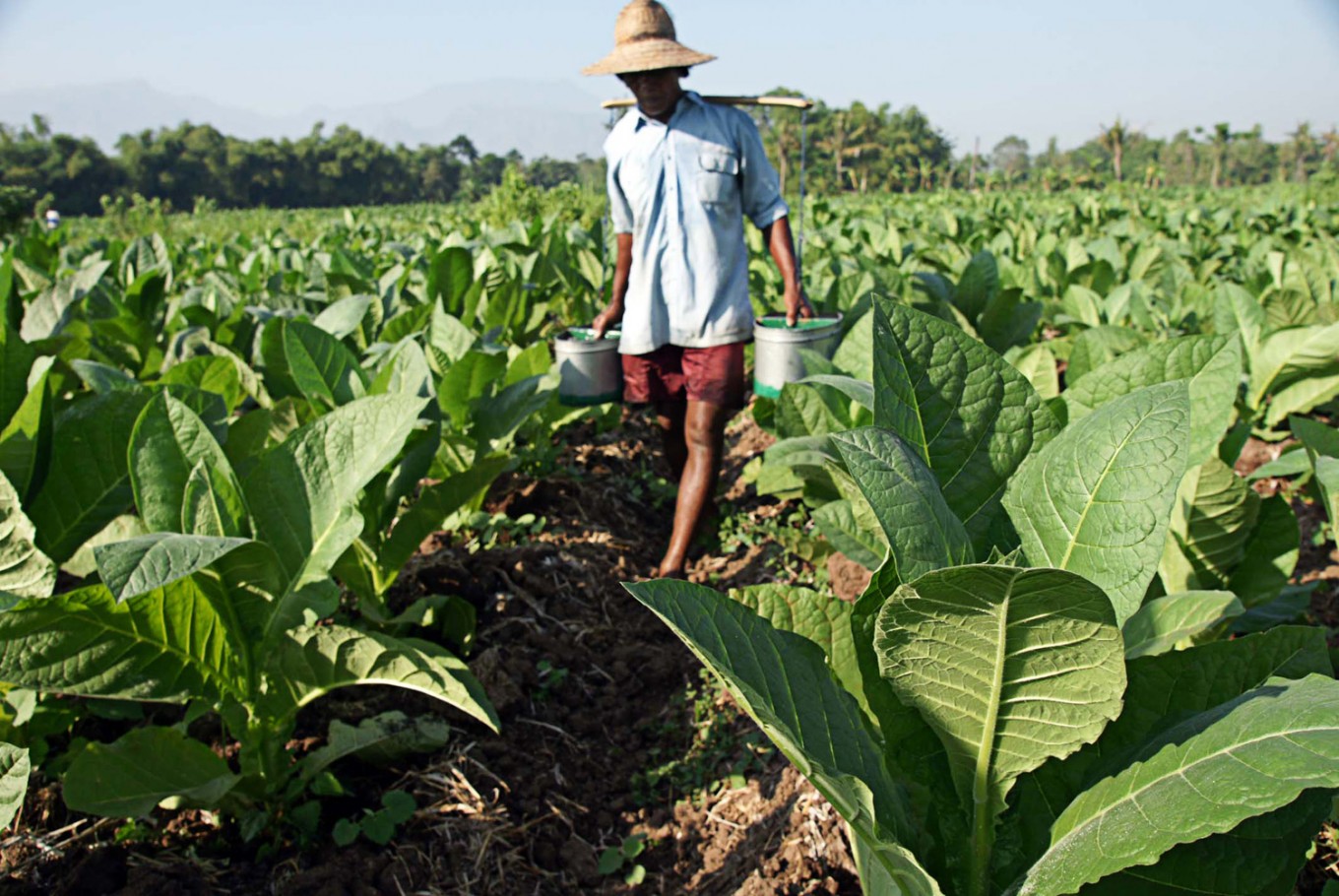 Precious commodity – A farmer waters tobacco plants on his farm in East Java. Civil society groups are pushing the government to ratify the Framework Convention on Tobacco Control (FCTC).( (thejakartapost.com/Wahyoe Boediwardhana)
President Joko "Jokowi" Widodo has stated that the government will take into account the fate and livelihood of tobacco farmers and workers before deciding on signing the Framework Convention on Tobacco Control (FCTC). He is mindful of the national interest and export priorities, as well as the serious trade obligations and policy implications of joining the global treaty.

In 2010, Indonesia filed a World Trade Organization complaint against the US, which wanted to ban kretek (clove cigarettes).

In 2012, the WTO ruled in favor of Indonesia, stating that a ban on kretek would be discriminatory. However, some countries are still considering similar bans on the use and import of kretek from Indonesia. Singapore, in a public consultation earlier this year, suggested banning all flavored cigarettes including traditional flavors such as kretek and menthol. This could mean the end of kretek.

Kretek can be traced back to the 19th century when Haji Jamhari, a native of Kudus in Central Java, sought relief from asthma and chest pain by adding cloves to his hand-rolled cigarettes. Since then, kretek have become a cultural symbol that deserve to be safeguarded. The UNESCO Convention for the Safeguarding of Intangible Cultural Heritage defines intangible cultural heritage as "knowledge and skill which is transmitted from generation to generation. It is constantly recreated by communities and groups".

The practice of hand-rolling kretek, though modernized with machine-rolling today, still persists today as a skill passed down from generation to generation. It can be found in small cities around Java in small-scale industries, as well as factories that employ thousands of workers. The knowledge of local tobacco farming also forms part of this cultural heritage.

For example, the Srintil tobacco brand, recognized by connoisseurs in Bremen, Germany, as the best tobacco, only exists in Temanggung in Central Java. Local tobacco farmers in Temanggung have been cultivating Srintil for centuries.

Indonesia produces over 175,000 tons of cloves, according to this year's Ernst & Young's tobacco study, and most of the output is used for the manufacture of kretek. The report estimates that the livelihoods of 1.7 million people depend on tobacco and clove farming. Being labor intensive, 600 businesses are estimated to operate in the sector, which employs 6 million people, comprising 4.28 million workers in the manufacturing and distribution of tobacco, and 1.7 million farmers.

Singapore is the first Asian country to consider banning flavored cigarettes, in a bid to reduce youth smoking. The big question is, why do countries such as Singapore not consider other measures that would not harm its trade with Indonesia? Any state has the right to regulate tobacco as it wishes. However, prohibition should not be assumed to be an effective approach to public health protection.

In fact, there is no evidence that banning traditional flavors would reduce smoking rates or that flavored cigarettes impede a government's effort to reduce youth smoking.

In Singapore itself, smoking rates are at their lowest levels even though the kretek market share remains stable at 3 to 4 percent, while menthol cigarettes make up for almost 50 percent of its cigarette market.

Moreover, the ban on flavored cigarettes could send a misleading message that non-flavored cigarettes are a safer alternative. In short, a ban on traditional flavors could be detrimental to Indonesia's culture and economy without having any positive impact on the rate of smoking in Singapore.

Efforts to reduce smoking are important. However, it needs to be questioned whether outright prohibition would be implemented from the perspective of market access regulation under the WTO, as seen in the Indonesia vs. US case. The question here is whether countries such as Singapore should violate their international trade obligations by banning kretek for tobacco control when they could employ other measures such as tax, price measures or education to reduce tobacco consumption.

Researchers such as Frank J. Chalopka in his studies back in 2000 proved that tax measures could reduce tobacco use by individuals, and particularly initiation of smoking among young people. Such measures are effective and do not threaten Indonesia's culture unnecessarily.

Finally, at the last US-ASEAN leaders' summit, President Jokowi stated common ASEAN goals such as: "Mutual recognition of the importance of pursuing policies that lead to dynamic, open and competitive economies that foster economic growth, job creation, innovation, entrepreneurship and connectivity, and that support SMEs [small and medium enterprises] and narrow the development gap."

A ban on flavored cigarettes, as suggested by Singapore, seems to contravene all of the above US-ASEAN summit points altogether; worse, Singapore is a regional regulatory benchmark, meaning such a ban could end up being copied by other countries.
***
The writer is a senior lecturer in international law at the School of Law at Airlangga University, Surabaya.
---------------
We are looking for information, opinions, and in-depth analysis from experts or scholars in a variety of fields. We choose articles based on facts or opinions about general news, as well as quality analysis and commentary about Indonesia or international events. Send your piece to [email protected].
Disclaimer: The opinions expressed in this article are those of the author and do not reflect the official stance of The Jakarta Post.
You might also like :
Comments