Q&A: Ahok's declining approval rating: Is strongest contender starting to lose his grip?
Devina Heriyanto

The Jakarta Post
Jakarta |

Fri, October 7, 2016

| 07:18 pm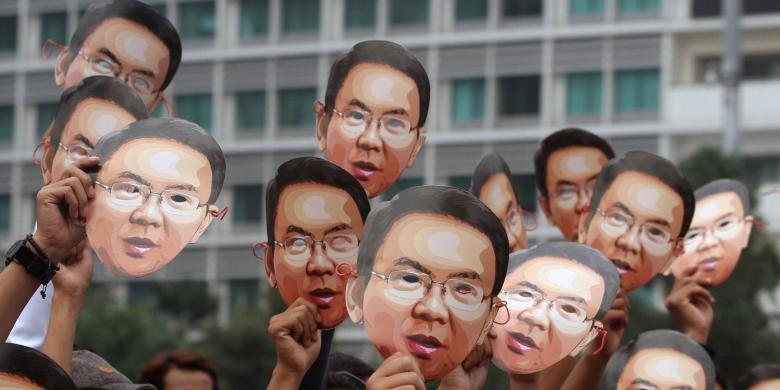 Members of Teman Ahok or Friends of Ahok gathered supports for Jakarta Governor Basuki "Ahok" Tjahaja Purnama by spreading petitions in Hotel Indonesia Traffic Circle in this file photo taken on March 1, 2015. (Tribunnews.com/Dany Permana)
A series of surveys on the Jakarta gubernatorial election has shown a worrying trend for incumbent Jakarta Governor Basuki "Ahok" Tjahaja Purnama.
Despite controversy and criticism regarding his demeanor and his insistence on his eviction policy, Ahok enjoyed overwhelming support until earlier this year based on a March poll by the Indonesian Survey Institute (LSI).
However, his approval rating has now declined because of the rise of two rivals in the upcoming election: former education and culture minister Anies Baswedan and the eldest son of former president Susilo Bambang Yudhoyono, Agus Harimurti Yudhoyono.
A steady drop in approval was shown in a series of surveys by the LSI. In March, Ahok's rating was at 59.3 percent. It then dropped to 49.1 percent in July, before going down further to 31.4 percent in October. Another pollster, PolMark Research Center (PRC), found that Ahok's approval rating dropped 10.8 percentage points from July to October with 31.9 percent.
Interestingly, the PRC survey in July found that 28.7 percent of voters felt confident they would not change their support for Ahok. In October, the number dropped to 23.2 percent — showing that some of those who considered themselves loyal withdrew support when faced with other options.
LSI senior researcher Adjie Alfaraby considered Ahok's position to be insecure.
"Based on our experience, an incumbent's position is secure if the difference is above 20 [percentage points]," he said.
Ahok's high rating earlier this year can be attributed to the absence of other serious contenders. In a survey conducted by Charta Politica in March, Ahok's approval rating was 44.5 percent, far exceeding then hopeful contender, former law and human rights minister Yusril Ihza Mahendra, whose approval rating stood at 7.8 percent.
Another survey in February by the Public Opinion and Policy Research Center (Populi Center) found that while Ahok was favored by 49.5 percent of people, a big portion (34.5 percent) was still undecided.
The nomination of Anies and Agus was made at the last minute before registration closed. Now that there are other options, voters have begun to look in other directions. The Anies Baswedan-Sandiaga Uno ticket has scored 21.1 percent of voter support, followed closely by the Agus Harimurti Yudhoyono-Sylviana Murni duo with 19.3 percent according to the LSI in October.
The numbers are similar to poll results by the Populi Center, in which Anies-Sandiaga and Agus-Sylviana were favored by 23.5 percent and 15.8 percent of the city's population, respectively. The PRC's result was similar, with Anies-Sandiaga at 23.2 percent and Agus-Sylviana at 16.7 percent.
The nomination of Anies helped Sandiaga tremendously, as although he had to hand over the governor candidate seat, he was never really considered a strong contender for governor based on a series of surveys by the Populi Center in February, April, June, August and October.
Why not Ahok?
LSI chairman Denny JA attributed Ahok's declining popularity to several factors: unpopular public policies, his personality as well as racial and religious issues.
A worrying trend is the preference to vote based on personality rather than performance. Research agency Riset Indonesia in September revealed that 76 percent of Jakarta residents usually evaluated gubernatorial candidates based on their personalities while 24 percent chose based on performance.
Ahok's record in running Jakarta is shadowed by his attitude, often perceived as blunt, arrogant and harsh. There was also criticism regarding his decision to run on a party ticket instead of as an independent candidate, with the hashtag #BalikinKTPGue(#ReturnMyID) trending on Twitter, signaling some supporters' anger and disappointment.
The PRC found in October that even though a whopping 97.1 percent of the Jakarta population knew of Ahok, only 58.3 percent liked him. Anies is a better liked hopeful at 63.1 percent and even newcomer Agus had some popularity at 53.5 percent.
Ahok's performance as governor has been mainly evaluated based on several major issues: flooding, traffic, the Jakarta Bay reclamation and slum evictions. The latter two have hurt Ahok's image as he is now considered to be against poor people.
Ahok has insisted on continuing to evict people from Jakarta's growing slums, forcing them to move to problem-prone low-cost apartments. In contrast and in an apparent political move, his rival Anies has signed a political contract to legalize an illegal settlement in North Jakarta, which was welcomed by criticism from Ahok.
Is religion really an issue?
An inconvenient truth for Ahok is that his approval rating is low among Muslim voters, who make up 83 percent of the Jakarta population. Based on an LSI October survey, Ahok's popularity among Muslim voters was below 30 percent compared to that among non-Muslim voters of above 80 percent.
"This is a critical point for the Ahok-Djarot pair," said Denny.
In the 2012 Jakarta election, Ahok and his then running mate, now President Joko "Jokowi" Widodo, was targeted in a racist and religious-based campaign for his double-minority status as a Christian of Chinese descent. There were also politically motivated sermons in mosques telling voters not to choose a non-Muslim leader.
However, another poll by the Populi Center found that 58.4 percent of respondents did not consider race and religion while 42.5 percent of Muslim votes went to Ahok, significantly different to the LSI findings.
"Jakarta voters do not buy into SARA issues. This is proven by the data. Most Muslim respondents plan to vote for Ahok-Djarot," Populi Center researcher Nona Evita said, referring to an acronym standing for suku (tribal affiliations), agama (religion),ras (race) and antar golongan (societal groups).
Ali Munhanif, a senior researcher at the Center for the Study of Islam and Society (PPIM), said playing the "SARA card" was unlikely to sway voters. There is already a video circulating on Facebook portraying Ahok as against the Quran, which was quickly rebutted by the governor.
Still, just because these voters do not consider race and religion as issues, it does not mean they will automatically vote for Ahok. Moreover, there are other options with Anies who is considered an academic and moderate Muslim scholar and with Agus who is a Muslim and has an experienced figure as his deputy governor candidate.
Who is the real threat, Agus or Anies?
In polls by the LSI, PRC and the Populi Center, the Anies-Sandiaga pair beats the approval rating of Agus-Sylviana. The Anies-Sandiaga pair has managed to get more than 20 percent, while Agus-Sylviana did not do so in any of the three polls.
Reports by the Populi Center found that given the choice between Anies-Sandiaga and Agus- Sylviana, Anies still prevailed. The survey revealed that 42.3 percent chose Anies, 24.5 percent chose Agus, while 28.3 percent were still undecided.
Anies is popular among the country's middle class due to his nationwide project Gerakan Indonesia Mengajar (Indonesia Teaching Movement). In his short stint as education minister, many praised Anies for his stance against national examinations as a graduation requirement and bullying-prone school orientations.
He also encouraged parents to be more involved in children's education by accompanying students on their first day of school. Jokowi's decision to sack Anies from his ministerial post in late July was quite unpopular on social media as it was perceived to be a political move.
Agus' nomination at the last minute was questionable, as he has little to none experience in politics. Many considered his brother Edhie "Ibas" Baskoro Yudhoyono to be a more suitable candidate from the family, as he is involved with the family-founded Democratic Party and serves as a lawmaker in the House of Representatives.
With Sylviana as his deputy, Agus is expected to get votes from Jakarta's native Betawi people. Furthermore, Agus' good looks are expected to win support from female voters.
"As many as 56 percent of voters are women; with that we are guaranteed to win," said campaign team head Nachrowi Ramli, as quoted by tempo.co. (rin)
Topics :
You might also like :
Comments