EDITORIAL: Time to jazz it up
EDITORIAL

The Jakarta Post
|

Sat, March 4, 2017

| 10:30 am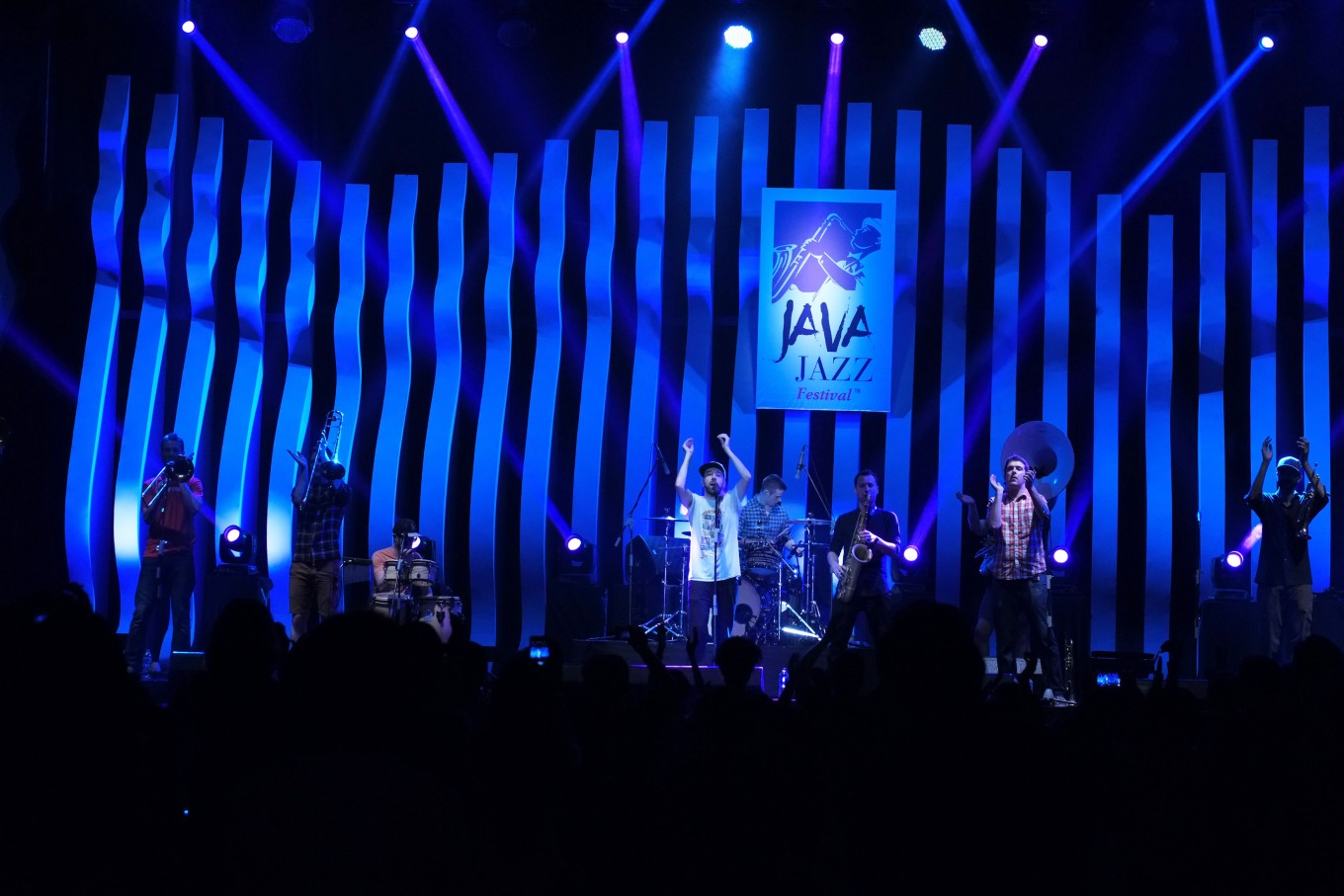 The Java Jazz Festival 2017 (JP/Jerry Adiguna)
A huge crowd gathered below an indoor stage at Hall B3 of the JIExpo exhibition hall in Kemayoran, Central Jakarta, on Friday, witnessing the Icelandic instrumental jazz-funk fusion band Mezzoforte heating up the opening night of Jakarta International Java Jazz Festival 2017.
For over one hour, not counting the encore part of the show, Brunno Miller and crew performed on the BNI Stage, which was set up by the main sponsor and would host many of the most-awaited performances this year. The non-seating hall would be the venue for Belgian artist Marie Daulne with her music act Zap Mama and later the concert, entitled Tribute to Whitney Houston, of Dira Sugandi, Lea Simanjuntak, Kamasean and Soundwave.
Next to it, at Hall D2, Grammy-nominee King enchanted the seated audience. Clad in red kimono outfits, the all-women R&B trio filled up the large hall.
For three days through to Sunday, 1,000 musicians — 300 of whom are international artists — would quench the thirst of jazz enthusiasts in 170 world-class acts. Such artists include Elliott Yamin, Incognito, Ne-Yo, Sergio Mendes, Naughty by Nature, The Chick Corea Elektric Band, Bebel Gilberto, Tulus, Afgan, Endah 'N Rhesa, Iwan Fals, Tohpati and Dwiki Dharmawan.
There were 14 stages at the venue, four of them outdoor. The outdoor area was designed to imitate a large village with the food court a la street diners at the farthest end. One could easily get lost in the muddled sounds coming from different stages.
At the Yamaha booth, for instance, many stopped to hear the live performance of Latin Jazz & Montuno and, later, Nina Sari Ishak & Stretta Latin Band belting out soundtracks from telenovela series. On Saturday, the booth scheduled a meet and greet with Nathan East and Dave Weckl.
(Read also: Java Jazz Festival to swing into town)
Inside the food court is the MLD Stage Bus — literally a bus — where six musicians from MLD Jazz Project Season 2 will make their debut on the festival's second day. They would perform under the theme of Indonesian Legendary Songs and Musicians, belting out 11 jazz renditions of hit songs from the 1970s to the 1990s by Benyamin Sueb, Titiek Puspa, God Bless, Rhoma Irama and Koes Plus and collaborating with rock singers Ariyo Wahab, Ipang Lazuardi, Andi /rif and R&B crooner Wizzy.
Indonesian pop singer Rendy Padugo, dubbed the country's John Mayer-meets-Michael Buble, was the main attraction outdoor at the Gazebo Stage.
"This was my second time performing at Java Jazz after 2015," he said in an interview after the one-hour performance. "But this year was the most impressive because I got a chance to perform my new song, which would be officially released later this month," said the artist who just arrived to Jakarta from Sydney.
Despite the heavy rainfall that inundated the streets of Jakarta on the opening night, the crowd continued to grow, as they expected to see more well-known artists such as Danilia, Emma Larsson, JOC, BASS G, Tompi, Ron King Big Band, Andien, Harvey Mason, DW3, Abdul and the Coffee Theory, Polly Gibson, The Groove, Nik West, Kirk Whalum, and Kinga and Irek Giyk.
With performances that overlapped at different stages that were far apart from each other, it would be difficult to enjoy each show without allotting at least 10-minutes to reach each stage. There was no sufficient guide map available except for the paper-sized map on the information booths.
On Saturday, the festival starts at 3:30 p.m. with the performance of critically acclaimed progressive jazz band simakDialog at HALL C2. Renowned Brazilian musician Sergio Mendes, The Chick Corea Electric Band and legendary jazz master Arturo Sandoval are among the international jazz stars that will swing the town on Saturday.
The organizer expected a higher number of visitors this year, a projected 120,000, up from 114,000 last year, as it omitted special stages marked at higher prices.
Tickets are still available online or on the Java Jazz Festival mobile application from Google Play and iOS App Store.
In Jakarta, the first week of March is always a time for jazz. The Jakarta International Java Jazz Festival 2017 is in full swing this weekend, promising all things jazz from Friday through Sunday. At a time when many music festivals have started to lose ground at home, or even vanish, the festival is now in its 13th consecutive edition — winning not only loyal fans but also attention from world musicians eager to grace its stages. At the same time, the event has put Indonesia on the world's music map.
(Read also: Upcoming Java Jazz eyes more festivalgoers)
Not only has the annual festival become Jakarta's mostanticipated music event, it also serves as a melting pot of local and international musicians. Most importantly, it has gained a reputation as the largest music event in Asia and is widely regarded as the world's largest festival of its kind.
Discoversg.com lists it among the 10 most-awaited international music festivals this year — and the only festival specifically dedicated to jazz.
This time around, after being criticized for dedicating too much stage time to mainstream pop during the previous festival, Java Jazz organizers are not only promising fresh collaborations between international and Indonesian artists. They have also announced that the festival will return to its core of pure jazz and its many other genres, while giving less space to today's mainstream music.
In probably one of the festival's biggest surprises, special shows — which in previous years featured big names like Jessie J., Jamie Cullum, John Legend, Sting and Robin Thicke and required visitors to dig deeper into their pockets — are out of the picture this year.
On the other hand, the number of stages at the JIExpo exhibition hall in Kemayoran, Central Jakarta, has been raised from 11 last year to 14, with 10 of them indoors. This year, with just a day ticket, which costs Rp 650,000 (US$48), visitors can freely move from one stage to another, catching 170 shows by some 300 international and 700 Indonesian artists.
Despite the absence of special shows, world class performances by Grammy Award winners such as Chick Corea Elektric Band, King, Sergio Mendes and Arturo Sandoval are a must-see. Renowned R&B artists such as Ne-Yo, Elliott Yamin and Nik West as well as pop singer Emma Larson and 12-piece Brit hip-hop group Renegade Brass are also coming to the festival.
Indonesian musicians will also be blasting the stages in full force, with a strong local lineup filled with both seasoned jazz musicians and members of the younger generation — from jazz artists Andien, Eva Celia, Rendy Pandugo, Elfa's Singers, folk duo Endah N' Rhesa to the powerful voices of Dira Sugandi and Lea Simanjuntak. Two tributes, one for the late diva Whitney Houston and another for jazz legend Al Jarreau, are also something to look forward to.
After a heavy dose of political drama in the past few weeks, this weekend is a perfect time to unwind. As Ryan Gosling's character Sebastian says in the Oscar-winning movie La La Land: "You can't just hear jazz, you have to see it".
So let's go.
Topics :
You might also like :
Comments