COMMENTARY: A Kartini message: Guys, be brave and more lovable
Ati Nurbaiti

The Jakarta Post
Jakarta |

Sun, April 23, 2017

| 09:15 am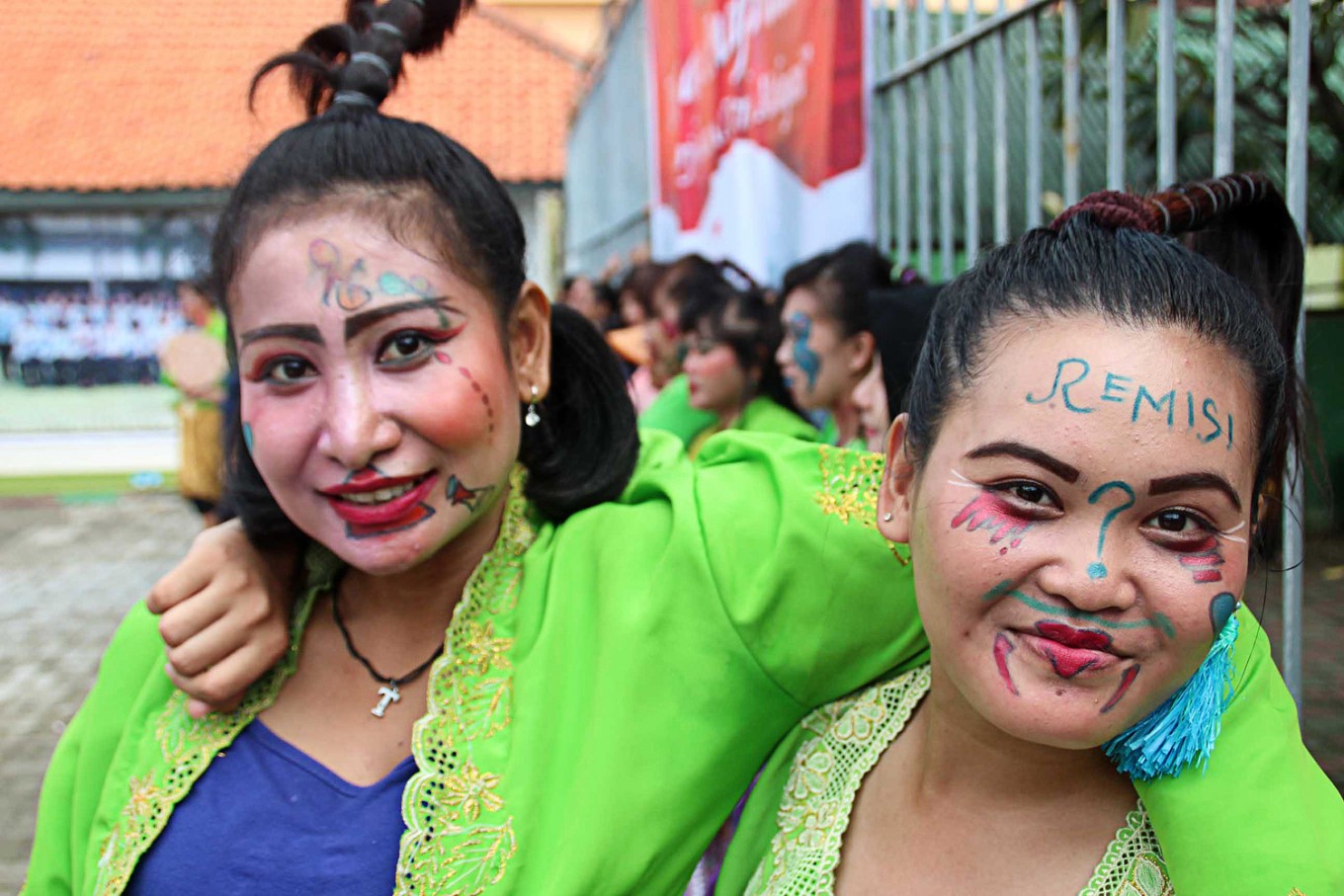 Stand for the rights: Women prisoners at the Bulu female penitentiary in Semarang, Central Java, urge the government to ease inmate release procedures in the Kartini Day celebration on April 21. (JP/Suherdjoko)
We're back in the month of Kartini, when the nation celebrates the heroine for women's rights on April 21. But many overlook what men can do and what it takes to get males to contribute to a more prosperous society.
Actually you hunks can really help boost the economy; if you handle the kids and more house chores, millions more women could join the workforce and earn income, inside or outside the home.
From year to year, the statistics keep fretting surveyors: Women in Indonesia's workforce have remained stuck at about 50 percent in the last 25 years despite better access to education. The last United Nations Development Program survey said Indonesian male participation in the labor force was almost 84 percent compared to 50.9 percent for women.
If guys helped more at home, we would also have much happier families with fewer women with hair standing up from worry and workload from morning to night. Men will say they're flat-out tired after work — but women slog it out at the workplace and also at home, as surveys show.
So what does it take to urge men to share our unpaid chores, so more women can get paid work? It takes brave men and also brave women.
Valiant men are the real hunks protecting spouses against exhaustion, by feeding Baby and cleaning the house, among other things. (Besides, the extended family system, warns the SMERU research institute, "will not last forever"!)
It also takes steadfast women to compromise their standards of when and how to do the chores. Baby can look a bit grubby as long as he doesn't fall off the stairs. Women must neither rush to take over when she thinks hubby looks like a sissy as he patches clothes – a self-reminder!
Such men and women would brave the teasing when the men do "women's work" – like my dad when my neighbor laughed at the sight of him washing the dishes.
Indeed, we need better policies like a changed Marriage Law, as women could be theoretically sued for neglecting their main responsibility for the household, daycare centers near workplaces of both men and women and other supportive policies.
Yet in South Korea, where men get 53 weeks of paternity leave, not many signed up, The Economist reported last year. They would, they said, if fathers handling infants were socially acceptable; the men said they believed their bosses who joked that their desks would disappear if they took the leave.
So even if suddenly Indonesia had such an enlightened policy encouraging males to share more household responsibility, many of us would still need to redefine machismo and kodrat wanita (women's destiny).
Thankfully, it seems more men are confidently nursing children. So be brave like my son-in-law: Despite his wife's occasional criticism he persistently takes care of Baby — and gets a slobbery kiss in return.
And ladies, don't be like my sister: I asked her why she didn't encourage her husband to help more around the house and she said, "He can't even hang the towels straight!"
The world will not change if we stick to rigid standards, even if the towel does hang awkwardly.
Encouraging men to help around the house makes perfect sense, but few want to rock national stability and get men off the couch. Few women want to keep nagging them either, so they juggle everything as best as possible and bark at the maid instead. For those of us staying home, many say they want better care for the kids; but children need both parents and many women would like to do something else, too.
Unsurprisingly, the International Labor Organization recently found most Indonesian women want paid work. Huh? Of course, we need our own money. Less access to cash also means less power in the family; many women get abused even as they're exalted as the thankless ratu rumah tangga (queen of the household). Researchers have found Indonesian women are much less inhibited from seeking income than their sisters in other countries, although they claim they're "only helping" spouses.
One small-scale entrepreneur I know introduced herself as "wife of Wawan, the former security guard, mother of Mirza" (if I recall the names correctly). "So what's your name?" I said. She finally replied, somewhat proudly, "Kholifah — the getuk [cassava cake] seller."
It was this identity — "Kholifah tukang getuk" — that appeared at the bottom of the most unique invitation I've received, to the reception for her son's circumcision.
Kholifah had said she was "just helping" her husband as she had idle time and she might be listed as "underemployed" with her low income; each getuk cost just Rp 1,000 (8 US cents), despite undoubtedly considerable preparation.
Nevertheless she is luckier than my cousin, whose husband forbade her to seek work even when he was laid off.
Our outdated Marriage Law indeed says the man is the head of the family and breadwinner, as understood by religious conservatives, while women must take care of the household. But remember our share of the Asian financial crisis of 1998 and 1999?
As many lost jobs, it was a scramble to get all hands on deck and we stopped hearing calls for women to return home, to return to their kodrat and thus preserve male dignity.
Funnily, when living in countries with no cheap domestic help, men more willingly chip in. Even without a crisis, like when the maids leave, men are much more lovable and appealing when they help at home. Just ask your spouse.
Join the discussions