EDITORIAL: Gesture of unity
EDITORIAL

The Jakarta Post
Jakarta |

Mon, August 21, 2017

| 07:48 am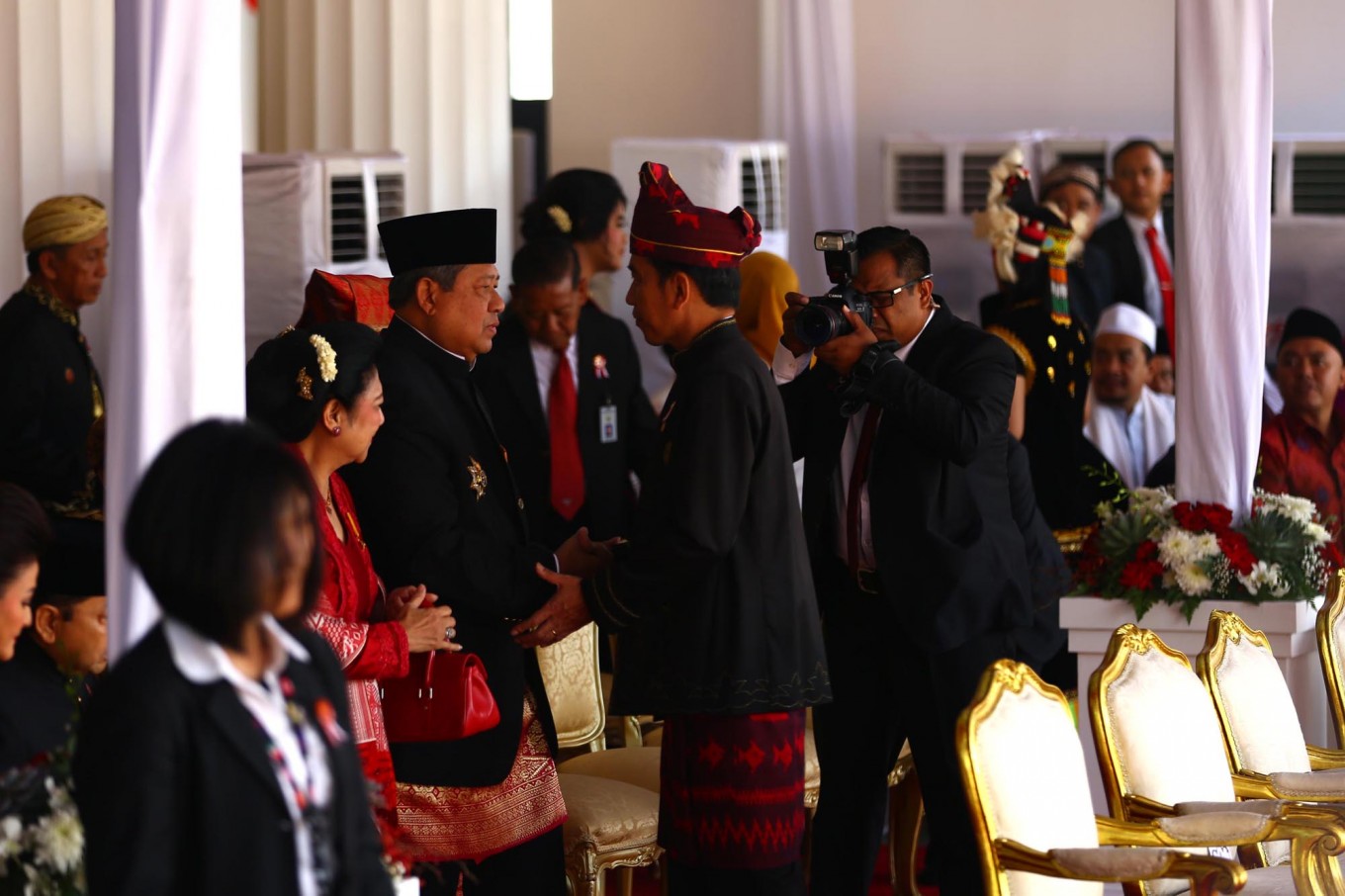 Guest of honor: President Joko "Jokowi" Widodo (right) shakes hands with former president Susilo Bambang Yudhoyono before a flag hoisting ceremony to commemorate Independence Day at State Palace in Jakarta on Aug. 17. (JP/Wienda Parwitasari)
As a young republic, which since Independence Day has had just seven presidents, Indonesia really has no established protocol on how to guide relationships between incumbents and his or her predecessors. The only barometers we can use to gauge how good the relationship is are the annual events where the incumbent invites former presidents to attend the Independence Day celebration.
In the past seven decades, there have been no positive developments at the State Palace Independence Day events and it is easy to see why.
The country's first president, Sukarno, practically spent his post-presidency living under house arrest, and when he passed away, his successor Soeharto did not give him a state funeral and only allowed him to be buried in a family cemetery.
In the case of Soeharto, he may have departed in a more dignified manner, but given his corrupt reputation and poor human rights record, some of his predecessors made attempts to distance themselves from the former strongman's legacy.
In the post-New Order era, where politics has become an "open season," politics has become personal.
Muslim cleric Abdurrahman "Gus Dur" Wahid was ousted after less than two years in office.
While in office, Gus Dur had a fraught relationship with vice president Megawati Soekarnoputri, who thought she should have won the presidency given that her Indonesian Democratic Party of Struggle (PDI-P) won the popular vote in the 1999 general election.
Megawati lasted just three years as president when she was challenged by one of her senior ministers, Susilo Bambang Yudhoyono, in her re-election bid.
When Yudhoyono won the first direct presidential election in 2004, Megawati took the defeat to the heart.
Throughout Yudhoyono's 10-year tenure, Megawati declined to accept Yudhoyono's invitation to join the Independence Day gala and only returned to the State Palace after President Joko "Jokowi" Widodo, a PDI-P politician, was elected President in 2014.
In return, Yudhoyono moved to reject Jokowi's invitation to join the annual celebration at the State Palace and instead opted to hold an Independence Day event at his home town in Pacitan, East Java.
Last week, a new tradition emerged. For the first time, three former presidents gathered at the State Palace at the invitation of President Jokowi. Also present were Vice President Jusuf Kalla, former vice president Boediono and the wife of the country's fourth president, Sinta Nuriyah.
The highlight of the moment was of course when Yudhoyono and Megawati finally shook hands and engaged in a conversation after 13 years of animosity.
In response to rising sectarianism, Jokowi designed this year's Independence Day celebration as a moment when the country could once again celebrate the founding principle of unity in diversity, including by ordering guests and participants to dress in traditional attire.
Coupled with his success in building bridges between former presidents, who are the de-facto power brokers in the country's politics, Jokowi has carefully orchestrated a public relations campaign to counter division.
Topics :
Join the discussions