EDITORIAL: Revitalizing the agricultural sector
EDITORIAL

The Jakarta Post
Jakarta |

Mon, September 11, 2017

| 08:03 am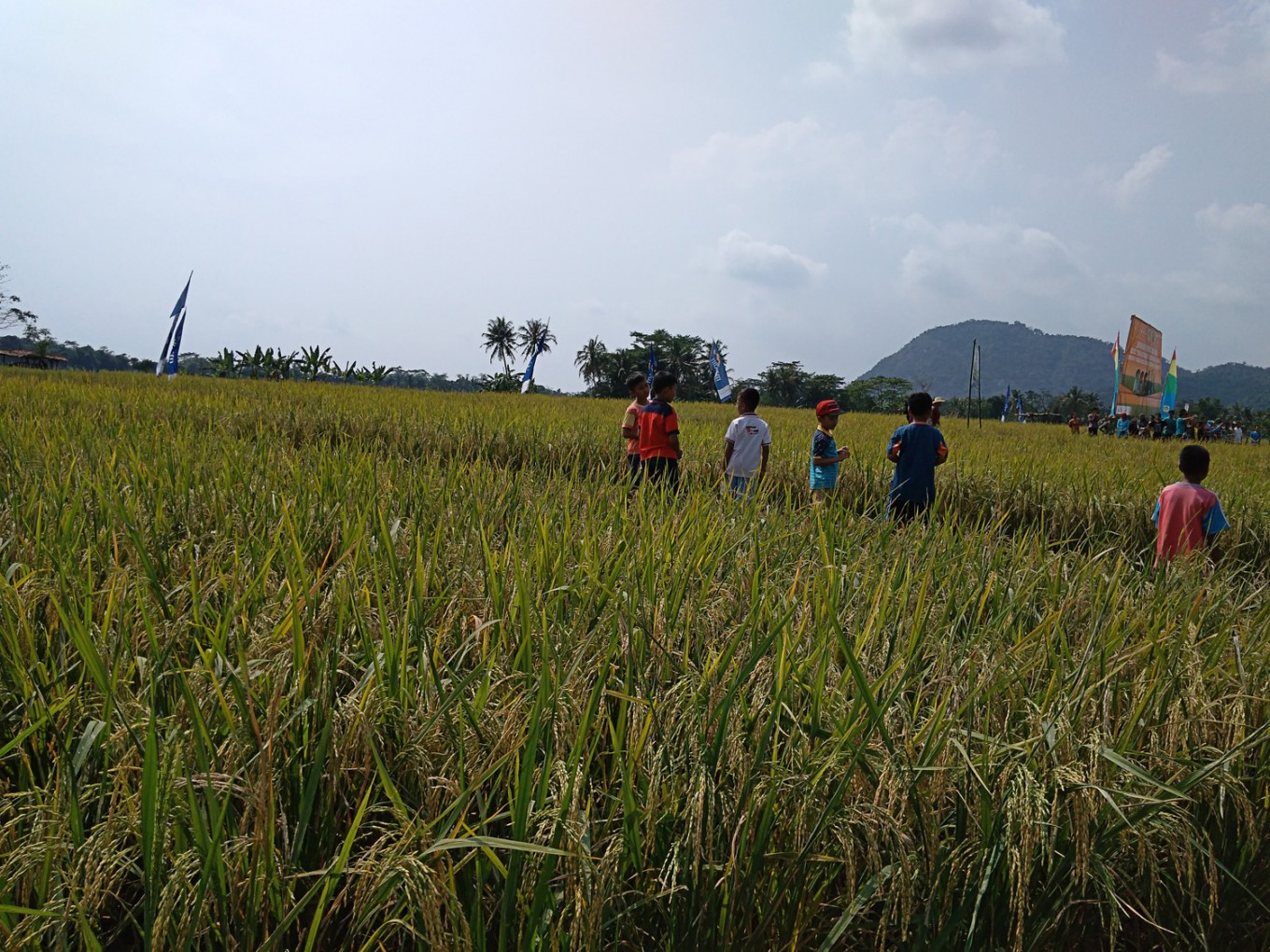 Green playground: Children play in a field where farmers plant 3S, a pest-resistant paddy variety developed by the Bogor Agricultural University (IPB). (JP/Theresia Sufa)
President Joko "Jokowi" Widodo has challenged the Bogor Institute of Agriculture to design a new development model to revitalize the agricultural sector. Though its role in the economy has declined, agriculture is still a very important source of livelihood for people in rural areas who account for around 40 percent of the total population.

Among the suggestions he elaborated on in a long speech at the institute's anniversary celebration on Wednesday was a development program designed to empower workers in agribusiness in order to improve their productivity and incomes.

If subsistence farmers in the subsectors of primary food crops, horticulture, tree-crop plantations, cattle, fisheries and forestry were left to continue working individually while most of them, notably those in Java, owned less than 0.5 hectares of land, they would never be able to significantly improve their income and productivity, Jokowi rightly argued.

If they continue to work without the help of well-managed organizations as cooperatives, they will never be able to improve the terms of their trade and consequently their bargaining power.

The President's idea boils down to the development of a market-oriented agricultural services system, based on partnerships among farmers groups, public agencies and private sector enterprises, all with the broad objective of revitalizing the agricultural sector.

Empowering farmers through improved information networks, community agribusiness development and enhanced linkages between research and extension will result in increased diversification, higher farmer incomes and agricultural competitiveness.

Such mutually beneficial linkages or partnerships betweeen farmers and big businesses have in fact already begun to develop in such subsectors as horticulture, whereby big businesses engage in seed cultivation and production to help farmers through farmer groups or cooperatives improve their productivity through higher yields.

The development of the horticulture sector has a significant role to play in providing labor opportunities, foreign exchange earnings and improving food security at the household level through consumption of fruits and vegetables. In the future, demand for horticultural products is estimated to increase along with the increase of income, population and economic growth.

Trained agricultural extension workers employed by seed producers help disseminate new technology and better cultural practices to farmers. Further downstream in the process, big retailers help farmers meet the required standards of their produce.

In tree-crop plantations, such as palm oil and rubber, such mutually beneficial partnerships also have been growing under the nucleus of a state-smallholder scheme whereby big plantation companies act as the agents of development for smallholders, helping provide them with good seeds, low-interest bank loans, processing and marketing their produce.

But one of the most enabling conditions for such partnerships is adequate rural infrastructure because better access to markets is especially vital for farmers, as most farm produce is highly perishable. Smooth transport facility linkages between farm and off-farm activities and between rural and urban areas can stimulate the development of small and middle-scale businesses.

Improving rural infrastructure, the quality of seeds, extension and information and communication technology services — all agribusiness elements — will eventually improve and industrialize the agricultural sector.
Topics :
Join the discussions