EDITORIAL: Lessons from the CPC congress
EDITORIAL

The Jakarta Post
Jakarta |

Thu, October 26, 2017

| 08:07 am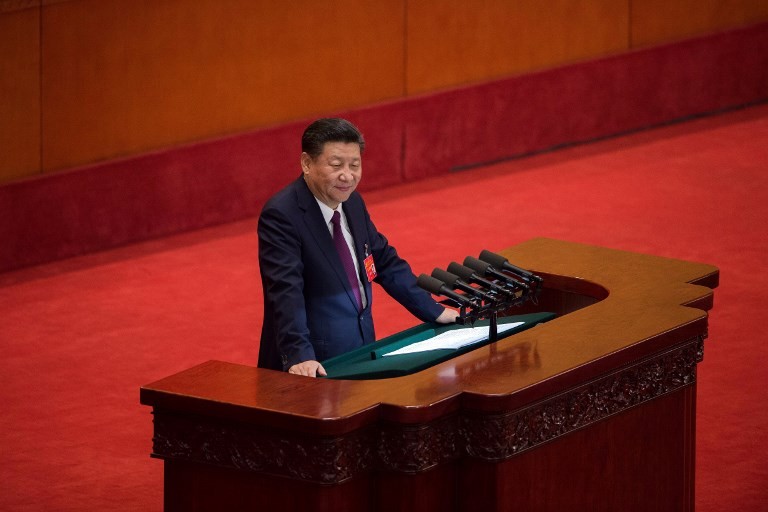 China's President Xi Jinping gives a speech at the opening session of the Chinese Communist Party's five-yearly Congress at the Great Hall of the People in Beijing on Oct. 18, 2017. (Agence France-Presse/Nicolas Asfuri)
The Chinese ruling party concluded its oneweek congress on Tuesday, with a pledge to bring prosperity to the world's most populous country and enhance its global role. The world, including Indonesia, watched the developments at the crucial congress closely, where, as expected, President Xi Jinping cemented his grip on the Communist Party of China (CPC). Xi's re-election as secretary general of the party, and hence as president of the People's Republic of China, matters to the world. China's strong leadership over the next five years will be instrumental in shaping the global landscape, as well as its stability and prosperity.
The congress' unexpected decision to include the Belt and Road Initiative (BRI) in the party's constitution, in addition to the widely expected inclusion of Xi's "Thoughts on Socialism with Chinese Characteristics for the New Era," demonstrated how the latest developments in China impact, directly or indirectly, on Indonesia.
The BRI, formally known as the One Belt, One Road (OBOR) initiative, was introduced during Xi's visit to several Central and Southeast Asian countries as the Silk Road Economic Belt. To complement this plan, the 21st Century Maritime Silk Road was introduced during Xi's speech at the Indonesian House of Representatives in October 2013.
With Xi calling on party members to clinch a final victory in building a society of moderate prosperity, the BRI has become a mechanism with which to share China's prosperity with its neighbors. For Indonesia, this is through the Jakarta - Bandung medium-speed railway and countless other infrastructure projects dotted throughout the archipelago.
The Indonesian government should make the most of the financing and development opportunities presented by the BRI while at the same time ensuring the law of the land prevails.
Another concern for Indonesia vis-à-vis a more affluent and powerful China is the unresolved territorial dispute over parts of the South China Sea near the Natuna Islands in Riau Islands province. Future confrontations may occur as both countries cling to the importance of territorial integrity despite their commitment to peaceful co-existence.
With Xi envisioning a more modern and powerful military for the new era, the Indonesian military must also continue to reform and modernize itself to respond to the ever-changing strategic environment. Indonesia could in fact learn from China's defense industry, which previously managed to end its reliance on the former Soviet Union.
Another lesson that can be drawn from Xi's three-anda-half-hour, 65-page-report (in its English version), is the country's anticorruption campaign, which Xi said was aimed at cleaning the party of the graft practices of both "flies and tigers" — a reference to low-ranking and highranking party officials. A huge number of officials, including those holding key positions, have been expelled from their positions and faced punishment.
While communism is outlawed here, there are a myriad of universal lessons Indonesia could draw from the justconcluded CPC national congress.
Topics :
Join the discussions