Commentary: Stop making jokes about Setya. It's not funny anymore.
Ary Hermawan

The Jakarta Post
Jakarta |

Mon, November 20, 2017

| 08:18 am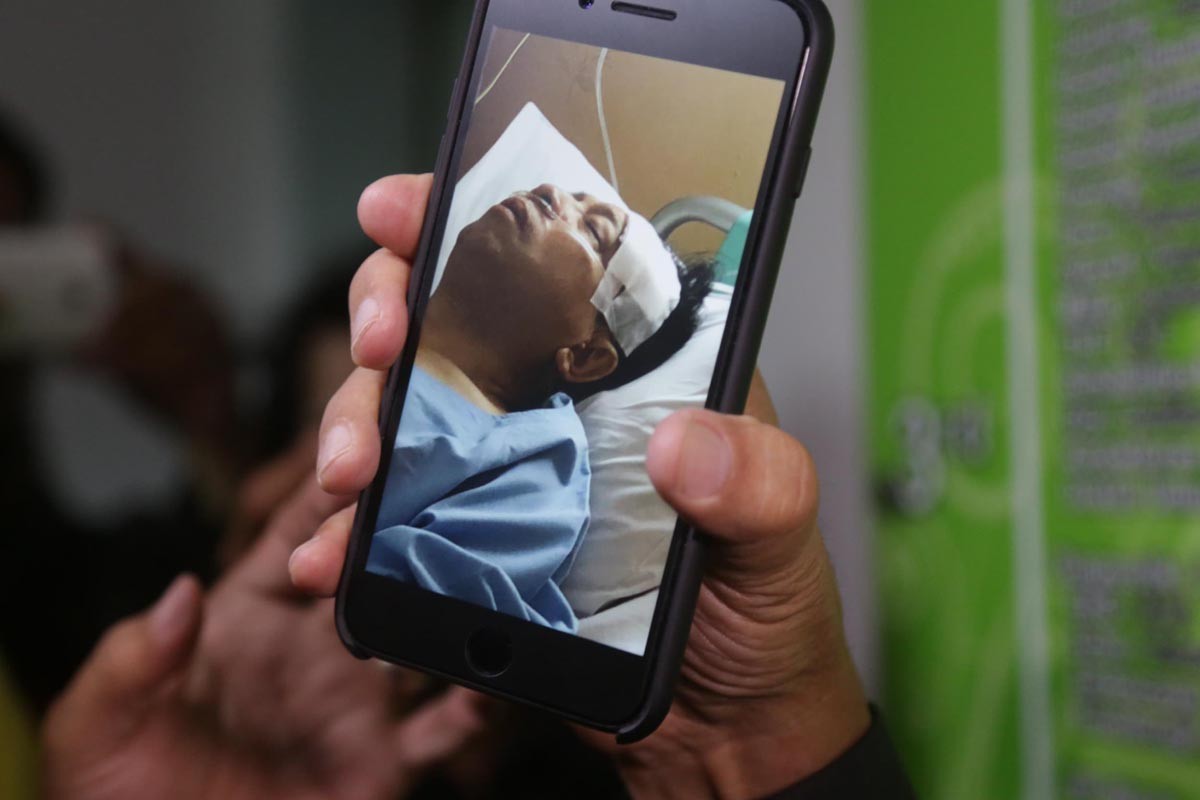 Injured: Fredrich Yunadi, the lawyer of House of Representatives Speaker Setya Novanto, shows a picture of his client undergoing medical treatment at Medika Permata Hijau after he got into a car accident on Thursday evening. (The Jakarta Post/Wendra Ajistyatama)
At the risk of being a killjoy and sounding like an old man yelling at the clouds with a stick, I will tell you this: stop making jokes about embattled Golkar Party chief Setya Novanto. It's not funny anymore, and it is kind of sad, because no matter how you look at it, the joke is on us, the people who elected him.
It is true that certain politicians deserved to be ridiculed for their disgraceful acts. But what our House of Representatives speaker did is beyond shameful. We should not be laughing or amused; we should be angry and worried.
To be clear, Setya has to be presumed innocent in the multimillion-dollar e-ID graft case. We should give him the benefit of the doubt that he may not be complicit in the case, regardless of the claims and testimonies made by witnesses and suspects, in the event that he did not play a role in it.
Whether you like it or not, he is innocent until proven guilty.
What is infuriating is his refusal to obey the law, and to undergo due process (which is his right!), which will determine whether or not he is culpable in the e-ID case. For months, he has cited various reasons, ranging from health issues and tight schedules to a right to immunity, to dodge questioning.
When the Corruption Eradication Commission (KPK) issued a warrant for his arrest last week, he went missing. For hours, his closest allies within Golkar and even his lawyer claimed they did not know his whereabouts.
And then, in a deus-ex-machina-like turn of events, the news broke that he had been hospitalized after a car crash on his way to the KPK office, practically preventing the KPK from seizing him again.
It's tempting to make fun of the incident, which may or may not have been staged. But do not let it distract from you the ugly fact that the leader of our legislative body has done almost everything to evade justice, something that most high-profile politicians embroiled in a graft case had never done.
You may hate former Constitutional Court Chief Justice Akil Mochtar for his crimes, but at least he was willing to stand trial and face the music.
Setya's lawyers have gone as far as reporting KPK leaders to the police for alleged abuse of power when the antigraft agency decided to rename him a suspect. Meanwhile, Golkar under Setya is a leading political force behind the House's inquiry that critics say is designed to defang and delegitimize the KPK.
How are any of those things laughable? It is true that satire can be a powerful tool to make a political point. Political satirists/ comedians like Jon Stewart or John Oliver may have influenced many young Americans to become more informed about and involved in politics. But Indonesia lacks the comedic culture (or great comedians?) that can deliver powerful political jokes.
The jokes swirling on social media about Setya's plight are devoid of any political weight that could bring immediate changes. Instead, they have done the opposite — they trivialize Setya's behavior, as if his actions were the norm.
Even when the jokes really do have a point, as powerful as it is, most people would likely fail to get the point and just focus on the joke. The #SaveTiangListrik (#SaveElectricityPole) hashtag, for instance, is a politically subtle reference to Setya's power, but it risks diverting people's attention from the real issue.
We now live in an irony-free country, where some anticorruption judges have been jailed for corruption and more than a dozen people have been accused of swindling the state budget for the construction of an anticorruption monument. The last thing we need is the world thinking that we take alleged attempts to obstruct justice and delegitimize law enforcement as business as usual.
This is why we should not take Setya's alleged attempt to evade KPK prosecution lightly. It is a litmus test not only for the KPK, but also for us as a nation. We need to show anger, a deep concern about the fate of the supremacy of law, without which our country will slide back to its authoritarian past.
For now, we cannot prove if Setya really was sick or injured when the car he was in hit an electricity pole last week. But there is no denying that the timing of the accident begs a lot of questions, including the suspicion that it was just another ploy to evade KPK arrest. The KPK has legitimate reasons to conduct an independent medical checkup on the politician.
If the incident is proven to have been staged, we should feel insulted that he really thought he could just get off scot-free by doing such a thing. It might make fine joke material on social media, but given the stakes and the fact that we the people actually elected him our wakil rakyat (representative) four times in a row since 1999, there is no way we should be amused by it.
So, enough with the jokes. Where's the anger?
Join the discussions