EDITORIAL: Security of IDX trades
EDITORIAL

The Jakarta Post
Jakarta |

Thu, November 23, 2017

| 08:13 am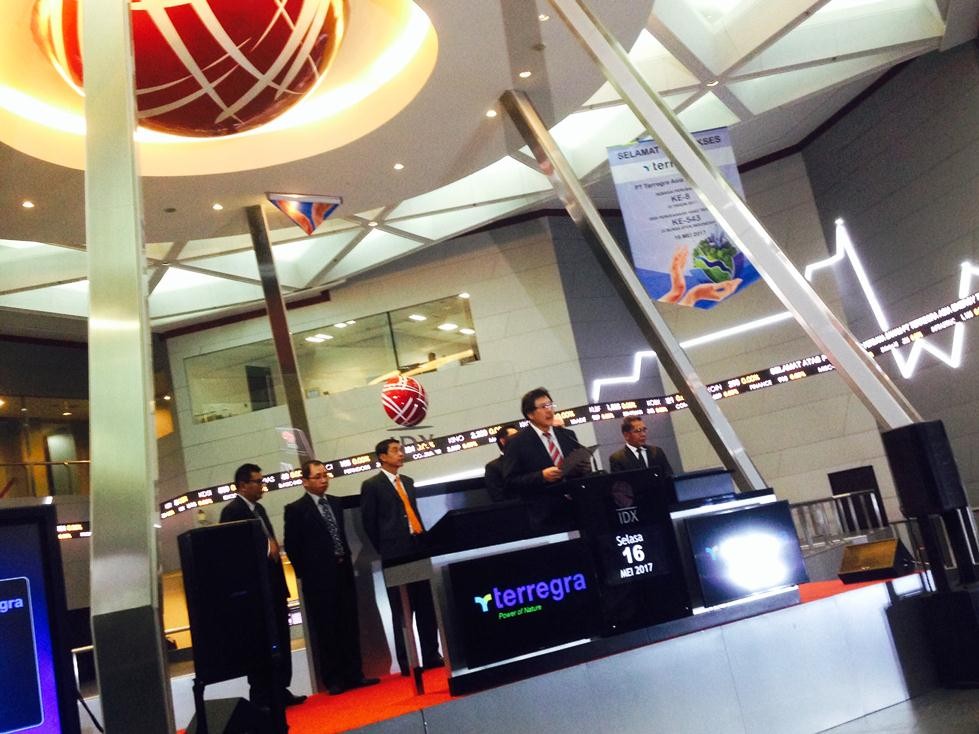 Terregra Asia Energy president director Djani Sutedja gives remarks during the company's trading debut on the Indonesia Stock Exchange (IDX) in Jakarta on Tuesday. (JP/Supriyono Hemay)
National Police chief Gen. Tito Karnavian attended the opening trade at the Indonesian Stock Exchange (IDX) on Monday and made a speech to assure investors of security in the country despite the holding of elections in 171 provinces, regencies and cities next June.
But any concerns among investors likely pertain not to physical security or violence but to doubt about the legal security of trades on the IDX caused by the South Jakarta District Court ruling on Tuesday that made Goldman Sachs International's purchase of 425 million shares of property developer PT Hanson International on the IDX null and void.
The court ordered Goldman to pay Rp 320.8 billion rupiah (US$24 million) in damages to businessman Benny Tjokrosaputro, the founder of PT Hanson and to return the shares to the Indonesian businessman. The panel of judges rejected Tjokrosaputro's demand for $1 billion in reputational (immaterial) damages.
The court simply rejected Goldman's claim that it had legally bought the shares in legitimate transactions through the negotiated board of the IDX from American hedge fund Platinum Partners between February and December 2015.
The question then is, how could the transactions, which had been settled on the IDX and cleared by PT Kliring Penjaminan Efek Indonesia (clearing and settlement) and PT Kustodian Sentral Efek Indonesia (securities depository) turn out to be not clean and clear, and how could the shares be claimed by a third party totally unconnected to the Goldman-Platinum share deal.
How could a highly reputable United States investment bank, which is backed by a well-resourced research department and runs a big office in Jakarta, have been unaware that the 425 million shares had been tied up in a repo agreement between Tjokrosaputro and Platinum?
Yet more disturbing to the credibility and security of transactions in shares listed on the IDX is the question as to why the Hanson shares pledged in the repo deal had not been registered with the IDX and had not been subject to trading restrictions. We hope these questions will be clarified in the additional legal proceedings within the next few months, because Goldman immediately announced it would appeal the court's ruling.
How will IDX be able to attract more foreign companies to list their shares on the IDX if legitimately executed trades can later be subject to legal action by unconnected third parties?
On the other side, Goldman seems to have been not entirely forthcoming on its financial dealings with Platinum for the Hanson shares conducted between February and December 2015. These transactions raised eyebrows, because financial news media in New York throughout 2014 revealed that Platinum had suffered severe financial distress due to alleged fraud by its executives.
In December 2016, federal agents in New York arrested top Platinum executives and charged them with fraud to the tune of $1 billion. The latest news reports from New York suggest the Platinum Partners fund is now in a liquidation process.
Join the discussions