EDITORIAL: Addressing anti-vaccine scare
EDITORIAL

The Jakarta Post
Jakarta |

Mon, December 11, 2017

| 08:08 am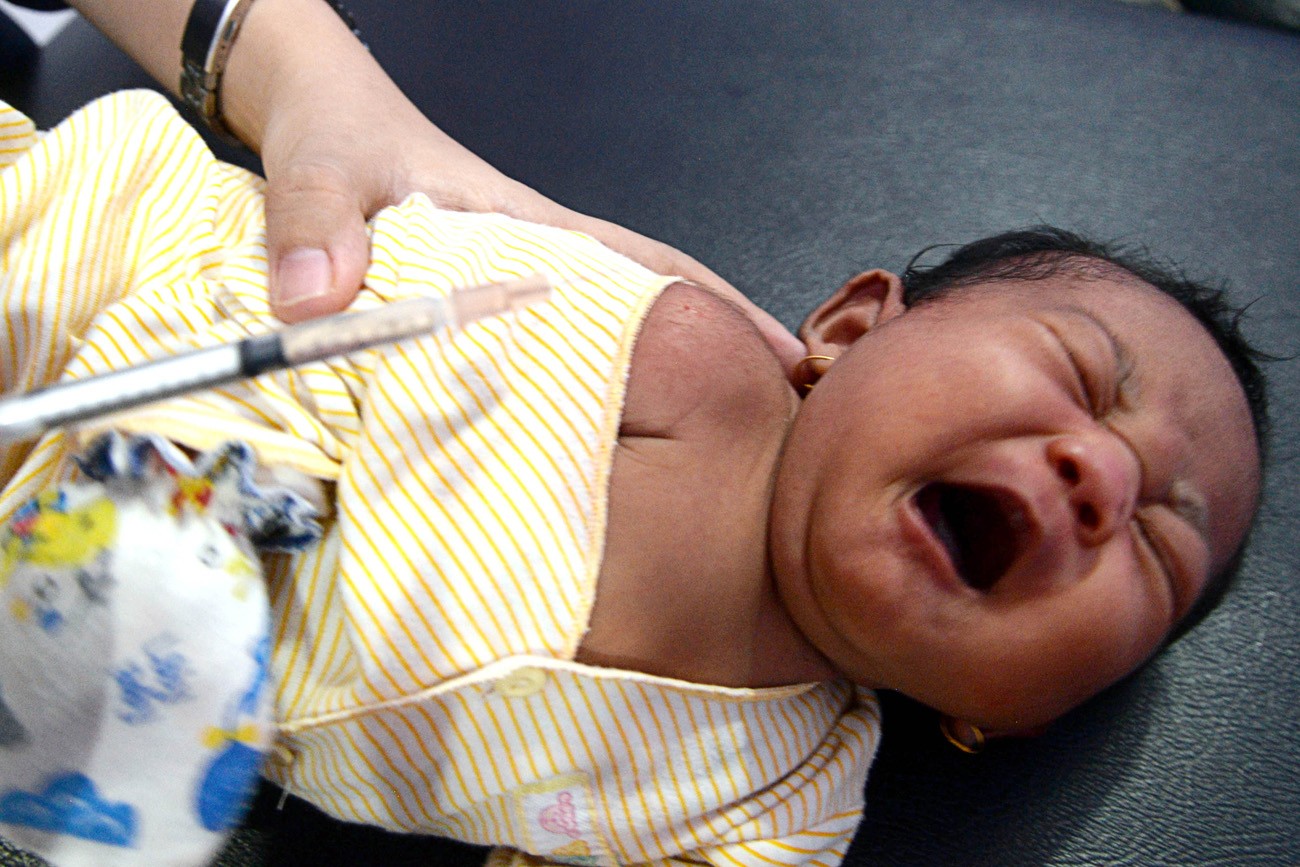 Stay health! A baby cries as a health worker administers an anti-diphtheria vaccine at a clinic in Cibinong, Bogor regency, West Java, on Dec.5. (Antara/Yulius Satria Wijaya)
The latest diphtheria outbreak, which has killed 32 people nationwide, leads to the question: should vaccinations be mandatory? From January to November, the Health Ministry recorded 593 cases of diphtheria with 32 fatalities in 20 of the country's 34 provinces. This is an increase from 415 cases last year and 502 in 2015, compared to 183 cases in 2007. The ministry said 66 percent of those infected had not received basic vaccines, while the rest had not completed the series of DPT immunizations covering diphtheria, pertussis (whooping cough) and tetanus.
Diphtheria is a bacterial infection that clogs the patient's airways, which can lead to death. The Corynebacterium diphtheria bacteria also releases toxins that can disrupt the heart's function.
To curb the current outbreak, which can spread from person to person through the air when affected persons cough or sneeze, the ministry is launching a series of outbreak response immunization (ORI) programs on Dec. 11, Jan. 11 and July 11 to vaccinate children between the ages of 1 and 19 years in the dense provinces of Jakarta, West Java and Banten.
As in other countries such as the United States and Malaysia, an outbreak of preventable diseases is blamed partly on parents who refuse to have their children vaccinated. These "anti-vaxxers" raise testimonials of severe side effects following vaccinations, backed by medical practitioners and scientists and leaders of various faiths. Last year, the National Police uncovered a syndicate counterfeiting imported vaccines, worsening public distrust in government-provided vaccines.
Also last year, the Indonesian Ulema Council (MUI) issued a non-binding fatwa stating that immunization was permitted as a compulsory effort to maintain health, and that the government and manufacturers should provide halal vaccines.
However, the anti-vaxxers still resist all immunizations. Meanwhile, a failure to vaccinate a near-100 percent of the nation's child population is feared to increase the prevalence of preventable diseases, for which basic vaccines are free. This year, Health Minister Nila Moeloek announced that three more free vaccines would be provided on top of those for DPT, tuberculosis and measles.
The tragic loss of children to preventable illnesses in various countries, including Indonesia, has so far failed to significantly persuade the anti-vaxxers. These also include parents who are fearful of risks to their children, even though experts cite the severe side effects linked with vaccinations as causal, and that the benefits of immunization outweigh the risks of exposing children to various health complications and impairments from preventable diseases.
Immunization campaigns must patiently and thoroughly address parents' fears and engage religious leaders as in the New Order's successful family planning program.
Along with intensive public education, mandatory vaccination must be seriously considered. Children afflicted with polio, for instance, may eventually question why adults failed them. They are unlikely to accept the answer that our leaders respected their parents' freedom of choice, one that impaired them for life.
Topics :
Join the discussions