Commentary: When politics is all (or more) about 'how much'
Kornelius Purba

The Jakarta Post
Jakarta |

Tue, December 12, 2017

| 07:56 am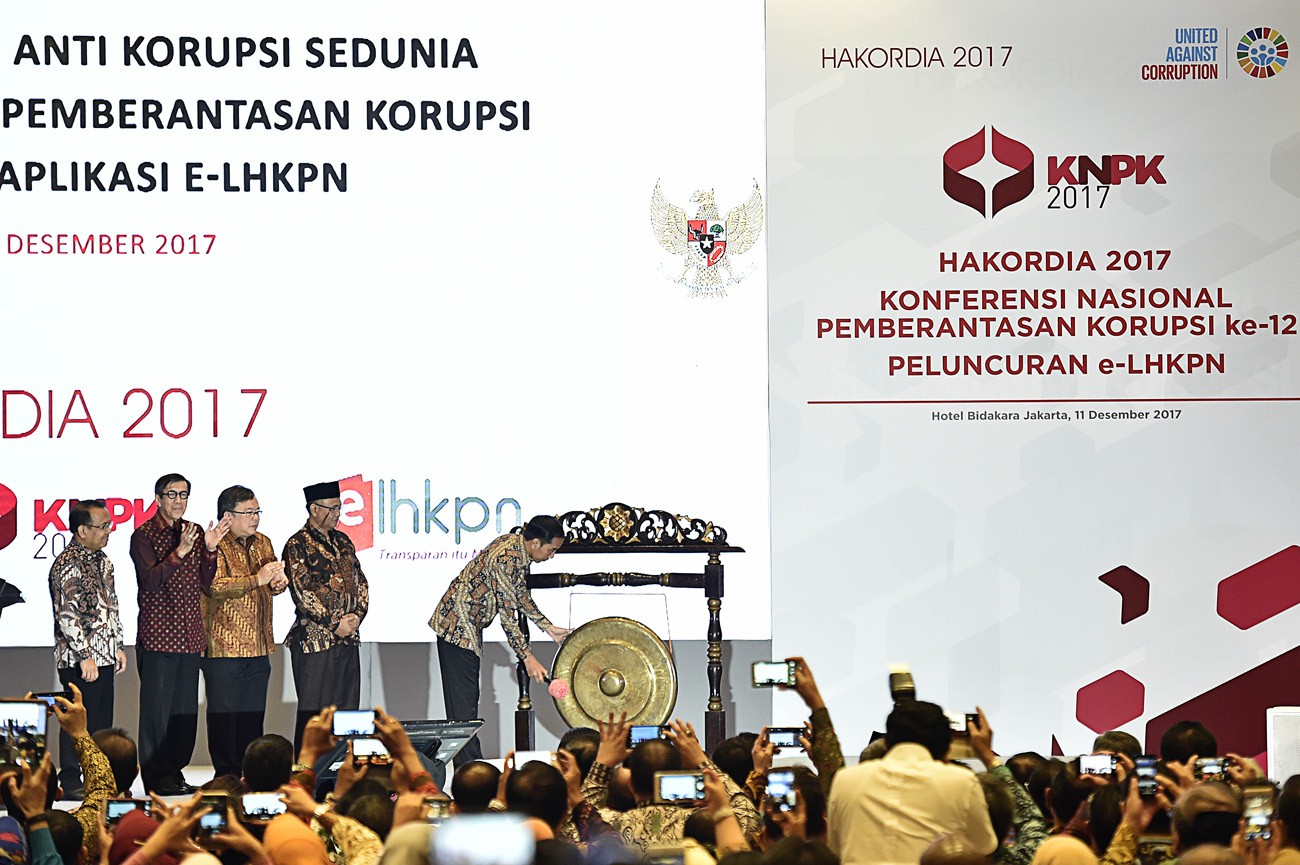 Combating corruption: President Joko (Antara/Puspa Perwitasari)
Quoting powerful Indonesians as the basis of his argument, a politically wellconnected friend insisted that the Corruption Eradication Commission (KPK) had committed a suicidal blunder with its defiant act of detaining the nearly untouchable Setya Novanto for his alleged involvement in the US$170-million e-ID card graft case.
The political costs will be too expensive, because the chairman of the Golkar Party and the speaker of the House of Representatives will drag down as many people as possible, including the KPK commissioners.
President Joko "Jokowi" Widodo will also suffer a severe blow because he may lose Golkar's support in the 2019 presidential election. Jokowi's re-election bid is by all means, in great danger.
"The implications will be horrifying for the nation, especially ahead of the 2019 elections," the friend told me in a recent conversation.
I nodded deeply because I do respect his intellectual capacity, his personal integrity and because, I admit, he is smarter than me. However, I disagreed with him. For me, the e-ID case should be categorized as a crime against humanity, because it has affected millions of Indonesians. Until now, they do not know when they can get their required document, making them prone to the deprivation of public services.
Therefore, anyone found guilty of playing a role in the scam deserves the maximum punishment.
However, the simple mind of a vegetable vendor convinced me of a different perspective. He said it was easy to understand Indonesian politics; the 2019 presidential race is not about justice or law enforcement; it is about "how much" — no more, no less.
The small-scale trader believed the Setya case would have little impact, if any, on the country's politics.
"The presidential election will entirely depend on this," he said, while rubbing his thumb and index finger together in the universal gesture for money.
The same rule would apply in the June 2018 regional elections, he said.
Regional head candidates are elected not just because of their impressive track records, but because of how much money they distribute to the people and political parties.
Believe it or not, my highly educated friend insisted that Setya remained powerful and could spread danger despite his imminent trial in the e-ID card graft.
The latest example is Setya's letter, which unilaterally names Aziz Syamsuddin the new House speaker. Previously, while avoiding KPK arrest, Setya appointed party secretary-general Idrus Marham as acting party chairman.
The Golkar elite — which are preparing an extraordinary congress to officially unseat Setya — and House leaders are debating Setya's controversial decisions.
Without conducting any academic research, it is very easy to conclude that millions of Indonesians are stunned by Setya's soap opera-like escape from the KPK's clutches. When it is so easy for a wealthy politician like him to dictate the party elite and the House, it would not be difficult for him to imprison people he dislikes.
Let me get back to the trader. In his analysis, only politicians who possess large amounts of money and receive backing from super-rich supporters can challenge Jokowi in the 2019 election. He then gave me a shortlist of prominent figures who could potentially contend Jokowi.
In the last few months, reputable and little-known pollsters announced their prediction of the most likely candidates to run against Jokowi. Many scholars have also shared their analysis about the course of the presidential race.
They all concluded that whoever bids to challenge Jokowi would face a very tough road. Although, they also provided leeway as an excuse if their calculations turned out to be wrong.
To convince the public of the reliability of their predictions, they conducted regular surveys to measure the electability and popularity ratings of Jokowi and his potential contenders. It has been common for political parties and candidates contesting public posts to hire pollsters to conduct periodical surveys as part of a strategy to win.
More surveys will be released ahead of the simultaneous regional elections next June, and the concurrent legislative and presidential elections in April 2019.
All pollsters have so far been of the opinion that the loser of the 2014 presidential election, Lt. Gen. (ret) Prabowo Subianto, will try to avenge his defeat in 2019. Prabowo himself has indicated his bid for a sweet revenge.
Meanwhile, my other colleague insisted that the 2019 race would be a far different landscape from the 2014 battle for Prabowo. Now, Prabowo is finding difficulties in maximizing his financial resources due to a business slowdown, which also affects his diehard supporters. He may turn to crowd-funding, but the amount raised would not be significant.
Other names touted as Jokowi's challenger include Gen. Gatot Nurmantyo, who last Saturday transferred the Indonesian Military (TNI) chief post to Air Chief Marsal Hadi Tjahjanto. Many have anticipated Gatot's political ambition, either as a presidential or vice presidential candidate, when he retires next March.
Gatot, however, will face more daunting challenges than Prabowo. Apart from financial resources, support from political parties remain elusive for Gatot.
What about Jokowi? As the incumbent, he gains an upper-hand over his contenders.
And what about the impact of Setya's fall from grace on Jokowi? I am leaning closer to my colleague's assessment: Jokowi will definitely need Golkar, but whether the new party boss will pledge loyalty to the President, as Setya did, remains a question.
As my friend, the vegetable seller, said: "It all depends on money."
Topics :
Join the discussions