Commentary: Christmas is 'just' an ordinary birthday celebration
Kornelius Purba

The Jakarta Post
Jakarta |

Thu, December 21, 2017

| 08:39 am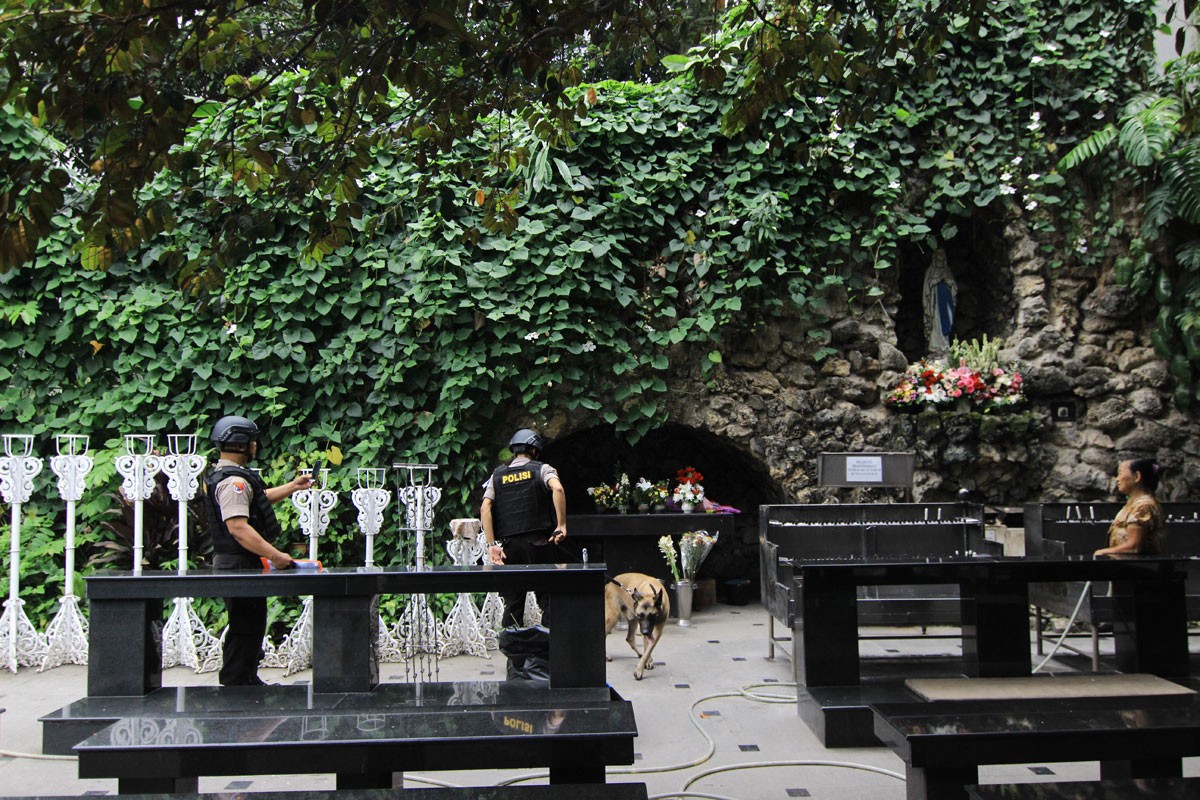 A K-9 police team sifts the area around the Jakarta Catholic Cathedral on Dec. 24 2016 to guarantee security during the Christmas service. (JP/Donny Fernando)
It was Friday evening in Bethlehem in October several years ago. I took my wife to the rooftop at the home of a Palestinian Muslim family, who had invited us for dinner. We heard the azan (a call to prayer for Muslims) from a nearby mosque.
She stood at her wheelchair and we sang Holy Night while looking at the Church of the Nativity where Jesus was believed to be born. I don't know why, but I felt more peaceful and more religious in Bethlehem than in Jerusalem, a holy site for Judaism, Christianity and Islam.
"We shall return," we said in our prayer. Our Palestinian host said Muslims are obliged to highly respect Jesus, a prophet in Islam. I told him that celebrating Christmas is more peaceful in Bethlehem than in Jakarta. Terrorist attacks have haunted churchgoers on Christmas Eve for nearly two decades.
"That is nothing compared to our suffering from the Jews here," the old man said. During our pilgrimage to Israel, and also Palestinian territory, we could easily see the Israelis' unbelievable oppression of the Palestinians.
In Jerusalem it is easy to understand when people say World War III could start there. The Palestinians' living situation is very inhumane. But they always smile at visitors despite the daily horrors they have to confront.
But for me, Jakarta is more worrying during the festive days, especially because I worry about the safety of my wife, who was powerless when bombs exploded in our own church in East Jakarta in 2000 and again in July 2001.
How about next Monday? I feel more secure now. But it is not because my faith is more mature or that I have completely surrendered my life to Jesus.
The recent statement issued by an organization that is often feared by minorities like me, was a little bit heartening, no matter whether it is true or false. The Islam Defenders Front (FPI) said it would help safeguard Christmas celebrations at the National Monument (Monas). It was also very active in the recent demonstration to condemn United States President Donald Trump's decision to move the US Embassy from Tel Aviv to Jerusalem.
The Indonesian Ulema Council (MUI) has also recently softened its stance on expressing Christmas greetings. It had previously said it was not haram to say "Merry Christmas" to Christians. But now the ulemas apparently consider that the greeting is just a matter of courtesy. When I greet my Muslim friends during Idul Fitri, it does not mean that I become a Muslim too.
The police have also not issued any warnings this year as they have done in previous years. But to be honest, it is hard to sense a merry atmosphere in Jakarta. Many shopping malls are refraining from openly presenting a Christmas atmosphere; some radio and TV stations are also not airing Christmas carols. Their position is very understandable, they do not want to create unnecessary problems for their business.
Many, if not most, Indonesian Christian Protestants and Catholics laughed bitterly and were shocked when they heard last week that the FPI had stated it would support Christmas celebrations in the name of religious tolerance.
Has a miracle happened or has Santa Claus come to town? For an ordinary Indonesian with little knowledge of theology or religion such as myself, every year the birthday of Jesus becomes a huge hullabaloo of security, political or social concerns, including terrorist threats, although it is actually just an ordinary birthday celebration.
However the FPI's endorsement of Christmas likely applies only once and in one place. Jakarta Governor Anies Baswedan has allowed Christians to celebrate Christmas at Monas after he recently permitted Muslims to hold huge gatherings there.
Some Christians may say it is simply exaggeration. The FPI is always hostile toward any Christmas-related events or moments. Just Google it.
"Islam is rahmatan lil'alamin [a blessing for the universe] and is very supportive of pluralism, differences must be respected," tirto.co news portal quoted FPI Jakarta branch secretary-general, Novel Chaidir Hasan Bamukmin, as saying.
The two largest Muslim organizations in Indonesia, Nahdlatul Ulama (NU) and Muhammadiyah have regularly assured security during Christmas. But I have never heard such assurances from the FPI before. But who knows? Maybe we are totally wrong this time.
The Indonesian Communion of Churches (PGI) has strongly rejected the offer to hold Christmas celebrations at Monas, while the Indonesian Bishops Conference (KWI) has taken the same position, albeit in a more subtle tone. Basically, they suspected the offer was made just for political purposes. Anies has dropped the plan and offered a more acceptable location.
The PGI and the KWI have voiced the feeling of their followers. On social media, there are suspicions that Governor Anies and the FPI are suddenly being friendly toward them just to accommodate Christian relatives or friends of Gerindra Party leader Prabowo Subianto. But the reactions are sometimes too much and go against the teaching of Christianity itself.
"I just want to slap the faces of those who want to go there [Monas]," posted one social media user, while on the same page condemning the intolerance from the Muslim side. For me, whatever the motivation of the governor and the FPI, their statement is certainly interesting.
Technically, Christmas is just an ordinary birthday celebration. Why should we make a big fuss of it? That is probably the reason why the FPI softened its position.
Churchgoers will hopefully experience a beautiful day on Monday.
Join the discussions