Q&A: Could Jakarta traffic get worse ahead of Asian Games?
Devina Heriyanto

The Jakarta Post
Jakarta |

Wed, January 24, 2018

| 01:57 pm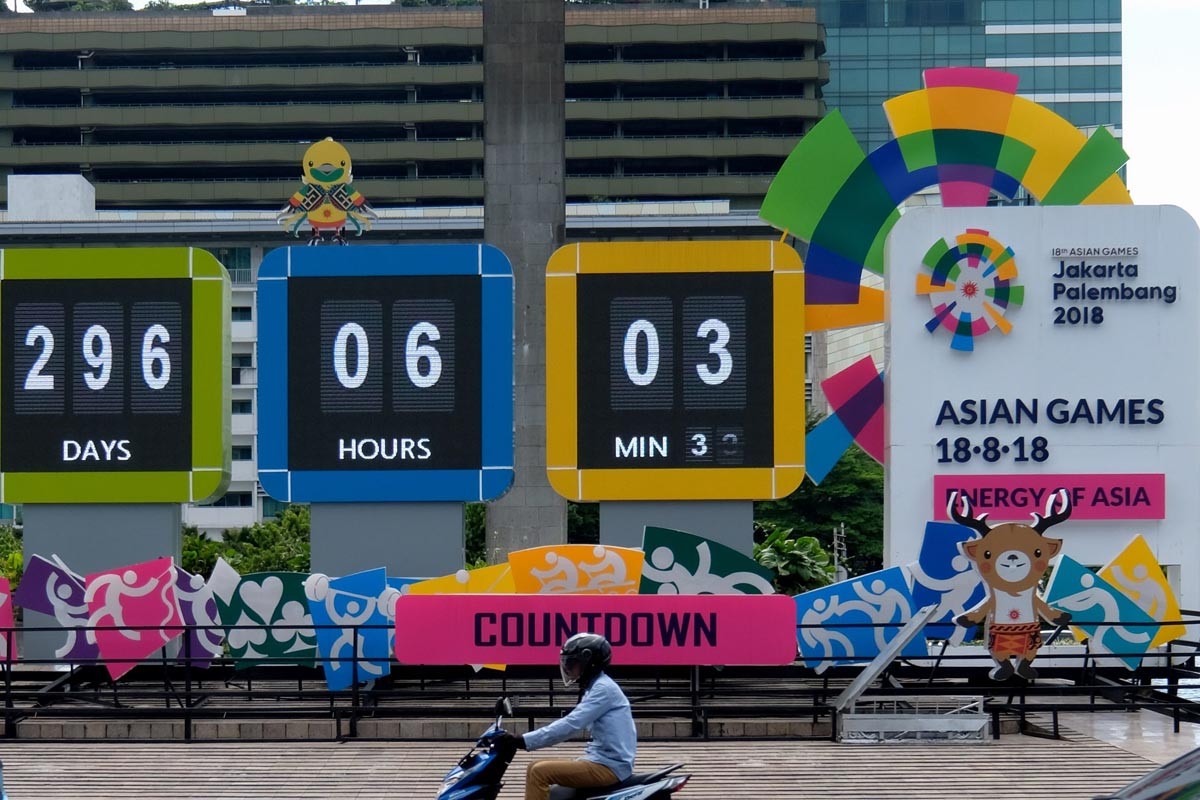 Asian Games countdown Decoration in Jalan M.H. thamrin, central Jakarta, Thursday, October 26, 2017 (JP/Seto Wardhana)
Jakarta's traffic seems to never get any better, except for a brief period during holidays when people leave the city.
App-based transportation firm Uber, in collaboration with the Boston Consulting Group, has released a study revealing that drivers in Jakarta spend an average of 22 days a year in traffic – significantly higher than drivers in other Asian major cities.
As the capital will co-host the 2018 Asian Games in August, along with Palembang, South Sumatra, some worry that a gridlock may push back the tight schedule for the top quadrennial sporting event in Asia.
This Q&A compiles published facts and figures in an attempt to identify and answer related concerns.
What causes traffic jams?
Jakarta is home to 10 million people, according to the Central Statistics Agency's (BPS) estimate. A 2015 survey revealed that 2.43 million commuters travel within, into and out of the city daily, and of these, 1.38 million commuters travel from Jakarta's outskirts. This adds significant strain to the city's roads, as 70 percent of commuters from outside Jakarta take private cars or motorcycles, rather than public transportation.
The Jakarta Transportation Agency has revealed that only 20 percent of all journeys in the capital were made using public transportation, partly because of the lack of infrastructure and adequate public transportation services.
What is the economic cost of traffic congestion?
National Development Planning Minister/National Development Planning Board (Bappenas) head Bambang Brodjonegoro said that traffic congestion cost the capital US$5 billion annually, as kompas.com reported in October 2017.
Traffic jams raise health issues and costs, too. University of Indonesia (UI) climate change researcher Budi Haryanto found that the transportation sector accounted for 80 percent of air pollution. The problem was only becoming worse, with the pollution index increasing at 6 to 8 percent annually, he said.
What has the government done to alleviate congestion?
Jakarta is developing its public transportation system to accommodate the burgeoning population. The two major projects are Mass Rapid Transit (MRT) and Light Rapid Transit (LRT). However, the ongoing construction for these projects is often blamed for worsening the already bad traffic by minimizing road capacity.
Mass Rapid Transit (MRT)
The MRT feasibility study was already available in the 1990s, but development was initiated only a few years ago. The project was previously considered to be financially unfeasible, requiring a huge investment in infrastructure. Expected to be finished by 2019, the MRT will reduce both traffic and its economic losses – losses incurred as a result of longer travel times and greater fuel consumption.
The ongoing construction is for the first phase of the North-South line, which connects Lebak Bulus in South Jakarta and the Hotel Indonesia traffic circle in Central Jakarta. The construction has significantly reduced road capacity on Jl. Sudirman and Jl. Fatmawati. The second phase will link the Hotel Indonesia traffic circle with Kampung Bandan, completing the North-South line, to be followed by the last phase for the West-East line.
The MRT construction was also blamed for causing floods, but MRT secretary Tubagus Hikmatullah refuted this, claiming that it followed proper regulations in its implementation, including maintaining temporary on-site drainage systems.
Light Rapid Transit (LRT)
Jakarta traffic also comes from its satellite cities, through daily commuters and cargo trucks traveling to and from North Jakarta's Tanjung Priok port. Authorities are now building an LRT system connecting Jakarta and its neighboring cities to accommodate daily commutes. Unfortunately, the project has exacerbated congestion along Jakarta's toll roads, as some LRT sections occupy the shoulder of toll roads.
There have been other efforts to restrict trucks on the toll road, such as a ban during the morning rush hour and building an urban logistics transport system. The Greater Jakarta Transportation Agency has encouraged business owners to transport cargo by rail instead. So far, only 2 percent of logistics services uses trains.
The Greater Jakarta LRT will depart from Bogor, Bekasi, Cawang and Kuningan to terminate at Sudirman Station, while the Jakarta LRT will depart from Kelapa Gading, Rawamangun and Manggarai to also terminate at Sudirman Station. It remains undecided whether the two lines will converge at Sudirman Station.
The capital also has other projects constructing overpasses and underpasses as well as miscellaneous facilities, including ojek parking lots near stations and toll road infrastructure for the cashless system.
Will congestion affect the 2018 Asian Games?
Jakarta is home to 40 Asian Games venues, 20 of which are located within the Gelora Bung Karno (GBK) sports complex in Senayan, Central Jakarta. The remaining venues are spread across North, East and South Jakarta.
The Jakarta administration has promised to provide designated lanes for athletes and divert traffic during the Asian Games to ensure that participants will arrive on time at event venues. The Organizing Committee of Asia (OCA) has set standards that the travel time from the athletes' village in Kemayoran, Central Jakarta, to event venues may not exceed 34 minutes.
However, the city administration's preliminary simulation showed that traveling from the athletes' village to the venues would take at least 50 minutes, owing to traffic jams.
A coordination meeting involving related agencies has been held to try and find a solution. Jakarta Transportation Agency head Andri Yansyah said the administration planned to provide special lanes for vehicles transporting athletes; Transjakarta bus lanes might also be used. There have been talks about scheduling school holidays and office hours for civil servants around the Games to ease traffic.
Topics :
Join the discussions