EDITORIAL: Passenger safety paramount
EDITORIAL

The Jakarta Post
Jakarta |

Wed, January 31, 2018

| 07:59 am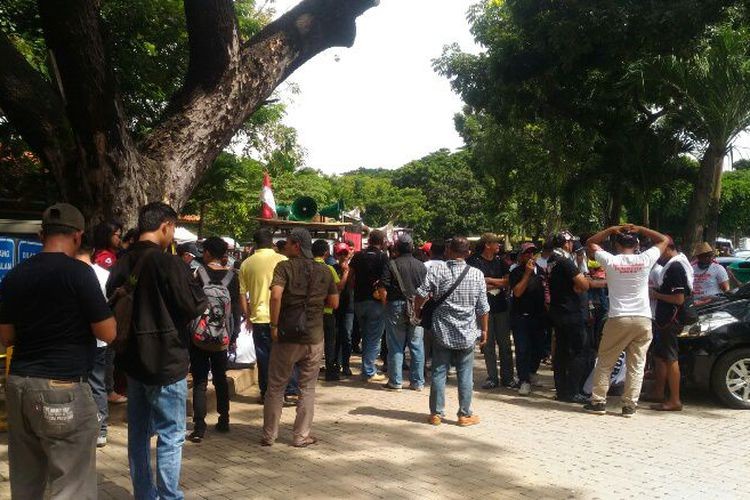 Several app-based ride-hailing taxi drivers stage rally at Monas compound in Central Jakarta, protesting a newly issued minister regulation on non-route public transportation, Jan. 29. (kompas.com/Ridwan Aji Pitoko)
The government simply exercised its mandate when it issued a regulation on ridehailing applications in May 2016, that was eventually annulled by the Supreme Court, forcing the government to revise the rule. As regulator, however, the government has to ensure a level playing field for the public transportation sector so that passengers' interests are protected.
Consumers are prone to be squeezed when competition tightens, especially in the face of a price war, which is why the state must get involved.For the good of consumers, we support the government's decision to step in. Giant investors are behind all the ride-hailing service providers here, allowing them to offer generously discounted prices that conventional taxi firms cannot match.
Ministerial Regulation No. 108/2017 should not be regarded as the government acting in favor of conventional transportation providers, but rather opting for fair competition and passenger safety. Among other things it stipulates that vehicles used for ride-hailing services should undergo roadworthy tests, their drivers have to possess a Type A driver's license for operating public transportation vehicles and they should be affiliated with a legal entity such as a cooperative.
The requirements, whether they are accepted by ride-hailing service providers like Uber, Grab and Go-Jek or not, are sensible. Regular roadworthy tests help to ensure vehicles are safe for passengers. The provision, if strictly enforced, will minimize traffic accidents, which in many cases have resulted from the failure of basic safety components like brakes. Consistency in enforcement is key because violations of roadworthy checks have been rampant, as evident in the operation of public buses and minivans that frequently belch thick, black smoke.
Specific qualifications for drivers are also needed for the sake of passenger safety and comfort. Being a public transportation driver is a job that requires a certain professional code. There is no other way to prove competence in driving public transportation vehicles than the Type A driver's license.
The government's push for online ride-hailing drivers to join a legal entity is understandable as it will facilitate supervision. Ride-hailing service providers should possess data on drivers who use their app, but they do not necessarily care about any dispute that may happen between the drivers and their passengers.
Of course the requirements will increase the price consumers have to pay for the app-based services, but their rights will be well protected. Certainly online ridehailing service drivers understand why they have to fulfill the requirements. In fact, hundreds of them have already complied.
About 500 drivers rallied against the regulation on Monday, but there is no reason for the government to put the new policy on hold again. The regulation should fully come into effect in mid-February for the sake of legal and business certainty and, more importantly, passenger safety.
Topics :
Join the discussions