EDITORIAL: Voters need more candidates
EDITORIAL

The Jakarta Post
Jakarta |

Mon, March 12, 2018

| 08:23 am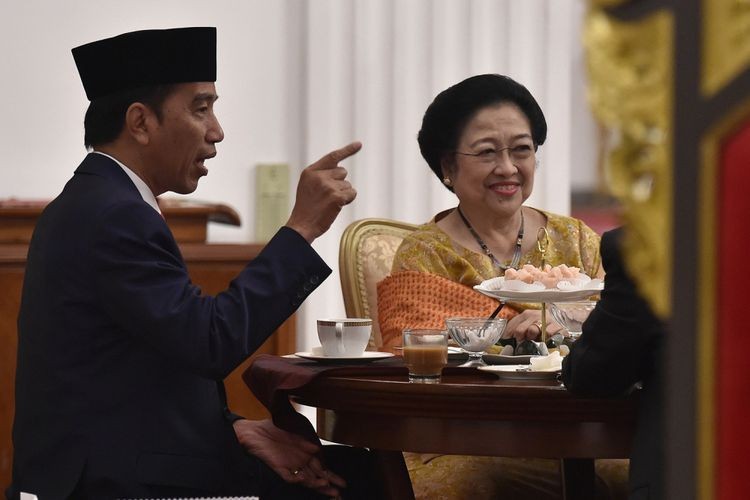 President Joko Widodo chats with the Indonesian Democratic Party of Struggle (PDI-P) matron Megawati Soekarnoputri following the installment of state officials at State Palace in Jakarta in a Jan. 17 file photo. Jokowi will attend PDI-P's three-day national meeting in Denpasar, Bali, which starts Friday. (Antara/Puspa Perwitasari)
Free competition among candidates is the cornerstone of democracy. The widelyshared assumption is that democracy works like a market system in which more options for voters means they get the best possible candidate to run the government.
Many, especially in an authoritarian regime or quasidemocracy, find this basic principle of democracy problematic. China decided to do away with competition among members of the elite and abolished the presidential term limit, handing over power to President Xi Jinping, probably for the next three decades. In Egypt, with no credible opponents working to challenge him in the election, a victory for current President Abdel Fattah el-Sisi is all but assured.
In the past two decades, Indonesia has seen competitive presidential elections with multiple candidates being nominated by coalitions of political parties. In fact, in the inaugural direct presidential election in 2004, voters cast their ballots twice as no presidential ticket won the majority of the vote in the first round. Only after a runoff election did then-presidential candidate Susilo Bambang Yudhoyono clinch a victory.
In recent months, however, there have been talks about the possibility of having a sole ticket for the 2019 presidential election. Prosperous Justice Party (PKS) politicians claim there has been effort to lure his party into joining the ruling coalition of President Joko "Jokowi" Widodo. Leadership of the Gerindra Party, the political party of Jokowi's rival in the 2014 election, Prabowo Subianto, has accused the ruling coalition of trying to push its agenda of nominating one presidential ticket in the 2019 poll.
The electorate appears to have warmed to the idea that the 2019 election should only have President Jokowi at the top of the ticket. Saiful Mujani Research & Consulting (SMRC) found in its public opinion survey that 66.9 percent of respondents would vote for a Jokowi-Prabowo ticket in 2019.
It is against this background that we should welcome the decision by the Democratic Party to form a third axis to offer alternative candidates in next year's presidential election. Cynics may say this axis, which the Dems plan to set up with the National Awakening Party (PKB) and the National Mandate Party (PAN), will only serve as a bargaining chip in the event of post-election coalition talks, however, any effort to prevent the incumbent from scoring a guaranteed victory is worth supporting. (The third axis proposal appears to have motivated Jokowi to make an overture over the weekend, which many considered a move to blunt the maneuver.)
Despite the prospect of being supported by his own Gerindra and the PKS, Prabowo is also determined to run in 2019 and it is only a matter of days before the bid is announced. Politics after the 2014 election have been polarizing because we have only had two candidates, while the presence of a third candidate could certainly defuse the tension.
After all, democracy works best when there is no predetermined result.
Join the discussions