EDITORIAL: Killed by bootleg liquor
EDITORIAL

The Jakarta Post
Jakarta |

Mon, April 16, 2018

| 08:03 am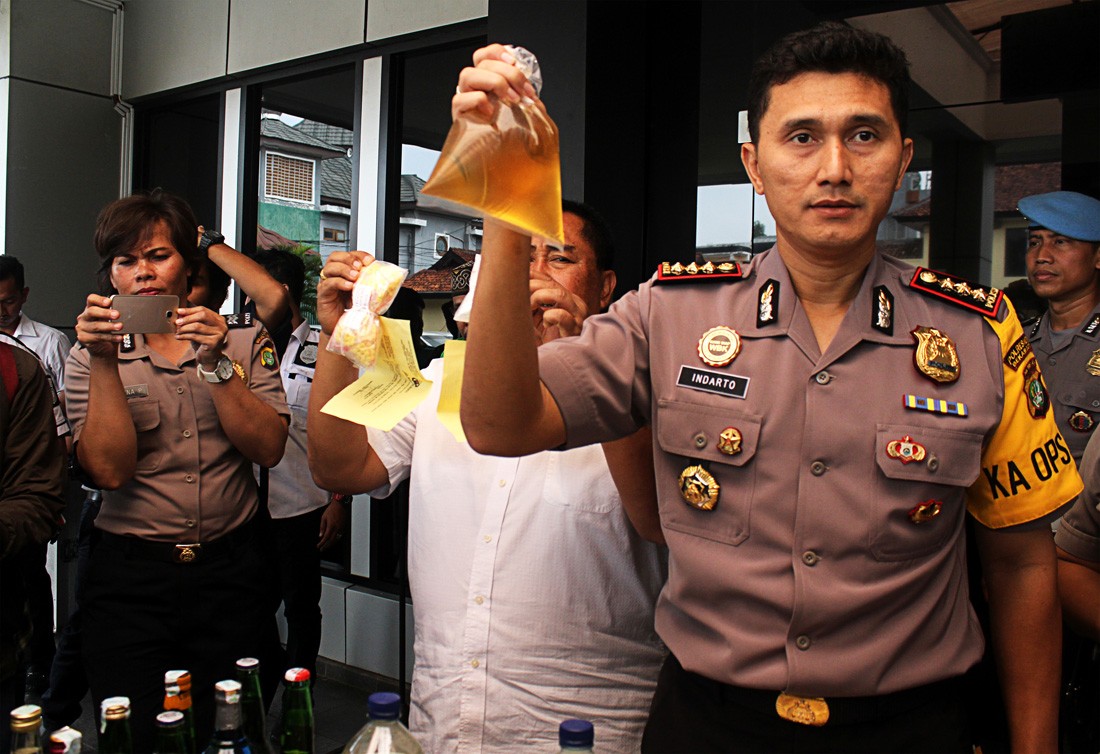 Dangerous substance: Bekasi Police chief Sr.Comr. Indarto (right) shows bootleg liquor or oplosan confiscated from a recent operation in the city during a press conference on April 9. (Antara/Risky Andrianto)
The feelings of parents and families who have recently lost loved ones to bootleg liquor are unimaginable. In recent weeks, the death toll from spiked liquor, mostly comprising young people, has grown in Greater Jakarta and West Java to over 80, with over 40 in Bandung regency alone. Since January, 19 people also reportedly died of similar causes in Papua, mostly in the remote Keerom regency.
The police have announced a major crackdown on sales of bootleg liquor, which will likely only lead to vendors laying low for the moment — at least until the next shocking headline. Clearly the need to get buzzed on a very low budget remains widespread, regardless of restrictions and demands to ban alcohol, and regardless of the maximum punishment of 20 years in prison for causing death by distributing or selling harmful substances.
One can blame poverty and the hardship of life in tough urban or far-flung areas, but young foreign tourists enjoying their trips to various areas in Indonesia have also been killed by bootleg liquor. Evidence of ineffective law enforcement can be seen in all the lives lost to bootleg liquor these past few years, which have included teenagers from the United Kingdom and Australia. Their families and governments have desperately warned prospective travelers to Indonesia of the dangers of cheap alcohol to prevent needless loss of lives and harm to health — among other effects, the young men and women suffered kidney damage and loss of vision.
Methanol, or methyl alcohol, has been among the components used in such bootleg products, also commonly found in the 1990s. Methanol is used in industrial applications, including in formaldehyde, and as a fuel component. Creative concoctions with palm wine, mojito and vodka, among others, use other easily bought items, such as energy drinks and mosquito repellent. Traditional liquor from diverse areas has also made headlines any time consumers die. Nevertheless, their production continues, supported by heavy demand.
Therefore, as components to bootleg liquor are sold legally, police action is likely limited to raids on suspected stores selling such products and suspected production centers.
With their limited resources, it would be much better for the National Police to join forces with community leaders and educators to engage in massive campaigns on the dangers of bootleg liquor.
Ahead of the next round of local elections, pitching further restrictions and local bans of alcohol would surely win votes. But just like campaigns on safe sex, it takes extra wise leaders beyond those who instinctively rule out "sensitive" public health education material that could save lives.
Experts cite youths — supposedly our future "demographic dividend" — wanting to "test their guts" as one reason that bootleg liquor remains popular. Merely banning alcohol, which is haram, will not encourage them to refrain from such behavior.
Safe and responsible drinking would not be a popular campaign. But a breakthrough beyond religious sermons is urgently needed to prevent further tragic loss of life, particularly of our future generation.
Join the discussions