EDITORIAL: Bending the car culture
EDITORIAL

The Jakarta Post
|

Sun, April 22, 2018

| 02:48 pm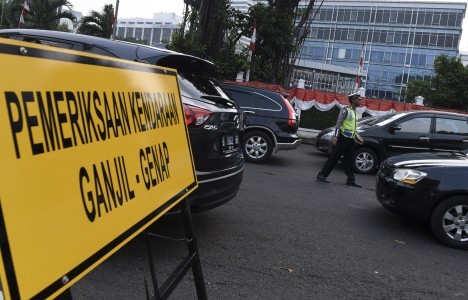 Limiting cars entering Jakarta is a bold step for the government amid inadequate public transportation, especially between cities, and a strong domestic appetite for cars.  (Antara/Hafidz Mubarak)
The government has ignited a road revolution in the past few months. While people have grown dependent on cars to travel from their homes in suburbia to Jakarta, it has implemented an odd-even policy, in which cars may only travel during morning rush hours on alternating days, according to whether the last digit in their license plate is odd or even.

It began with the Jakarta-Cikampek toll road, which has become a road nightmare, with passenger cars from eastern cities such as Bekasi jostling with trucks and containers from industrial zones such as Cikarang and Karawang. The policy was then extended to the Jagorawi turnpike, which links the capital to southern areas such as Depok and Bogor, and also the Jakarta-Tangerang toll road, which connects the capital to western areas such as Tangerang and South Tangerang.

Limiting cars entering Jakarta is a bold step for the government amid inadequate public transportation, especially between cities, and a strong domestic appetite for cars.

Car sales have not slowed since 2015, while those of motorcycles have slumped over the years. Last year alone, car sales grew 1.8 percent according to the Association of Indonesian Automotive Manufacturers (Gaikindo), despite a widespread perception that people's purchasing power is weakening.

The car restriction is also timely as Jakarta has consistently been ranked among the cities with the worst congestion -- hence the most pollution -- on the planet.

Unlike the trend that has been set up in the West where thriving economies are followed by blossoming cities built around the automobile, the government, if it is consistent with its policies, can now focus on developing Greater Jakarta and other urban areas based on good public transportation that can move people faster and cheaper.

Efficient movement of people and goods is key to productivity and competitiveness for a thriving economy like Indonesia. Needless to say, improving traffic policy is mandatory and the opportunities are there.

Transportation authorities have reported less congestion on the turnpikes from 6 a.m. to 9 a.m. when the policy is enforced. But actually only a small number of car owners are switching to buses and trains because of the policy. What is happening is better distribution of traffic as people choose to travel earlier or later after the restricted hours.

To make the traffic arrangement more effective and to support Jakarta's hosting of the Asian Games in August, beginning Monday the city will implement the odd-even policy one hour earlier at 6 a.m. from currently 7 a.m. on main streets such as Jl. Sudirman and Jl. MH Thamrin.

Although the car restriction may work, it may affect productivity in the long run. Without alternatives, people may opt to leave home after 9 a.m. and return late in the evening. This could shorten time spent with family and increase safety risks due to driving at night.

The odd-even policy should remain ad-hoc. A comprehensive traffic design that provides seamless public transportation connecting Jakarta and its buffer cities is something that has eluded the government for many years.

Bending the car culture indeed is a tall order.
Join the discussions