Refugees in limbo: More breakthrough needed
Jakarta |

Sat, April 28, 2018

| 09:49 am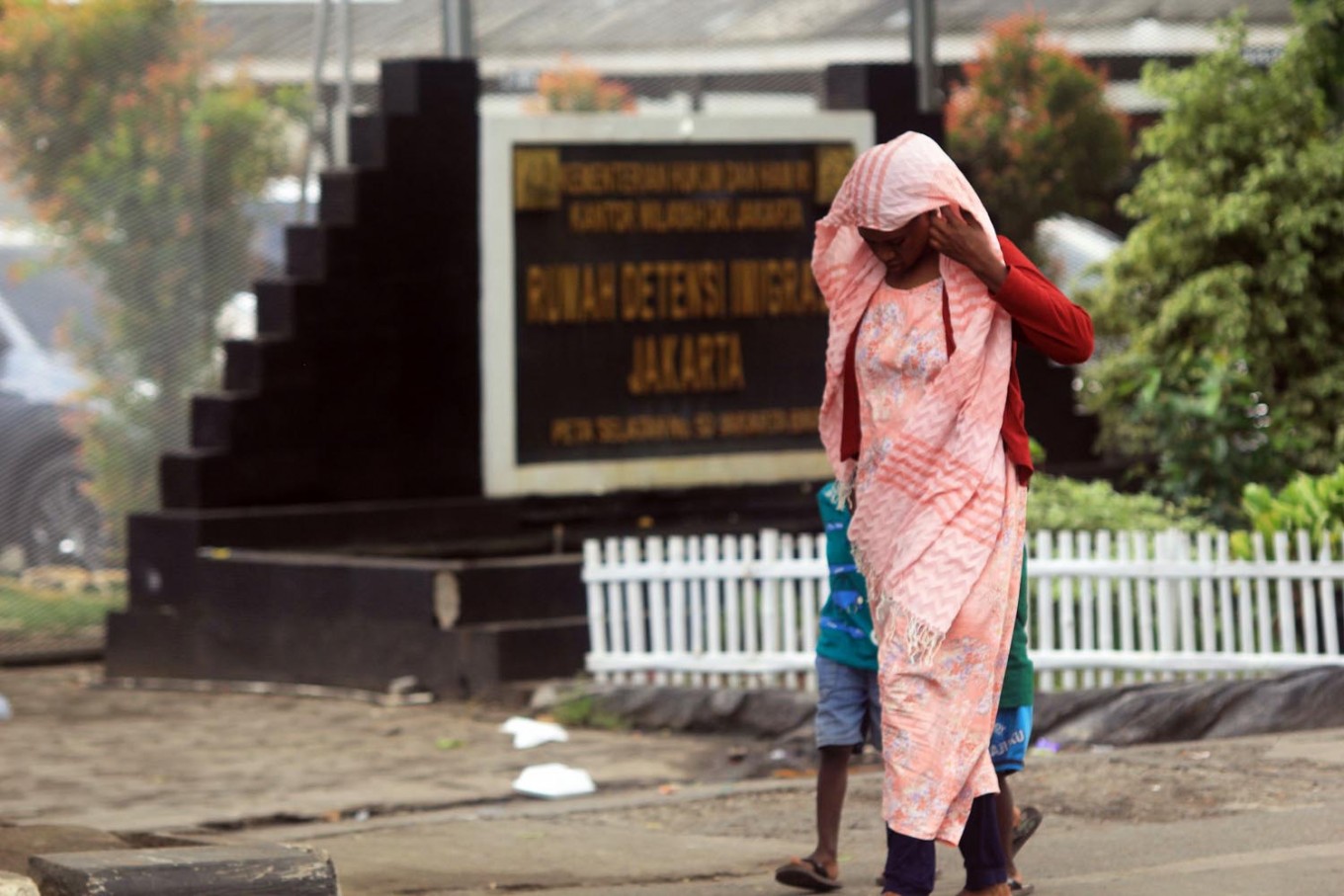 Sticking together: A Somalian refugee and her children walk in front of the West Jakarta Immigration Detention House. (JP/ Rifky Dewandaru)
Last year marked a further devastating period for refugees. Over 500,000 Rohingya refugees fled persecution in Myanmar with no clear resolution in sight though neighbors have accommodated great numbers of them. The United Nations High Commissioner for Refugees (UNHCR) has provided humanitarian aid in the form of refugee camps in Bangladesh, which like elsewhere is seeing stretched resources.
Many Rohingya refugees have also risked their life to journey across the sea with makeshift boats to Indonesia and Malaysia, and although they have been accepted by local authorities, they face uncertainty.
In the West, with populism on the rise political parties in Europe are campaigning to have stricter policies in receiving refugees. Donald Trump's presidency barring Middle Eastern travelers to enter the United States led the UN chief human rights advocate Zeid Ra'ad Al Hussein to voice his concern that the organization had diminished its ability to uphold universal human rights.
Though Indonesia is not a signatory of the 1951 UN Refugee Convention, thus not bound to assist refugees in resettling in Indonesia, it has however displayed goodwill in sheltering refugees from the Middle East and the recently stranded Rohingya refugees until they are permanently resettled to a third country such as Australia. Yet this gesture is not enough to mitigate the issue in the long run as there are 14,000 refugees in Indonesia waiting to be resettled, most have waited for years with no certain outcome, leading to several protests. Refugees have also protested against officials' treatment and conditions in crowded shelters, occasionally resulting in violence.
Indonesia's government still lacks an overarching framework for this matter despite being pressured by the international community to ratify the Convention, citing additional economic burdens. The presidential decree signed by President Joko "Jokowi" Widodo early last year projects a positive breakthrough from a long vacuum of action by the government, as it gives reassurance for refugees in Indonesia that they will not be forcibly repatriated to their home country. Proactive efforts have also been made by the Foreign Ministry such as organizing 11 NGOs under the banner of Indonesian Humanitarian Alliance for Myanmar (AKIM) and sending them to Myanmar to provide humanitarian aid.
Nevertheless, such steps have not addressed the pressing matter of the refugees' fate inside the country. Currently UNCHR can only resettle about 400 refugees in Indonesia or only 3 percent of the 14,000 refugees with a priority for women, children, unaccompanied minors and elders. This imposes a long term problem especially for well-educated refugees of productive working age, where they are competing against time for their productivity. The presidential decree reasserts it is illegal for them to work, while government policy leaves the urgent issues of productivity and training unaddressed.
Indonesia will always be a transit country for refugees or migrants who hope to resettle in Australia or elsewhere, and it cannot depend on the state of world affairs to hope the refugee influx will decrease any time soon. The country is bound by its1945 Constitution to actively partake in world peace and social justice. Additionally, Indonesia has ratified similar conventions that reflect its commitment to universal human rights. Delaying the underlying issue of refugees in the country will not just hinder Indonesia's commitment for human rights, it can also become a security risk where refugees can turn to crime for living and even radicalization by extremist groups.
Currently, refugees depend on international organizations and NGOs to provide their basic needs. Efforts include those by the Sandya Institute Center for Peace and Human Rights that opened a Refugee Learning Center for Indonesian, English, computer skills and legal knowledge.
SUAKA is another group which provides legal aid to refugees while also analyzing policy changes that can empower them. The International Organization for Migration in Indonesia also provides basic vocational training for refugees such as furniture-making and cutting hair. Even so, to have a large impact for the thousands of refugees stranded here, the government should hasten the creation of a legal framework to shelter and provide education and healthcare for the refugees.
As UNHCR and certain NGOs have first-hand experience in assisting refugees, the public sector should collaborate with them intensively to create a suitable local framework for the country's status as a transit country, while also addressing the long term impact of stranded refugees here.
***
The writer, a graduate in political sciences from Parahyangan Catholic University, Bandung, is an intern at the Centre for Strategic and International Studies (CSIS), Jakarta.
Disclaimer: The opinions expressed in this article are those of the author and do not reflect the official stance of The Jakarta Post.
Topics :
Join the discussions