EDITORIAL: Taking public order for granted
EDITORIAL

The Jakarta Post
Jakarta |

Sat, May 5, 2018

| 04:16 pm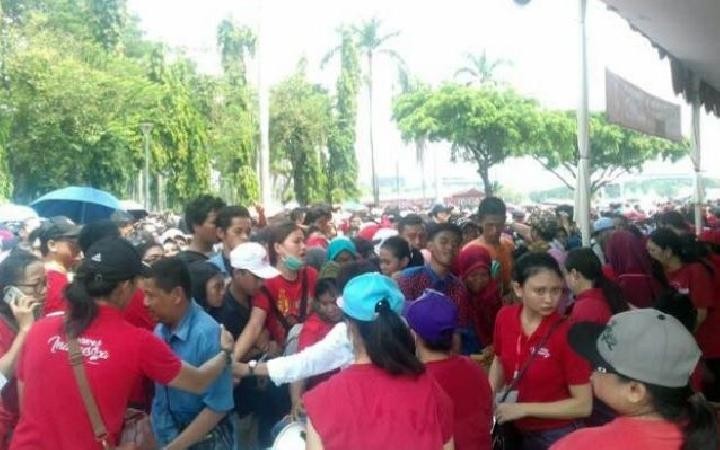 People line up to redeem their vouchers for staple food during a charity event held by Forum Untukmu Indonesia at the National Monument (Monas) park on April 28. (Via tempo.co/TMC Polda Metro Jaya)
It was a devastating weekend at the National Monument (Monas) and its nearby areas, the heart of the country's political and business orbits. Only a few hundred meters from the State Palace, and a few minutes' walk from City Hall, two children lost their lives at Monas Square on Saturday.
Mahesa Junaedi, 12, and Muhamad Rizki Syaputra, 10, reportedly died of dehydration as they were bustled about in a crowd of thousands of people who had gathered at a social outreach event featuring musical performances and free food packages.
The next day, a mother and her son were intimidated by a group of Car Free Day (CFD) revelers at the Hotel Indonesia traffic circle. The largely cheerful occasion, which has become a popular family destination on Jl. Sudirman and Jl. MH Thamrin, was disrupted by the political activities of groups who support and oppose President Joko "Jokowi" Widodo. The scuffle is feared to be a small foretaste of what is to come ahead of next year's presidential election — Jokowi's last chance for another term.
Monas and the main thoroughfares have long been part of the nation's political struggles, having hosted various protests involving people from all walks of life.
Therefore, former Jakarta governor Basuki "Ahok" Tjahaja Purnama and later Djarot Saiful Hidayat banned the square, also known as Merdeka Square, from being used for religious rites and political activities, citing public order concerns. Ahok cited Presidential Decree No. 25/1995 on the development of the Medan Merdeka area, including Monas, which mandates that the area must remain a "neutral zone" without commercial or political activities.
Governor Anies Baswedan lifted the ban shortly after taking office, arguing that it should be open for all. The administration has since sponsored several religious and cultural events in the square, encouraging all parties to utilize it for religious and cultural activities.
That is why it is highly regretful that the Jakarta administration and the police have refused to take responsibility for the chaos that took place at Monas and on CFD. The two events were far from political and involved many people, especially children, and occurred at a very public, open place, next to government offices.
The violence, and even deaths, that occurred last weekend showed a glaring lack of security provided by the police and public order officials, who are supposed to guard such large events.
Police are investigating how opposing groups could have come into such close contact on Sunday. The lack of security has shown that authorities were negligent and incapable of maintaining public order.
This is very alarming, considering that the country will hold its regional elections in June and general election in April next year. If security officials cannot maintain security at relatively small and regular events, how can they assure the safety of Indonesians attending larger events?
It does not really matter which party holds the event or who the victims are — the authorities have the responsibility to protect all citizens at all costs.
Topics :
Join the discussions