Fundamentals remain strong
Editorial Board

The Jakarta Post
Jakarta |

Wed, May 16, 2018

| 08:13 am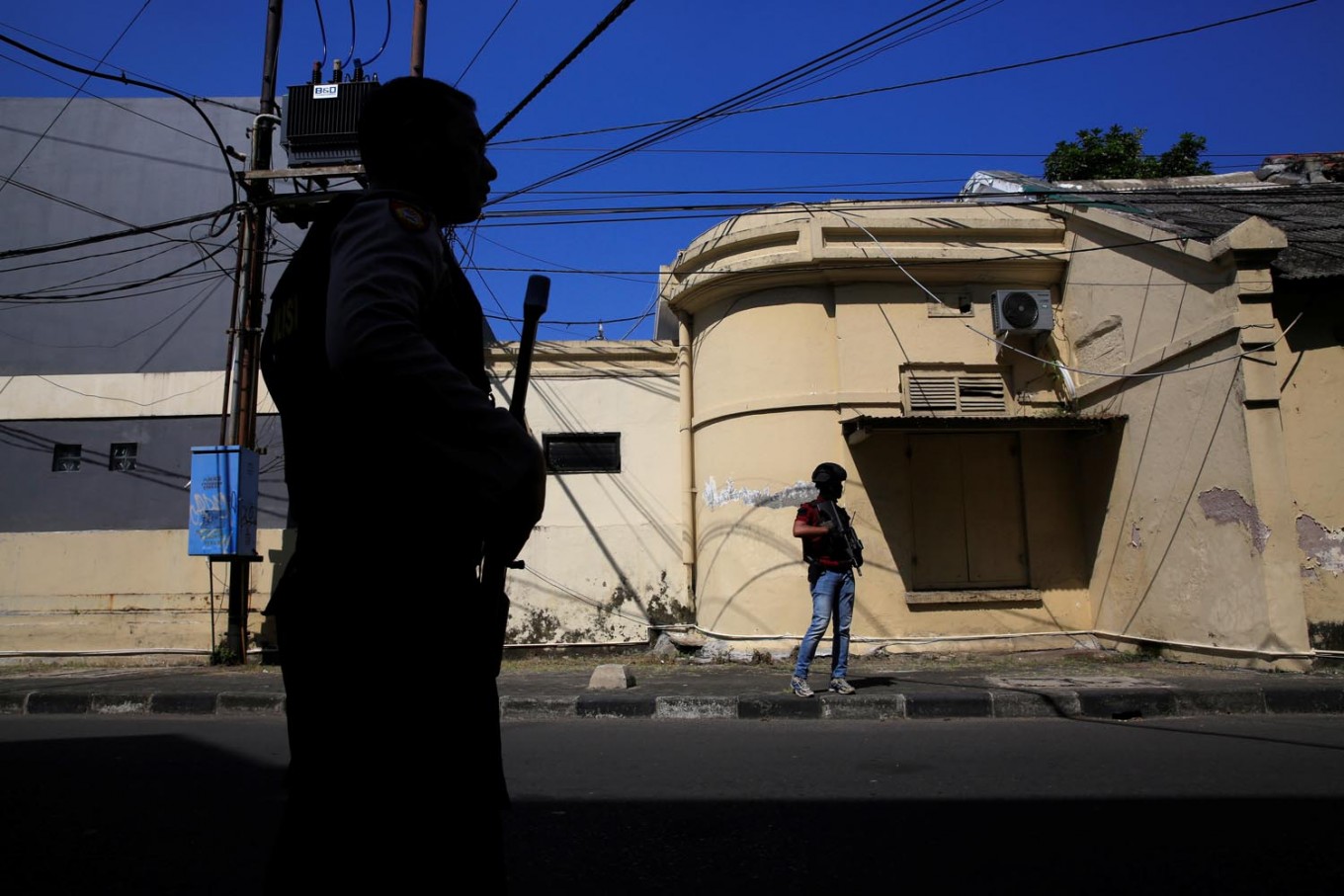 Anti-terror policemen stand guard following a bomb blast at a police office in Surabaya, Indonesia May 14, 2018. (Reuters/Beawiharta)
The financial market predictably remained calm and stable despite the latest spate of terrorist bomb attacks in the East Java capital of Surabaya earlier this week. The Jakarta share price index and the rupiah remained virtually flat.
As far as the economic fundamentals are concerned, perception and reality remain positive. This does not mean that the economy is not encountering bigger external downside risks, notably the steady rise in both the dollar rate and oil prices. But by and large, barring any sudden and steep hike in oil prices, the macroeconomic stability will sustain.
True, over the last few months, capital outflows have put downward pressure on the rupiah, forcing the central bank to dip into its international reserves to defend the currency. But the reserve buffer has been such that Bank Indonesia (BI) reserves are in a safe position, seen from its capacity to meet demand for short debt servicing and imports.
The almost 3.8 percent rupiah depreciation so far this year is still manageable with the current-account deficit remaining below 2.3 percent; the fiscal deficit wellcontrolled way below the 3 percent ceiling allowed by the law and the central bank's hedging rule has been strongly implemented.
Yet most important is that inflation will most likely remain fairly stable even though private consumption will reach its annual peak during the fasting month starting this week and Idul Fitri celebrations next month. But most analysts still foresee a one-off rate hike this year, because the United States Federal Reserves' money tightening measure for the whole year has been well-predicted and factored in.
BI certainly must ensure the rupiah would not decline significantly as a sharp currency depreciation would raise the risk of higher imported inflation, notably due to the burgeoning oil import bill. This would cause stronger inflationary pressures and consequently push down the rupiah with other negative impacts of a vicious cycle.
This is, we think, the danger the government has been trying to avoid by controlling the rise in energy prices. Fortunately, the government has from the outset designed the 2018 state budget in such a way that there will still be fiscal space for accommodating a bigger fuel subsidy up to a certain level of oil prices. As a net oil importer, Indonesia is highly vulnerable to oil-price volatility.
Several analysts may attack the temporary freezing of energy prices as a populist measure to fulfill the short-term interests of the current government in the election year, and as a reversal of the long-term energy policy to diversify away from fossil fuels and enhance the harnessing of renewables. But this contingency measure is still worthwhile to maintain macroeconomic and political stability.
Nevertheless, the government should seize the latest terrorist bomb attacks as a momentum to push through the enactment of the long-stalled terrorism bill. Terrorist acts are extraordinary, egregious crimes against humanity. We are simply not able to cope with terrorist acts within the conventional criminal justice system.
Join the discussions