Count our blessings, we have democracy
Endy M. Bayuni

The Jakarta Post
Jakarta |

Thu, May 24, 2018

| 11:31 am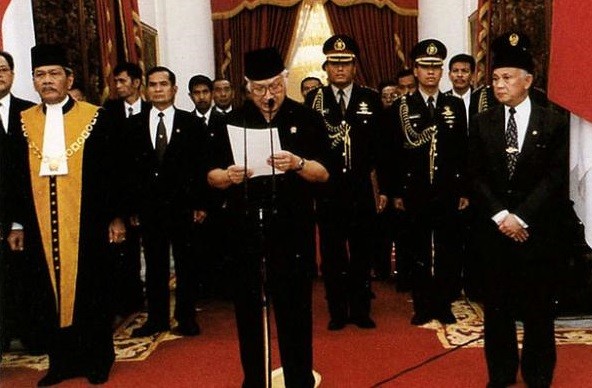 President Soeharto announced that he was resigning as President of Indonesia at the Merdeka Palace, Jakarta on May 21, 1998. (Kompas.com/-)
Indonesians are a bunch of "half-empty glass" rather than "half-full glass" people. This week, as the country marks 20 years since it embarked on the path of political reform, rather than celebrating what we have accomplished, most people are focusing on the government's shortcomings and failings, as well as the many pending tasks and unfinished business.
Presented this way, you would inevitably be left with a gloomy picture of a nation that is trapped in a never-ending struggle. The more you look into the nation's problems, the more pessimistic you'd become.
You'd be forgiven for thinking that nothing has changed, or that things have changed for the worse since that day on May 21, 1998, when Soeharto's authoritarian regime collapsed.
From this perspective, the glass indeed looks half-empty, even three-quarters empty.
Once in a while, however, it pays for the nation to learn to count our blessings by looking at what we have achieved. We have actually achieved a lot, but we just don't know or appreciate this, perhaps because we are so preoccupied with the problems and challenges of the day.
What we often forget is that we have far more freedom than we have ever had in a long time, and we have democracy: it's not perfect, but it is a functioning one that is good enough to prevent the reemergence of another dictator. And our economy is not doing too badly relative to others.
This is a lot more than what we had 20 years ago, and far, far more than most other developing nations that have attempted democracy can boast.
The Arab Spring did not last long and the countries in this region are now engulfed in fire.
Our neighbors Thailand and the Philippines, to whom we turned for lessons learned when we embarked on this political journey in 1998, are seeing huge setbacks in their democracies. These early democracies of Southeast Asia continue to provide us with lessons; this time on how and why democracy can go wrong. Malaysia, meanwhile, is looking like Southeast Asia's poster boy for democracy.
Indonesia's remarkable achievements are far more appreciated abroad than by its own people.
In foreign literature and media coverage, Indonesia enjoys many accolades such as "emerging democracy", "emerging market economy", "the third largest democracy in the world", "a democratic country with the world's largest Muslim population", "the 16th largest economy in the world" and "a rising Asian power". You would not have found any of these descriptions for Indonesia 20 years ago.
Indonesia's march toward democracy has destroyed two widely accepted myths.
One is that you can have democracy or development, but not both at the same time. Indonesia has shown that we can.
Taking the argument further on our own experience, Indonesia says you can only have sustainable development under a democracy. Soeharto delivered the economic goods at the cost of our liberty, and that did not last long because pretty soon, the nation veered toward bankruptcy under the massive, unchecked corruption of his regime. There is no trade-off between democracy and development.
The other myth is that democracy and Islam are incompatible. Indonesia has shown that they are, in fact, compatible, and not by creating a dichotomy between politics and religion, but by incorporating religious and moral values into our politics as a form of checks and balances. Pancasila, the state ideology, has never been more important in ensuring the proper role and place of religion as in a democratic Indonesia.
Underpinning Indonesia's success story is our many freedoms, particularly freedom of speech, but also freedom of association and freedom of religion, now fully guaranteed and largely observed and protected, albeit not wholly as yet. Yes, this is one glaring shortcoming that needs addressing.
If Indonesians today complain a lot, as they have done this week as they looked back at 20 years of reformasi, it is because they can: They have the freedom — and the space, thanks to the internet. These complaints should keep our elected leaders on their toes and give them sleepless nights if they intend to stay in office. Soeharto would have had none of these and would have put most of these vocal citizens in jail.
Our general elections are by no means perfect, but they are good enough to ensure rotating leaders in the executive and legislative branches based on the choices the people have made. Yes, we can make mistakes in our choices, but we can always make amends by replacing them five years later.
That's why we have had five presidents since 1998, from B.J. Habibie to Abdurrahman Wahid, from Megawati Sukarnoputri to Susilo Bambang Yudhoyono and now Joko Widodo, who faces his day of judgment in April 2019. If people feel he delivers, they will allow him to stay. Otherwise, they will usher in a new one.
Freedom, democracy and development are the stuffs that build a nation, and Indonesia has been fortunate to have all three, albeit in different measures, for much of the last 20 years.
Sure, there have been many reversals along this journey, but that is part of the dynamics of a young democracy. It's the case of two steps forward and one step backward that makes progress inevitably slow.
Like a glacier, we often don't feel that we are moving. But look back 20 years ago, and then we can begin to appreciate that the nation has come a long way.
This should give us encouragement about our future. We should continue to have faith in democracy, and faith that most, if not all, of our problems will be resolved through democratic means.
Three cheers for our democracy. Make no mistake: the glass is half full.
***
The writer is a senior editor at The Jakarta Post.

Join the discussions