What next after Malaysia's reversal of fortune
Wimar Witoelar

Founder of Intermatrix Communications, which advises the civil society group Indigenous Peoples Alliance of the Archipelago (AMAN)
Jakarta |

Fri, May 25, 2018

| 11:51 am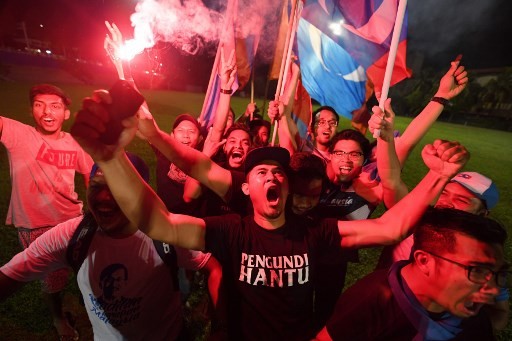 Supporters of former Malaysian prime minister and opposition candidate Mahathir Mohamad celebrate in Kuala Lumpur on early May 10, 2018. Malaysia's opposition alliance headed by veteran ex-leader Mahathir Mohamad, 92, has won a historic election victory, official results showed on May 10, ending the six-decade rule of the Barisan Nasional (BN) coalition. (AFP/Mohd Rasfan)
The erosion-public faith in then Malaysian prime minister Najib Razak culminated in a dramatic electoral upset on May 8. Mahathir Mohamad returned to the prime ministership that he had left in 2003 after presiding over Malaysia's development boom in the 80s and 90s.

The reversal was nothing short of miraculous, almost Shakespearean in its political turnaround. The villain becomes the hero. Anwar Ibrahim, who was persecuted and jailed in 1999, and then released, jailed again, and now released again.

Mahathir has publicly named Anwar as the next prime minister in two years' time. This is a perfect scenario for an epic blockbuster, stretching the imagination like all noteworthy sagas.

Will expectations be met? When Mahathir first invited Anwar into his Cabinet in 1982 Anwar had risen to prominence as a charismatic student leader, taking the role as opposition to the establishment party, the United Malays National Organization (UMNO), in the 1970s.

Coming from the same generation as our 1966 student leaders, Anwar was from the beginning a firebrand. He rode the rising tide of political Islam, taking the opportunities available from religious sentiment and the growing international Muslim movement empowered by the 1979 Iranian Revolution.

The co-opting of Anwar into UMNO was the first of many political events in the relationship between Mahathir and Anwar, as Mahathir deputized the young man.

The 1980s and early 90s were peak years for Malaysia, with rapid economic growth and gains in development. It was quite similar to Soeharto's success in Indonesia, without the outrageous degree of corruption. Mahathir's tough leadership had put the country in the ranks of Asia's young tigers, while Anwar's loyalty and role secured his place in Malaysia's success.

The first signs of trouble came when Anwar began to openly call for political reform, highlighting the gap between the incumbent and the challenger. Mahathir stood firm in consolidating power while Anwar sought to win using a reform strategy. Mahathir was more adept at controlling power and won the struggle.
Mahathir won the 2018 elections by promising Anwar's release, and now the two men are allies again.

They both publicly attest a commitment to political reform. The complicated past, however, is still there, and how this is put to rest by a shared goal is in question. The most important changes in the first few weeks will be in the domestic arena.

Although Mahathir's record has been against America, his suspicion is now directed against China, although he has pledged to stand by commitments made in Chinese investments and is content to let the Sino-Malaysian relationship run its course.

For now, Mahathir will let the legal mechanism work in bringing Najib to justice and make adjustments in the domestic balance of power.

The Mahathir-Anwar pact is stable following Anwar's declaration that he will not interfere with government affairs for the time being. The power transition and progress of political reform will be next on the agenda. It will probably be difficult for Mahathir and Anwar, who are both driven by power.

But both are now more mature after years of tumult and now Malaysians hope these two men can put country first and work together as allies to strengthen the country.

Mahathir left power in 2003 after ruling for 22 years. And now he is back in the seat of power as prime minister at the age of 92. An impressive array of figures rivaled only by Anwar's record of bouncing in and out of power and jail. He is the manifestation of the old adage that "it doesn't matter how you fall as long as you know how to recover" and "what doesn't kill you will make you stronger".

Arguably we have a stronger Anwar now than we had in 1999. But we also have stronger Mahathir at 92 than when he was in his prime years so many years ago. In combination they might be stronger than any Malaysian leadership the country has ever had.

Mahathir and Anwar are both masters of recovery and the art of mending fences. And they publicly attribute this to commitment to political reform. The betrayals of the past, however, are still there, and we have yet to see how these will be dealt with.

For outside observers the Malaysian reversal is important because it has set aside racial prejudices of the past. They are leaving behind identity politics in a coalition that is truly pluralistic. Chinese, Malay, Muslims, non-Muslims and all the various colors of the rainbow are stakeholders now.

Mahathir's Cabinet is even gender neutral with Wan Azizah being the deputy prime minister. It is multiracial with several Chinese politicians serving in high positions. And it is as far as we know cross-sectoral and in fact a truly pluralistic Cabinet such as no Southeast Asian country has ever seen before, including
Indonesia.

As Indonesia slides from pluralism into intolerance and exclusivism, Malaysia which has often been branded as being intolerant, is now the hope of pluralist democracy. Indonesia can learn from Mahathir and Anwar, but most of all from the Malaysian voters.

It is voters who brought this coalition to power and it will be voters who can do away with racism and intolerance for a long time. As there is concern that Indonesia is going in the other direction in 2018 and 2019, we earnestly hope that Malaysia leads the region toward mature democracy.
***
The writer is the founder of InterMatrix Communications and was a spokesman for former president Abdurrahman Wahid (1999-2001).
Disclaimer: The opinions expressed in this article are those of the author and do not reflect the official stance of The Jakarta Post.
Topics :

Join the discussions