Coastal tourism destination challenges in Southeast Asia
Florida |

Fri, June 1, 2018

| 10:16 am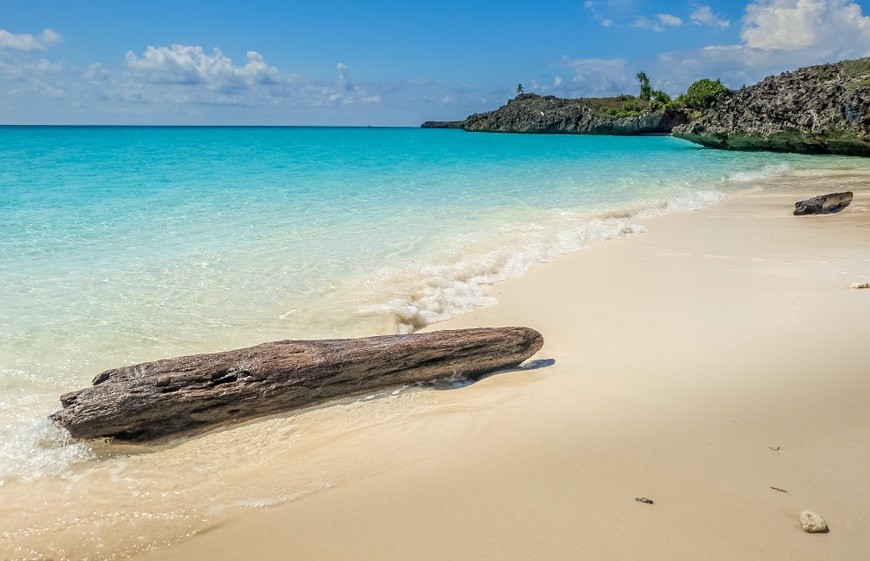 A driftwood on a secluded white sand beach in the Bahuluang island nearby the Selayar Island, South Sulawesi. (Shutterstock/File)
Southeast Asia countries heavily rely on tourism and are vulnerable to disruptions such as natural disasters. These include cyclones, floods, earthquakes, tsunami, wildfires, droughts, and volcanoes. During 2000-2015, floods, drought, storms and landslides accounted for more than 80 percent of total occurrences of natural disasters in the region.
In addition to natural disasters, slow-paced disruption such as climate change is another challenge to tourism in ASEAN countries. Serious sea level rise can lead to land loss and flooding. There is increasing evidence that such global problems are affecting Southeast Asian regions.
According to the Ocean Conservancy NGO in the United States, Southeast Asia countries such as Indonesia, Philippines, and Vietnam are known to be top plastic pollution countries. Trash is worst during the annual monsoon season when strong winds push marine flotsam on to the beach and overflowing rivers wash rubbish from the riverbank to the coast. Last December Bali declared a garbage emergency.
Stakeholders in tourism have raised concerns about the impact of natural disasters on their policies and practices. Environmental protection and climate change mitigation have been part of the ASEAN strategic plan 2016-2025, specifically in developing green standards and product development. It seeks to provide policy guidelines and knowledge on climate change adaptation and resilience to climate change entities to ensure ASEAN tourism remains sustainable and inclusive. The target plan is to prepare and implement a manual of guidelines for incorporating environment and climate change mitigation, adaptation, and resilience by 2025.
In disaster management, ASEAN countries already have an agreement on Disaster Management and Emergency Response which came into force in 2009. The agreement with the motto "One ASEAN one response" set the foundation for regional cooperation, coordination and resource mobilization in all aspect of disaster management and emergency response.
In the tourism industry, hotel resilient initiatives provide guidance to strengthen disaster resilience for hotels. The program piloting in Indonesia, Myanmar, the Philippines, and Thailand, for instance, with certification, are focusing on larger properties, with a more guidance-oriented approach for small hotels.
The program aims to build resilience to disaster through encouraging disaster risk reduction strategies in three categories, with 18 subcategories. These categories include building location, design, and structural elements, system design to warn and minimize risk reduction planning components, which include training, drills, communications planning and continuity plans.
An existing "Tsunami Ready Toolbox" prepares hotels for the event of a tsunami. This has been implemented in hotels in Southeast Asia regions which include Thailand and Indonesia, which were both hard hit in the December 2004 earthquake and tsunami.
The toolbox, an initiative of the Tourism Ministry and Bali Hotels Association (BHA), has been selected as an example of a good practice for "public-private partnership in disaster risk reduction" under the United Nations' International Strategy for Disaster Reduction. Bali Tourism Board is also preparing a mitigation plan book as guidance for the industry and other stakeholders in the event of natural disasters.
Natural protection such as mangroves is widely considered effective to reduce climate change impact in coastal areas such as in the event of a storm surge or sea level rise. Mangroves provide recreational sites; they need less costs to construct and are able to keep pace with the sea level rise. Several mangrove based tourism sites are Sungei Buloh Wetland in Singapore, Wonorejo mangrove tourism in Surabaya, East Java, Matang Mangrove Forest in Perak, Malaysia and Can Gio Mangrove Biosphere in Ho Chi Minh City, Vietnam. These places teach visitors about the true value of mangrove ecosystem which includes exotic plant and animal biodiversity, local livelihoods and culture. Visitors can also engage in various activities such as fishing, animal watching, walking, and boat tours.
The challenge for developing countries is to simultaneously promote economic growth, maintain environmental condition and resistance against disaster. Towards this end, coastal development with many stakeholders involved in the process often has conflict of interests. Top-down tourism development project is driven largely by the government in partnership with the private sector. Local communities are not always involved in the decision-making process on development projects. Development projects such as land reclamation of Seri Tanjung Pinang Project in Malaysia's northeast coast of Penang Island and Tanjung Benoa Bay of Bali has triggered protests from local communities demanding social and economic justice.
The ASEAN –ASEAN Marine Water Quality Criteria and the Partnerships in Environmental Management for Seas of East Asia (PEMSEA) are regional bodies that provide regulatory framework supporting sustainable coastal environment and recreational water use. Despite these frameworks, compliance is on a voluntary basis and depends on each country's means and capacities.
In sum, further actions are needed, mainly involvement from all stakeholders to encourage more sustainable development in vulnerable coastal areas. Relevant information and policy must be communicated, enforced and beneficial to all the stakeholders. Moreover, a call for "back to nature" in tourism arguably provides an alternative solution to reduce the impact of natural disaster and climate change. In this case, more attention should be paid to ecotourism such as mangrove tourism.
***
The writer is a doctoral student at the University of Central Florida, Orlando, Florida, US. She can be reached via email [email protected]
Disclaimer: The opinions expressed in this article are those of the author and do not reflect the official stance of The Jakarta Post.
Join the discussions