China mends North Korea ties, eyeing Taiwan
Masahiko Takekoshi

The Japan News/ANN
Tokyo |

Thu, June 7, 2018

| 07:41 am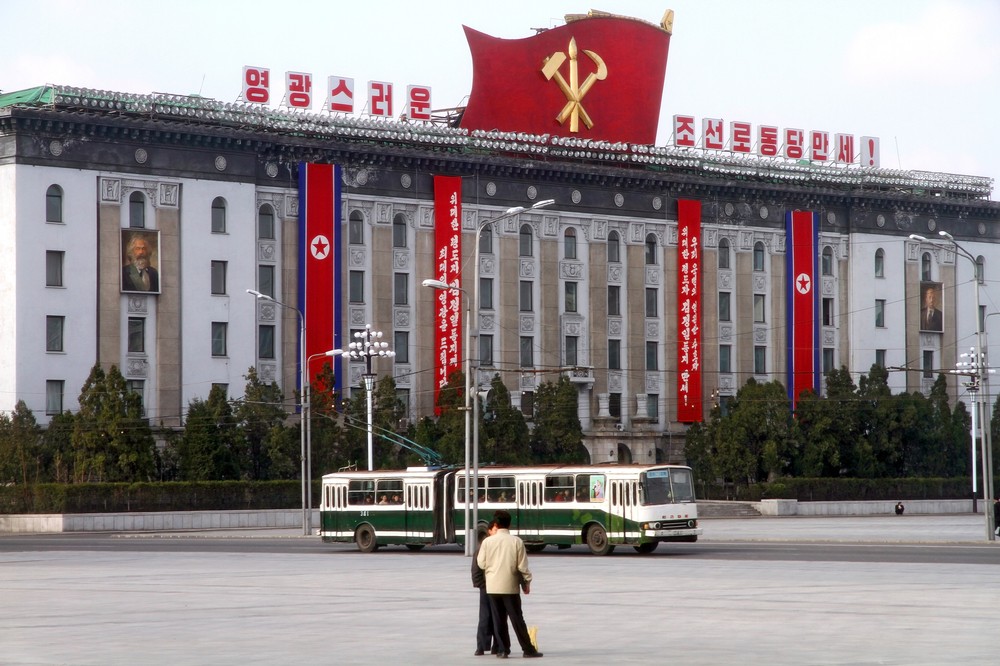 View of the government building on the central square of Kim Il-Sung of Pyongyang - capital of the North Korea (Shutterstock/-)
While based in Beijing, I observed China for nearly four years, from the first half of President Xi Jinping's first term until the time his second term got into full gear.
Setting aside the concentration of power in Xi's hands, which has been conducted at a surprisingly accelerated pace, I observed three changes.
Wearing sanitary masks, which became essential for Beijingers when going out, many citizens using their smartphones took photos of a blue sky when one temporarily appeared.
This was not a laughing matter because air pollution had become very serious in the capital. But the air condition has remarkably improved now, apparently because regulations have been imposed even on firecrackers — a necessity for celebrations — and smoke from broiled meat restaurants.
Local daily life has also improved in terms of convenience. Payments using mobile devices and bike-sharing have spread all over the country in a very short period, and China has now converted itself into a cashless society in which notes and coins are rejected even when buying roasted sweet potatoes at street stalls. It is tremendous how fast China has been developing information technology while at the same time reinforcing the government's control over society.
The most dramatic change is how China has responded one of its neighbors — North Korea.
After the inauguration of the Xi administration, China-North Korea relations soured to the worst level ever, because Kim Jong-un, chairman of the Workers' Party of Korea, continued and even accelerated his country's nuclear and missile development.
Experts said China should handle the bilateral relations on a case-by-case basis based on its national interests, and a government source described Beijing's special ties with Pyongyang as "no longer an asset for China, but just a debt now."
Even with strict control on free speech, the Chinese public harshly criticized this hereditary leader by dubbing him the "third-generation fatty of the Kim family," a description that was left untouched by censors.
Having said that, Kim's visit to China in late March ahead of a planned summit meeting between the United States and North Korea helped the two neighbors mend their ties in a way that is almost hard to believe.
Previously, Chinese authorities had never allowed Kim to travel to Beijing aboard an exclusive train for the leader, citing security concerns and extensive negative impacts on the life of the people. However, Kim was allowed to do so for his March visit, and when returning home he filled his train cars with food and other goods.
On the internet, North Korea became a term for which users were not allowed to search.
North Korea had repeated provocations by conducting nuclear tests and test-firing ballistic missiles in coincidence with international conferences hosted by China, in which Xi wished to take pride. It is easy to imagine how frustrated Xi must have been because the president lost face over and over at a time when he was improving his domestic influence.
However, Xi's recent words and deeds indicate that the president has begun giving backing to North Korea, or even speaking on behalf of its neighbor.
China is apparently considering various options, such as once again using North Korea as a bargaining chip in relations with the United States, which have become more conflict-prone. Or Beijing may be mulling making itself more committed to resolving Korean Peninsula issues, an area in which efforts have been led by Washington, Seoul and Pyongyang.
In any case, something seems to be hidden behind the smiling face that Xi is showing Kim.
The Communist Party of China has reinforced its control over the government and military, under which Xi has gained stronger leadership and concentrated power to such an extent that his administration is now even likened to a wartime regime. There is a view that his main focus is on reunification with Taiwan.
It is difficult for China to respond to North Korea while at the same time reunifying with Taiwan. Historically speaking, Beijing regarded unification with Taiwan as the most important strategic goal just after the founding of the nation, but the goal became more distant as the country dedicated much of its focus to intervening in the Korean War.
"It was difficult to face two-front operations — and still remains so today," an observer said. "If the situations surrounding the Korean Peninsula become stable, it would help [China] focus on the Taiwan issue."
While diplomatic posturing continues between the United States and North Korea, a real search will continue for a way to declare an official end of the Korean War and to establish a scheme to bring peace to the peninsula.
For Xi, the planned summit meeting undoubtedly seems to be a chance in a million. It would be no wonder if the president is setting his sights far beyond that meeting — on unifying China and Taiwan.
From The Yomiuri Shimbun May 27, 2018
This article appeared on The Japan News newspaper website, which is a member of Asia News Network and a media partner of The Jakarta Post
Join the discussions