Fighting the graft fighters
Editorial Board

The Jakarta Post
Jakarta |

Fri, June 8, 2018

| 08:05 am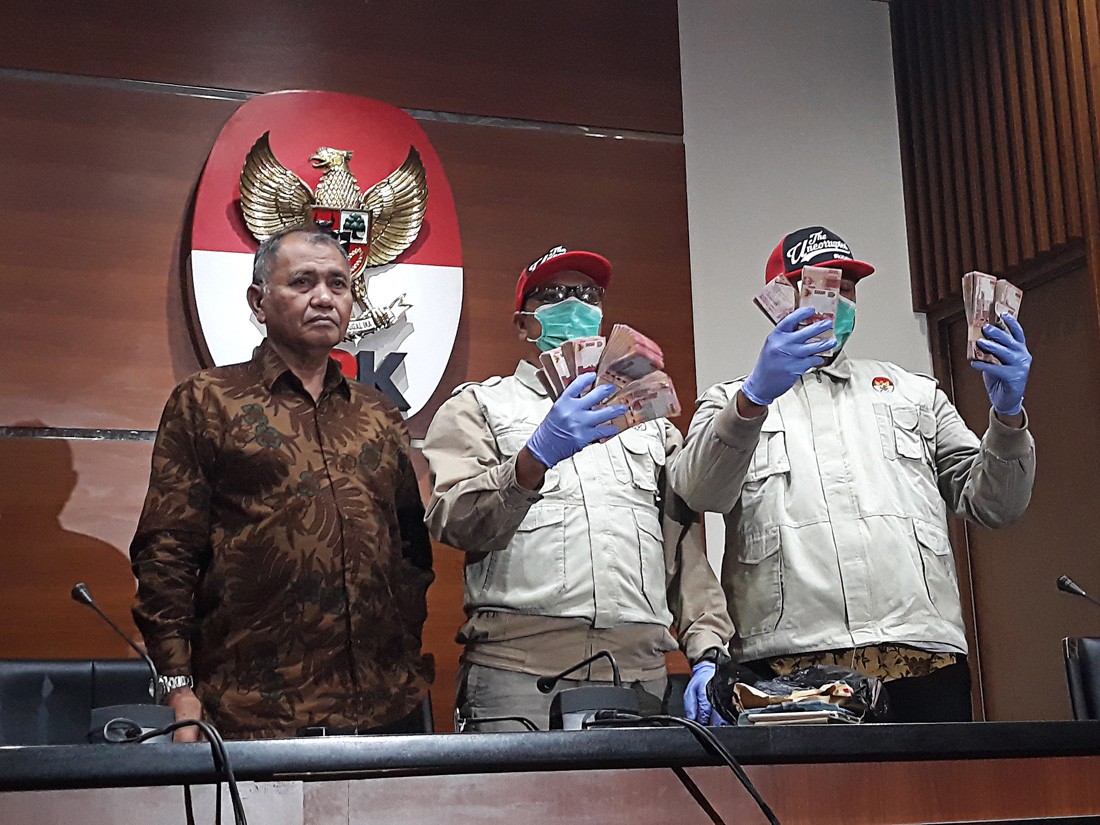 FIghting against corruption: Corruption Eradication Commission (KPK) chairman Agus Rahardjo announces the body's decision to name Purbalingga Regent Tasdi a suspect in a graft case during a press conference on June 5. KPK investigators shows some of the money they seized during their operation to arrest the regent. (JP/Kharishar Kahfi)
In yet another attempt to undermine the Corruption Eradication Commission (KPK), the political elites are tabling a draft amendment of the Criminal Code (KUHP) that will potentially weaken the country's fight against graft through putting restrictions on the commission's powers.
Deliberation of the long-overdue amendment at the House of Representatives shifted gears when KPK investigators arrested a regent and a number of local officials for allegedly accepting kickbacks related to construction projects on Monday and Wednesday.
Embezzlement of the people's money seems to be taking place almost every day and involves officials who have taken an oath to serve the public unconditionally. It is therefore a stark irony that both the lawmakers and the government insist on adding a number of clauses on corruption that go against the very aims of our reform movement declared more than 20 years ago — one of which was to stamp out corruption, collusion and nepotism.
Furthermore the amendment defies the national consensus that declares corruption an extraordinary crime, which consequently requires extraordinary measures to defeat. The draft amendment includes articles on corruption that are not in agreement with the existing 2002 Corruption Law, and will surely lack a deterrent effect.
Take the draft revision that sets the minimum prison sentence for those who are found guilty of enriching themselves or others at two years, compared with four years stipulated in the 2002 Corruption Law. Another flaw found in the draft is its failure to accommodate a principle in the Corruption Law that says that restitution of state losses does not annul a crime.
Not only will the draft amendment of the KUHP send an inconsistent message about corruption eradication, it will also create legal uncertainty — seen as the Achilles' heel of law enforcement in this country.
The KPK has expressed its concern about the weakening of the nationwide anticorruption drive if the House passes the amended law, which House Speaker Bambang Soesatyo has set for some time in August as an anniversary gift to mark the Republic's independence.
In its letters to President Joko "Jokowi" Widodo, KPK leaders have reasserted that the country has ratified the United Nations Convention against Corruption and if the amended KUHP is passed it will violate the UN convention. The convention prescribes a special antigraft body whose operations are governed under a special law, rather than a codified law like the KUHP.
The formation of a special agency to accelerate corruption eradication, such as the KPK, and cooperation among these agencies are becoming a global trend as the world deems corruption a threat to humanity. Instead of undermining the KPK through an amendment of the KUHP, policymakers should be empowering, or at the very least supporting, the commission.
The amendment seems to be another move against the KPK after numerous attempts to neuter it have failed. There is no other option for the country other than to reject the revisions.
Topics :
Join the discussions