Erdogan: A strong leader in need?
Editorial Board

The Jakarta Post
Jakarta |

Tue, June 26, 2018

| 08:04 am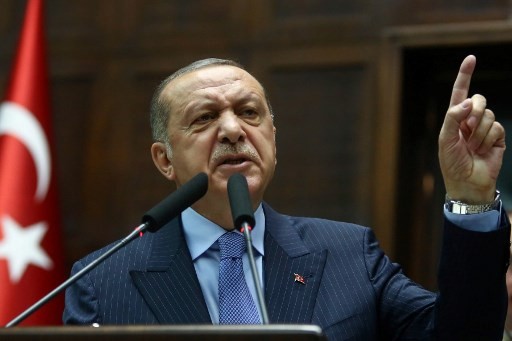 President of Turkey and the leader of the Justice and Development Party (AK Party) Recep Tayyip Erdogan makes a speech during the AK Party's parliamentary group meeting at the Grand National Assembly of Turkey (TBMM) in Ankara on May 8, 2018. (AFP/Adem Altan)
The convincing victory of Turkish President Recep Tayyip Erdogan and his Justice and Development Party (AKP) in Sunday's election confirms the trend that people, including those in Indonesia, prefer a strong leader. Look at the popularity of United States President Donald Trump, Russian President Vladimir Putin, Chinese President Xi Jinping and French President Emmanuel Macron.
The rising presence of strongmen shows that many people want their leaders to be decisive, consistent and, if necessary, iron fisted and cold-hearted. They are willing to accept the consequences, such as violations of human rights, disrespect for civil rights and undemocratic practices of governance. They are simply fed up with leaders who champion democracy but who hardly satisfy their needs.
Erdogan easily won Sunday's election because the Turkish people believe that the Islamist president is capable of regaining Turkey's credentials as the leader of the Muslim world and being a key player in global, economic, political and military affairs. They could forgive him for restricting press freedom, prosecuting antigovernment activists and politicians, alleged corrupt practices and authoritarian tendencies.
The snap election, which was held a year earlier, was timely for Erdogan. Turkey is facing sluggish economic growth, regional political and security chaos and surprisingly united opposition parties. The 64-year-old president is eager to cling to power at least until 2023, when the nation celebrates its centennial anniversary.
Erdogan became prime minister in 2003. In 2014, he secured the presidency, although with limited powers. In 2016, thousands of military personnel and civilians were imprisoned, tortured and killed after a failed military coup. Last year, he won the referendum to change the parliamentary to a presidential system of government, which will now help him realize his ambitions.
In his victory speech on Sunday, Erdogan said Turkey's democracy was "an example for the rest of the world". "We have received the message that has been given to us at the ballot box," the media quoted him as saying.
It was unclear whether Erdogan was also referring to Indonesia, the world's largest Muslim country and thirdlargest democracy, which will hold its presidential election in April next year. Those who oppose President Joko "Jokowi" Widodo enthusiastically welcomed Erdogan's victory, equating the Turkish leader to their presidential candidate, Prabowo Subianto, who, barring no drastic change in the national political landscape, will challenge Jokowi for the second time next year.
Prabowo's supporters insist that Indonesia, like Turkey, needs a strong leader who meets the requirements based on Islamic teachings and values. Their arguments sound valid, given the fact that the majority of Indonesians are Muslims. But history has shown us that Indonesian politicians have used Muslim voters for their own ambitions.
Erdogan has ruled Turkey for 15 years, thanks to his Islamist vision. The Turkish people reelected him because they know his achievements and failures.
Although both are populous Muslim nations, Turkey and Indonesia are strikingly different. It remains a big question whether Indonesia really needs a leader like Erdogan.
Topics :
Join the discussions