COMMENTARY: Same old horses: How different will the 2019 race be?
Endy M. Bayuni

The Jakarta Post
Jakarta |

Sat, August 11, 2018

| 01:42 pm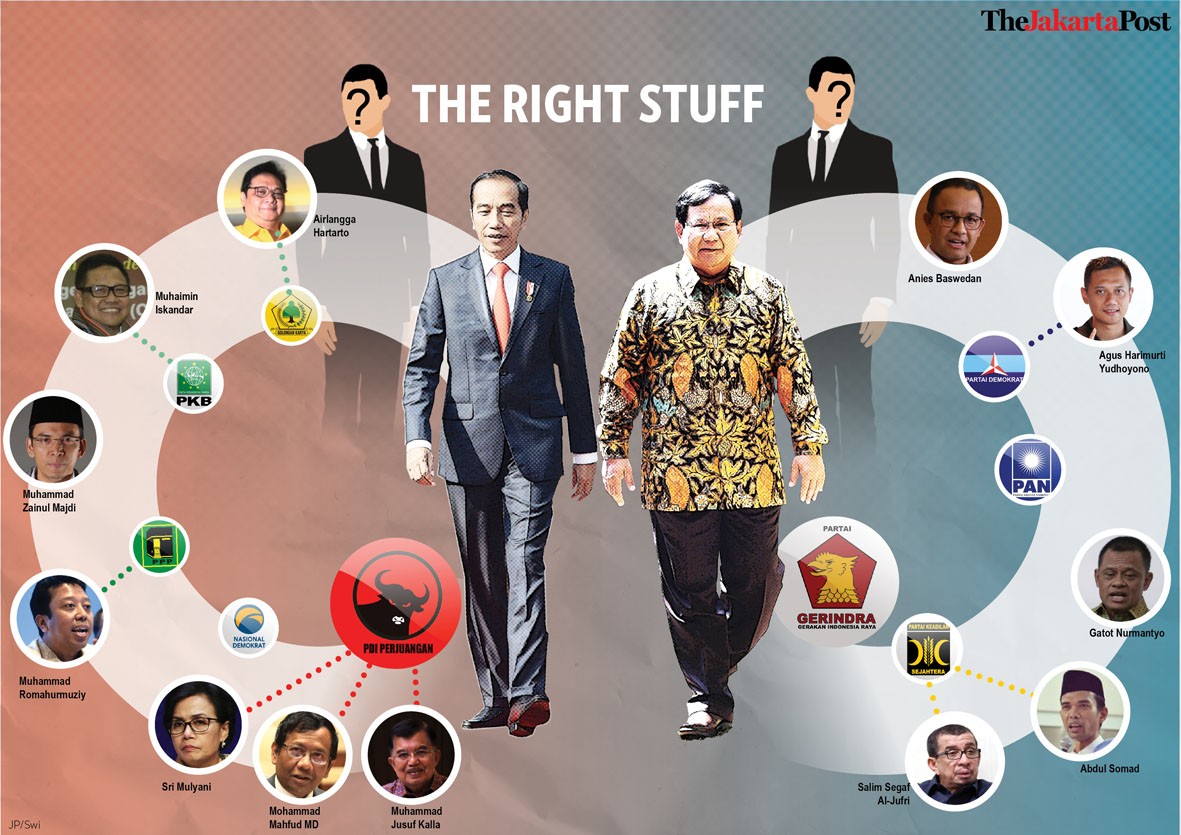 The nation is again being asked to choose between Joko "Jokowi" Widodo and Prabowo Subianto for the 2019-2024 president. (The Jakarta Post/Swi Handono)
It's déjà vu. Next year's presidential election is looking to be a repeat of the 2014 race with the same two "old" horses, and by most current predictions, we are nearly assured the same outcome.
The nation is again being asked to choose between Joko "Jokowi" Widodo and Prabowo Subianto for the 2019-2024 president. You can hardly call it a democracy when the choices are limited to the same-o, same-o. We may have 19 political parties to choose from, but we only have two options for our president.
The two candidates may have different running mates this time around, but elections are hardly won on the VP's strengths. They may bring in a few extra votes that could be important in a close race. But voters look to the presidential candidates first and foremost, looking at their personality, character, background and track records.
Same old horses, perhaps, but the dynamics will be different in 2019.
Jokowi is running as the incumbent and Prabowo as his challenger. The last time, they were bidding for the job as equals and going into the race with little to no track records in national politics.
As the incumbent, Jokowi will have a huge advantage, but he will also have everything to lose. Prabowo has nothing to lose except face and his dignity.
The incumbent will highlight the achievements of his first five years in office, while his challenger will try to discredit them. For months, the two camps have been embroiled in the hashtag battles,
#2019Gantipresiden (change the president) and #Jokowi2Periode (Jokowi 2 terms).
If this were soccer or boxing, Jokowi would win. He is entering the race with four electoral victories in his pocket, winning the 2005 and 2010 mayoral elections in his Central Java hometown of Surakarta, the 2012 Jakarta gubernatorial election and the 2014 presidential election.
Prabowo lost his 2009 bid for the VP slot to run alongside Megawati Soekarnoputri, and lost his first presidential bid in 2014. Another defeat next year — which is a likely prospect — will earn him the national title of "born loser". He is in good company: Megawati lost three times, in 1999, 2004 and 2009.
Since we have a law against anyone serving more than two terms as president or vice president to protect the nation against the resurgence of autocracy, maybe there should also be a law against anyone running again after losing two presidential elections, more to protect their dignity.
The candidates' running mate choices were both surprising, and reflected the different dynamics at work.
Jokowi picked Ma'ruf Amin, the chairman of the Indonesian Ulema Council (MUI), clearly to replenish his Islamic credentials. At a time when identity politics is rearing its ugly head, choosing the nation's top ulema should silence both his critics and his opponents who keep questioning his piety. He almost lost the 2014 election because of a persistent campaign attacking his faith, including accusations that he was born a Christian.
Ironically, Ma'ruf, 75, has an advisory capacity in the 212 Movement, an Islamist group with grassroots support that had been campaigning to oust Jokowi.
Prabowo's choice was even more surprising, as he opted not for a religious figure despite demands from the 212 Movement and the Prosperous Justice Party (PKS) to pick an ulema. Instead, he went for businessman Sandiaga Uno, who stepped down from his job as Jakarta deputy governor just hours before his name was announced. At 49, he is expected to appeal to young voters.
Has Prabowo outsmarted Jokowi in choosing his running mate?
One thing for sure, we can expect less politicization of Islam and identity politics from the two candidates in this election. Ma'ruf was chosen more to shield Jokowi from religious conservatives. This would not stop Islamist parties from using religion, but there are as many Islamist parties in Jokowi's coalition as there are in Prabowo's.
Another big difference in 2019 will be the coalitions behind the candidates.
Jokowi does not chair a political party, but his Indonesia Working Coalition comprises nine political parties, including the two 2014 winners, the Indonesian Democratic Party of Struggle (PDI-P) and Golkar, the latter of which supported Prabowo in 2014. The United Development Party (PPP), an Islamist party, has also crossed over to the Jokowi camp while the National Awakening Party (PKB) is counting on support from the followers of Nahdlatul Ulama, the country's largest Muslim organization.
Prabowo's coalition comprises his own Gerindra Party, as well as the National Mandate Party (PAN) and the PKS.
Jokowi and Prabowo have both faced pressure from their coalition partners, who tried to force their choice of running mate on the two candidates.
That Prabowo lost the support of former president Susilo Bambang Yudhoyono's Democratic Party but regained it at the last minute, and that Jokowi succeeded in putting together a grand coalition reflect their individual strengths and negotiating skills.
By almost all accounts, this election is clearly Jokowi's to lose. All surveys taken before Friday's nomination point to his electoral superiority.
But one element that has changed and thus is less predictable is voter behavior, particularly first-time voters and millennials. Going by the election that gave America Donald Trump, Indonesia's 2019 election is not a foregone conclusion.
In politics, lot of things can change between now and April 17.
Good luck, Indonesia.
Join the discussions