MRT, finally?
Editorial Board

The Jakarta Post
Jakarta |

Sat, August 25, 2018

| 12:15 pm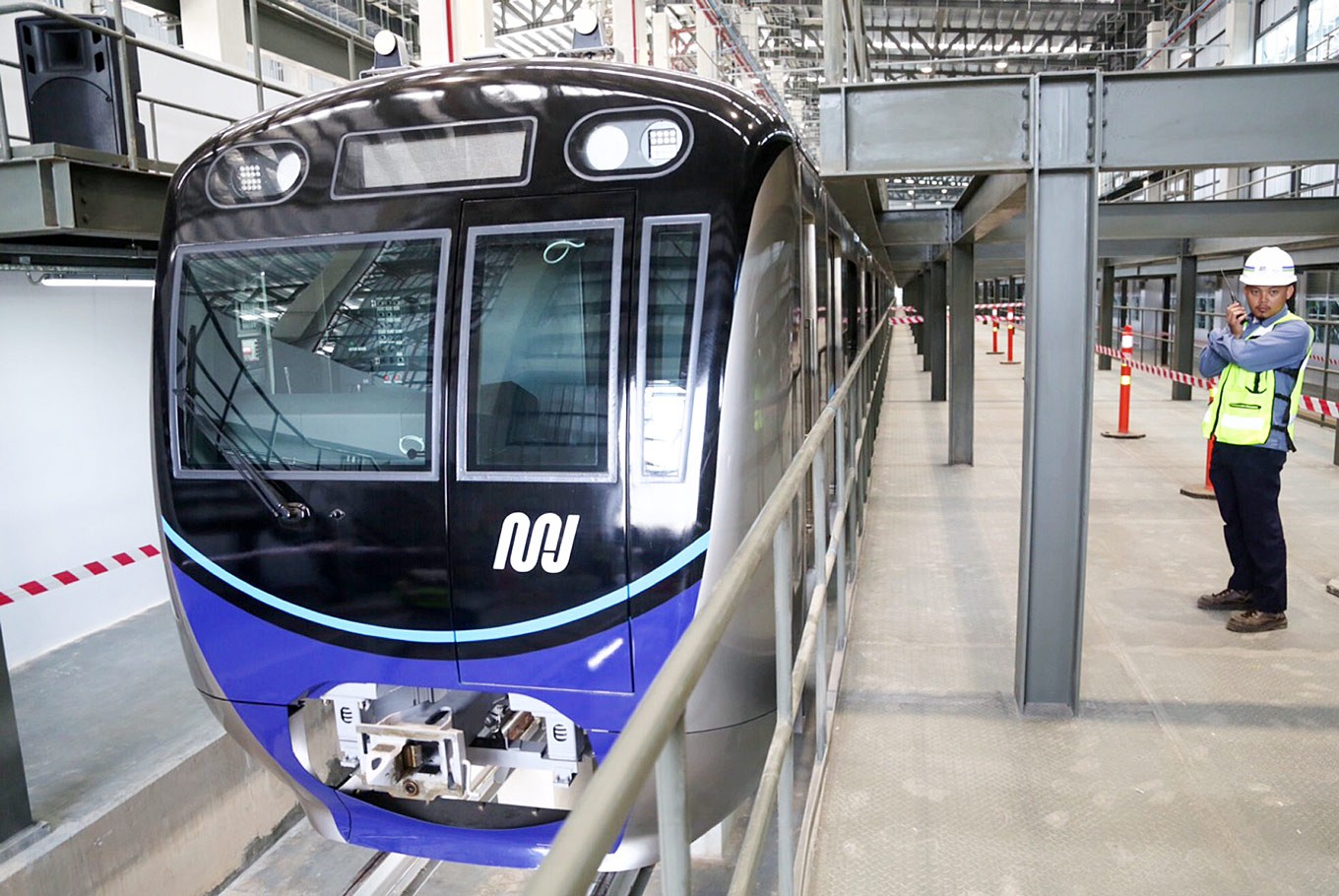 A brand new MRT car sits on a railway at a station in Lebak Bulus, South Jakarta, in this file photo. (JP/Wendra Ajistyatama)
Intensive trials are ongoing for the capital's MRT after almost two decades of onagain-off-again planning and changes in the consortium's funding, designing and construction of the railway, trains, stations and related components.
Next year, we are told, Jakarta will no longer be one of the world's most-congested cities as the MRT will be an additional option apart from the commendable commuter lines and Transjakarta buses.
Governor Anies Baswedan is closely watching the progress on Indonesia's first MRT project, scheduled to run in March 2019.
An MRT train completed its second trial run of a 15.7-kilometer route from Lebak Bulus Station in South Jakarta to the Hotel Indonesia traffic circle in Central Jakarta on Thursday with Anies on board. The train covered the journey in one hour at speeds below 30 km per hour. The distance will take 30 minutes when the system is ready for passengers, MRT director William Sabandar has said.
However, while most of the 13 stations are almost ready, construction of South Jakarta's Fatmawati and Cipete Raya stations are still hampered by troubled land acquisition in the crowded main streets.
In the past, deadlines have pushed rail-based transportation projects to compromise service. Indonesia's first light rapid transit (LRT) line connecting Sultan Mahmud Badaruddin II International Airport and Jakabaring Sports City in Palembang, South Sumatra, was successfully launched for the Asian Games, but technical problems have reportedly held up a number of trips.
Anies decided to call off the start of another LRT project in Jakarta amid glitches. Despite several test runs, the train has yet to be certified fit for operation by the Transportation Ministry.
Construction accidents have also hampered the projects in Jakarta and Palembang, adding to questions about the necessity of all the rush.
The Jakarta administration and the central government should have learned their lessons by now about ensuring a positive experience for passengers with a sophisticated form of public transportation. Who would not be proud to ride on any of these long-awaited transportation projects?
A subway is particularly subject to skepticism, over whether the required know-how, experience and most of all, the discipline, is sufficient to pull off a massive underground project — with persistent floods threatening landslides.
Just last month, the MRT's management said cigarette butts and packets believed to be tossed away by workers were found near a burnt reel of cable at one of the MRT construction sites.
A civilized metropolitan is finally in sight, in which one does not need to own a car to get from point A to point B safely, comfortably and in time, and without the risk of developing various ailments from having to drive for hours to and from work.
Topics :
Join the discussions