Good job, Jakarta
Editorial Board

The Jakarta Post
Jakarta |

Sat, September 1, 2018

| 09:18 am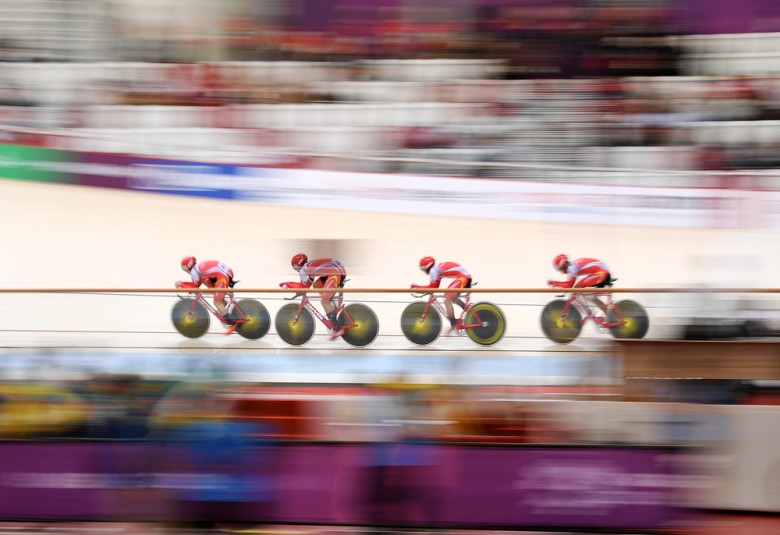 Indonesia's men's track cycling team competes in the team pursuit event at the Jakarta International Velodrome on Monday. (INASGOC/Mohammad Ayudha)
The 2018 Asian Games, cohosted this year by Jakarta, has eased the city's notorious traffic congestion. Learning from Beijing, which successfully reduced traffic jams and air pollution during the 2008 Olympics, Jakarta implemented an odd-even policy in which cars were banned on certain days depending on whether their license plates ended in odd or even numbers.
The Jakarta Transportation Agency recorded that average speeds on the restricted roads increased by 37 percent while average travel times were reduced by 23 percent. Athletes and officials said they encountered few traffic jams traveling to sports venues as they used the restricted roads and were escorted by police motorcades.
There was also an increase in the use of public transportation. City bus operator Transjakarta experienced a 40 percent rise in passenger numbers. Improved air quality was also recorded such as near the Hotel Indonesia traffic circle in Central Jakarta and Kelapa Gading in North Jakarta. The success has prompted the transportation authorities to consider extending the traffic policy after the Games, which is a good idea despite the many complaints from motorists, given the positive impacts felt during the event.
However, without sufficient police and transportation officials, drivers, especially those from areas that are not linked to good public transportation, are likely to flout the new regulations.
Despite being major thoroughfares, the restricted roads are in only a small part of the city. Commuters, both in private vehicles and on modes of public transportation, outside the restricted zones still have to endure worsening, even paralyzing congestion.
The success of large-scale traffic control during the Games should be an opportunity to further reform traffic and transportation in the capital. Faster and better modes such as the MRT and light rapid transit (LRT) should be expanded. The routes have to be effective and more efficient so that they significantly cut transit times and reach more people.
Without these efforts, the odd-even rule may soon be ignored and just become a good memory from the Games. With the government and auto companies offering incentives to buy cars, buying a new car with a different plate number may become the solution that well-off commuters will choose.
Car sales grew 6.35 percent in the first half of the year to 661, 215 vehicles from the corresponding period last year, which stood at 619,212 vehicles, according to the Association of Indonesian Automotive Manufacturers (Gaikindo).
PT Toyota-Astra Motor attributed increasing sales to the traffic restriction as many high-income customers opted for new cars rather than shifting to public transportation for their daily mobility. If this trend is here to stay, the roads will eventually be clogged again.
In Beijing, the short-term success of the traffic rule was reportedly followed by the return of smog from vehicles that flooded back into the city.
Topics :
Join the discussions