Insight: An Indonesia where everyone can have a healthier, better life
Jakarta |

Thu, October 11, 2018

| 09:20 am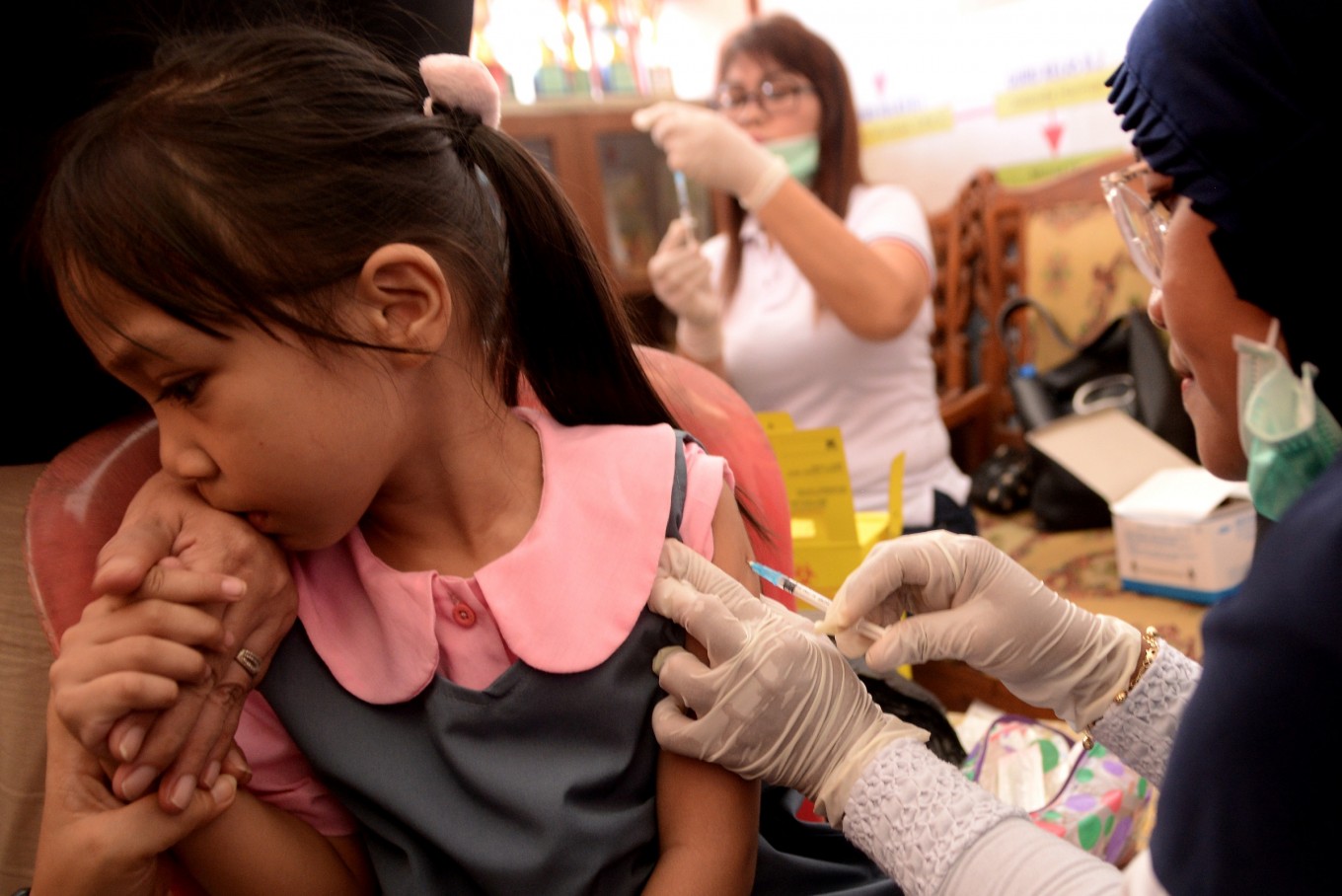 A child gets measles and rubella vaccination in Manado, North Sulawesi on Aug. 2, 2018. (Antara/Adwit Pramono)
When my family and I started the Tahir Foundation, we were driven by a vision of improving the lives of all Indonesians by increasing access to education and adequate healthcare, especially for those facing the greatest barriers.

My family and I are honored to give back to Indonesia, a country that has given us so much. Since 2013, the Tahir Foundation has partnered with the Bill and Melinda Gates Foundation to provide grants to organizations throughout Indonesia and Southeast Asia. These grants and organizations expand access to vital family planning services or provide treatment and services for HIV/AIDS, tuberculosis (TB) and malaria through The Global Fund to Fight AIDS, Tuberculosis, & Malaria.

Through these efforts, we have been able to address critical health issues and enable organizations around Indonesia to respond to the evolving health needs of our communities. Since 2013, grantees of the Tahir Foundation have provided more than 83,000 Indonesians with antiretroviral therapy for HIV/AIDS, conducted approximately 168,000 TB screenings, distributed 7 million insecticidal nets across the country, and trained over 3,500 midwives and 1,500 family planning health providers.

My own experience in philanthropy has taught me that when we work together, we are able to achieve more. I have been very encouraged to see other leaders in the business community who are in fortunate positions, similar to my own, stepping forward to help improve the lives of Indonesians and shape the future of philanthropy in our country.

In 2014, a group of dedicated Indonesian business leaders came together to create the Indonesia Health Fund, which continues to be a force for good in Indonesia and a model for philanthropic collaboration in the region. Over the past four years, the fund has contributed to family planning programs, which have expanded the MyChoice network of family planning service providers to 34 regencies. In addition, through support to TB research and advocacy programs, our partners conducted over 579,000 TB screenings and discovered seven new compounds that have anti-TB properties.

However, as we celebrate these excellent initiatives and the progress that has been made, we recognize much more remains to be done, as inequalities remain a problem in Indonesia.

According to the World Bank, which measures inequality on a scale of 0 (total equality) to 100 (total inequality), Indonesia scored 39 in 2018 compared to 30 in the 1990s. This is a clear sign that we have much to do as a society to ensure that our most vulnerable citizens are protected.

This increased level of inequality is detrimental for Indonesian society because it results in less access to essential services such as healthcare, nutrition, and education for many citizens. In turn, lack of access has a negative impact on Indonesia's human development index (HDI) — the measure of human wellbeing through health, education and income indicators — and thus, inhibits future growth.

But there are reasons to feel optimistic. Economists agree that for a country to improve its human development levels, it must experience economic growth and put measures in place to reduce inequality.

Through President Joko "Jokowi" Widodo's economic policies, Indonesia is currently one of the fastest growing economies in the world. In addition, the government has focused its last decade of social policies on initiatives that aim to rapidly reduce poverty, and has exponentially increased spending to benefit vulnerable populations.

One of the best ways we can invest in Indonesia's future is through our children. Vaccines exist to protect children from pneumonia, diarrheal diseases and other leading causes of death. The government has made great strides in this regard, and now is the time to strengthen our commitment to protecting children.

Indonesia is on the right track. However, as I have learned through my 30 years of business experience, we must be intentional about how we invest our time and resources to ensure consistent progress.

By adopting a disciplined approach to philanthropy, business leaders can help Indonesia meet all its development goals, unleash the potential of millions of people in our country, and end the epidemics of disease once and for all.

This is a challenge I would now like to present to those in Indonesia who find themselves in the privileged position to be able to give. Let us together answer our country's call to one day realize an Indonesia where everyone has the opportunity to live a healthier, better life.
***
The writer is the founder of The Tahir Foundation, a partner of the Global Fund to Fight AIDS, Tuberculosis and Malaria.
Disclaimer: The opinions expressed in this article are those of the author and do not reflect the official stance of The Jakarta Post.
Topics :
Join the discussions