Treating honored guests
Editorial Board

The Jakarta Post
Jakarta |

Fri, October 12, 2018

| 08:23 am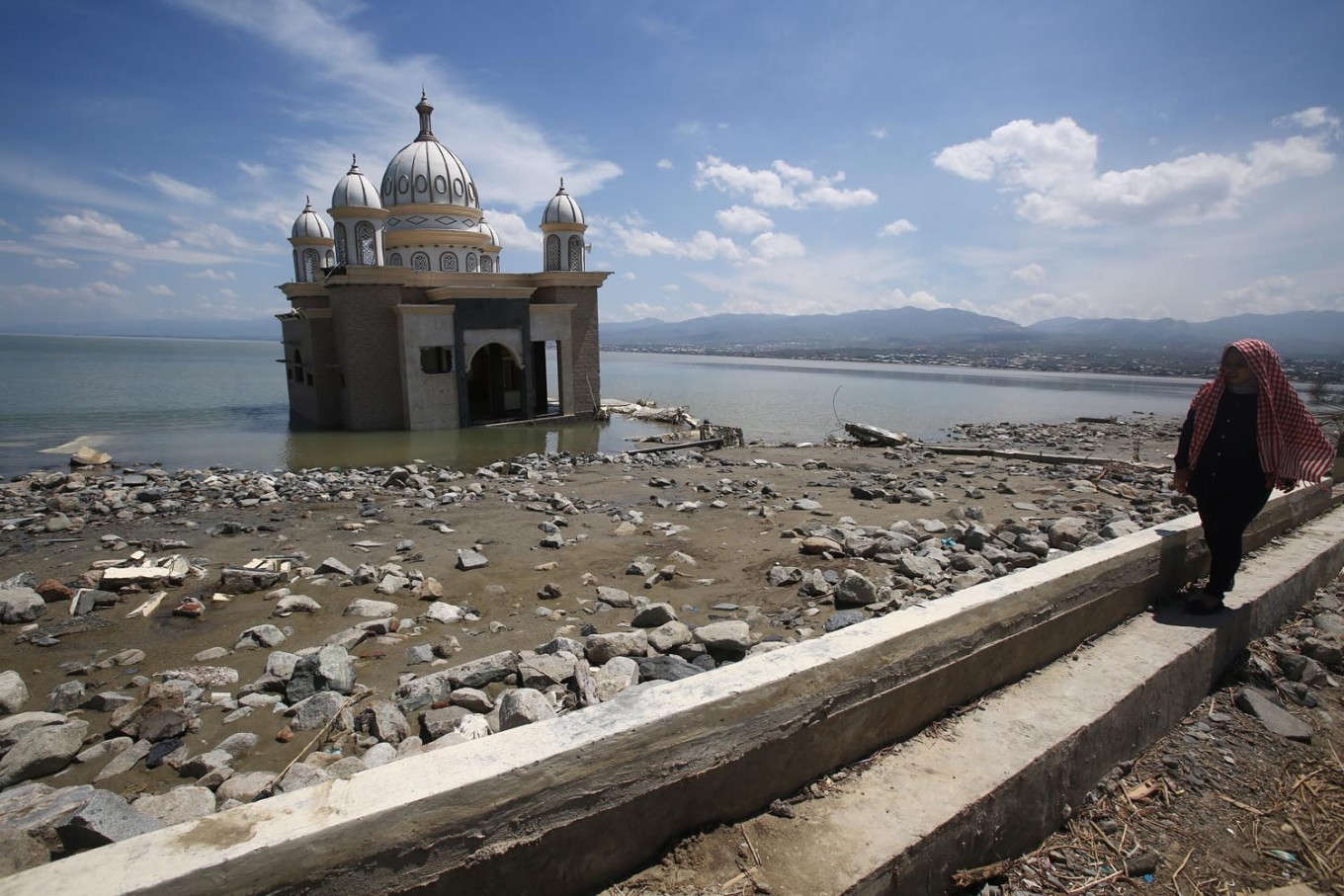 A survivor walks past the Arqam Baburahman Mosque at Talise Beach in Palu on Friday, October 5, 2018. The mosque was badly damaged in the quake and tsunami. (JP/Dhoni Setiawan)
The true face of Indonesia, said organizers of the recent Asian Games, was reflected in the throng of young volunteers who were always smiling and ready to help.

Organizers of the ongoing Asian Para Games are optimistic they can continue that atmosphere with earlier extra training for volunteers and officials, especially to be able to cater to athletes and other guests who are disabled, as well as possible. So far the guests' responses have been positive, acknowledging shortcomings but nevertheless appreciating the overall friendliness of the hosts.

Yet in Central Sulawesi, where hundreds of foreign aid workers have arrived in response to the recent disasters, there is some confusion. In the middle of a humanitarian crisis with thousands of homeless survivors of the earthquakes and tsunami and thousands missing, not everyone has felt welcome.

A few foreign aid workers have expressed frustration that they had resources and skills at their fingertips to aid survivors badly short of basic needs including clean water, only to feel they were not wanted and told to go home. Authorities, including the Foreign Ministry and the National Disaster Mitigation Agency (BPNB), have denied the allegations, saying instead that all foreign helpers have been asked to coordinate with local authorities.

Officials have also reiterated that there are "enough" local aid, rescue and health workers. Yet challenging circumstances such as makeshift shelters, limited supplies and medicine, restoring severely damaged infrastructure amid thick mud and debris in the affected areas near the equator, can quickly take its toll on anyone. Reconstruction is just about to begin. Lack of coordination may be one of the main reasons behind the feelings of not being welcomed among the foreign aid workers. Clearly they need the companionship of locals, the BPNB said, given language and cultural barriers.

But we suspect lingering xenophobia may also be among reactions to foreigners, tinged with negative memories of the aftermath of the December 2004 disaster in Aceh. We recall the complaints against allegedly overpaid aid workers, along with rumors of child trafficking and the protests against the Reconstruction and Rehabilitation Agency for Aceh and Nias (BRR), which coordinated all the national and international donations. To be accountable for every cent the BRR's reports were audited regularly and Indonesia increased its credibility among all donors.

This effort followed the open welcome of then-president Susilo Bambang Yudhoyono, Vice President Jusuf Kalla and military commander Gen. Endriartono Sutarto, who all convinced grumbling generals and politicians to prioritize humanitarianism above fears of foreign civilians and troops trampling all over Aceh, despite the Free Aceh Movement (GAM) being affected by the disaster just like everyone else.

President Joko "Jokowi" Widodo and his officials must unequivocally welcome these dedicated foreigners, who along with locals are trying to help survivors regain the strength to rebuild their lives amid the loss of their loved ones.
Join the discussions