EU–Asia connectivity strategy: A digital alternative?
Jakarta |

Mon, November 5, 2018

| 04:42 pm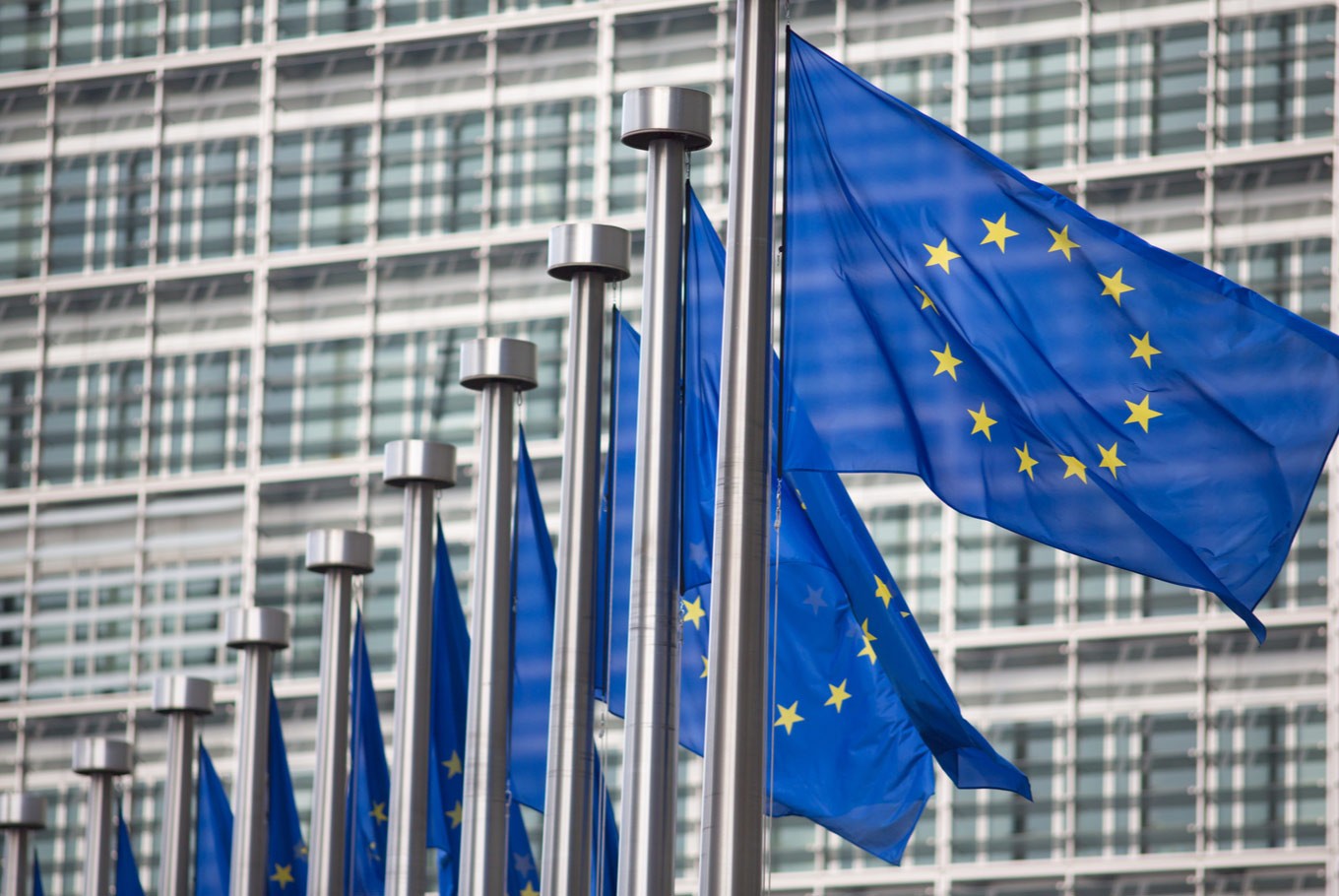 European Union's flags in Brussels. (Shutterstock/File)
Asia is currently enjoying the spotlight of major economic initiatives from global leaders, we as part of the ASEAN Community should ask ourselves, which would bring the most value?
China's Belt Road Initiative (BRI) aims to revitalize the ancient silkroad trade route through infrastructure development. According to China's Ministry of Commerce, the country has contributed a total of US$120.1 billion of overseas direct investment in 2017 mostly for infrastructure projects.
Stories such as the Mombasa – Nairobi railway project in Kenya gave the impression of unprecedented opportunities where the usual 24 hours travel time between the two cities is cut down into a mere 4-6 hours.
Another tale is the ancient port of Piraeus where China state-owned firm COSCO Shipping acquired 51 percent of the port located in Greece where it is believed the investment will boost economic recovery following the debt crisis that devastated the country in 2009. However, BRI is also viewed with cautious optimism by Asian countries, given the large amount of debts they have to pay. Sri Lanka, for an example, is unable to repay its debt to China and has to lend Hambantota port for 99 years.
On the other side of the theatre, the US had pledged its own investment plan in Asia through the notion of the Indo-Pacific Concept. This July, at the Indo-Pacific Business Forum in Washington, Mike Pompeo as the US State Secretary announced the US will pour out $113 million to improve digital economy, energy, and infrastructure sector of the region. Marking a further step from the once vague Indo-Pacific strategy that emphasized security development. Although, a different kind of criticism arose that the amount of investment is not comparable to how many China had been pouring since 2013, the lack of focus and commitment of the pledge – whether it will be a security-focused concept or economic development – left the Indo-Pacific concept overshadowed by BRI.
Then comes along EU's plan with the EU – Asia Connectivity Strategy announced recently that introduces a different kind of approach, emphasizing on digital network, commonly agreed rules, and sustainable financing.
In early October, Federica Mogherini as the vice-president of European Commission wrote her opinion piece on The Jakarta Post regarding the strategy. She recounted the long history that Europe and Asia have where economic, cultural, and scientific exchanges are vibrant but have not reached its maximum potential.
In the context of ASEAN, Mogherini believed the modality between the two organizations is already present as the EU is already the supporting partner of ASEAN's own Connectivity Master Plan 2025 through 250 million Euro funds. The statement was backed with data from EU's European External Action Service (EEAS) that shows several cooperations such as the 20 million Euro-Enhanced Regional EU-ASEAN Dialogue Instrument (E-READI) of engagingpolicymakerss, civil society, and private sectors in the digital economy, clean energy, and transport, etc; the 85 million euro ASEAN economic and trade connectivity (ARISE Plus) program that supports trade facilitation; and the EUR10 million support to higher education in the ASEAN region (SHARE) program that promotes academic exchanges for higher education and student mobility.
Aside from the history and several modalities of cooperation mentioned, there are two reasons that made the plan differ from BRI and Indo Pacific. First, amidst these monetary and infrastructure investments, EU and ASEAN share a mutual view on the importance of community-building based on common rules and norms.
The ASEAN Economic Community blueprint stated that the characteristic of such economic community will be "…consistent with multilateral rules as well as adherence to rules-based systems for effective compliance and implementation of economic commitments." For EU itself, the importance of a rule-based community is accentuated in the Joint Communication declaration recently released, where one of the building blocks of developing connectivity is through EU's own internal experience of international rules-based connectivity.
Second, in the age of industry 4.0, private sectors and academics alike share a common sentiment that digital economy is essential for ASEAN countries to boost its economic growth. According to Bain & Company, a global management consultancy firm, ASEAN's current digital economy bring 7 percent GDP of total value and could stimulate $1 trillion GDP growth for the region by 2025.
In region where Small Medium Enterprises (SMEs) are the backbone of economic growth, the finding continued that 75 percent of SMEs viewed digital integration as an opportunity. The importance of digital economy to ASEAN lies from that fact and the notion that cross-border trade will depend on it in the near future. However, there are challenges present as well, for example: Internet penetration is a crucial aspect for digital economy to flourish, and 65 percent rural areas in ASEAN lacks that connectivity according to Bain, a regional framework will need to be developed, and data protection is equally crucial.
EU's modalities are able to answer those challenges. Through E-READI, EU had been a close dialogue partner through the ASEAN TELMIN/TELSOM, two annual conferences that invite the Ministry of ICT from ASEAN countries to discuss policy management and broadband deployment of ICT. A regional framework by the EU titled "Digital4Development" is available for the initial template, along with the General Data Protection Regulation (GDPR) that regulates data protection and management for companies operating in EU. Eventually, whether this connectivity strategy should be narrowly viewed as EU's way to maintain influence in Asia or not, ASEAN would do well to prioritize this enhanced connectivity strategy by EU.
***
The writer is a graduate in political science from Parahyangan Catholic University, Bandung, and is currently a Research Assistant at the Centre for Strategic and International Studies, Jakarta.
Disclaimer: The opinions expressed in this article are those of the author and do not reflect the official stance of The Jakarta Post.
Topics :
Join the discussions