Campuses, safe haven no more
Editorial Board

The Jakarta Post
Jakarta |

Mon, November 12, 2018

| 08:27 am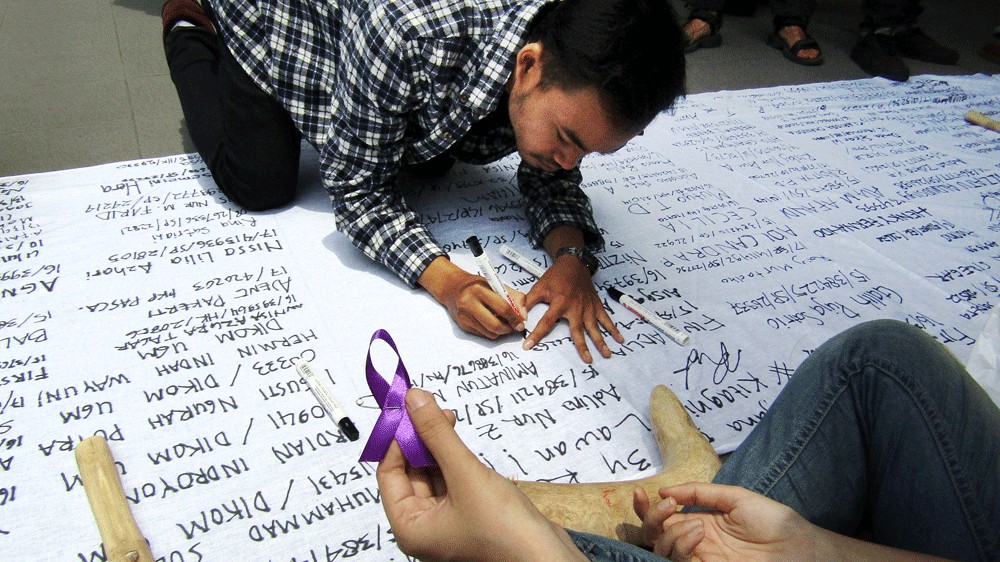 Solidarity: Gadjah Mada University (UGM) students write names on a large piece of fabric to pressure university leaders to take action on sexual violence as part of a movement initiated by a group called #kitaagni (We Are Agni). Agni is the pseudonym of a student who was allegedly assaulted by a fellow student during a community service assignment in Maluku last year. (The Jakarta Post/Bambang Muryanto)
Victims of sexual abuse on university campuses have begun to speak up in the past few years, showing that schools are not always a safe space for students, especially women. Sadly, the victims' courage has been met with blame and scrutiny by school and state authorities.

An investigative report released early this month by the student press of Gadjah Mada University (UGM) in Yogyakarta, Balairung Press, is the latest case in point. It detailed the experience of UGM student Agni, a pseudonym, who claimed she had been sexually assaulted by a fellow UGM student during a community service program (KKN) in Maluku in June 2017.

Instead of investigating the matter, her KKN teachers gave her a low grade (C) for embarrassing UGM in the eyes of Maluku people with her report. A campus official reportedly told her to "repent" for her "mistakes". Another said she should have not spent the night at the alleged perpetrator's lodgings.

Two years earlier, several students at UGM's School of Social and Political Sciences (Fisipol) had come forward to report sexual harassment by a lecturer. Reports began pouring in after he no longer headed the school's international relations department.

In 2016, one of the victims, Maria (also a pseudonym) told The Jakarta Post that she had thought long and hard before reporting the incident. She, too, was blamed for what had happened to her, though not by school officials. The school did, however, allow the lecturer to continue working at UGM and he continues to be seen around campus.

Not even a school as prestigious as the University of Indonesia (UI) has been able to escape sexual abuse allegations raised by students. In one particular case that marred its School of Law, the accused lecturer was fired, but other lecturers who had sided with the victims told the Post that their battle for justice had been a difficult one.

Many believe that the recent reports of sexual abuse on university campuses are only the tip of the iceberg. According to an online survey conducted in 2016 by Lentera Sintas Indonesia, Magdalene.co and Change.org, which involved 25,213 respondents, 93 percent of sexual assault cases were never reported.

Many victims who spoke up, like Maria, believe that doing so is crucial to prevent a repeat of the crime. Therefore, encouraging more to step forward would help universities create a safe space for their students.

So far, however, the response from school officials and even government authorities has not been encouraging. Regarding Agni's case, UGM rector Panut Mulyono said both the victim and alleged perpetrator needed to be "educated", insinuating that the victim was also in the wrong.

Research, Technology and Higher Education Minister Mohamad Nasir said the case was closed and should not have been made public, implying that it was wrong for the alleged victim to speak up about her ordeal.

Brave survivors of sexual assault are a bright light in the dark. They need support from the public as one dismissive comment can dim the light. If university authorities cannot encourage them to speak up, then safe campuses will remain a fantasy.
Topics :
Join the discussions