The gig economy and skills traps in Indonesia

Jakarta |

Wed, November 21, 2018

| 04:53 pm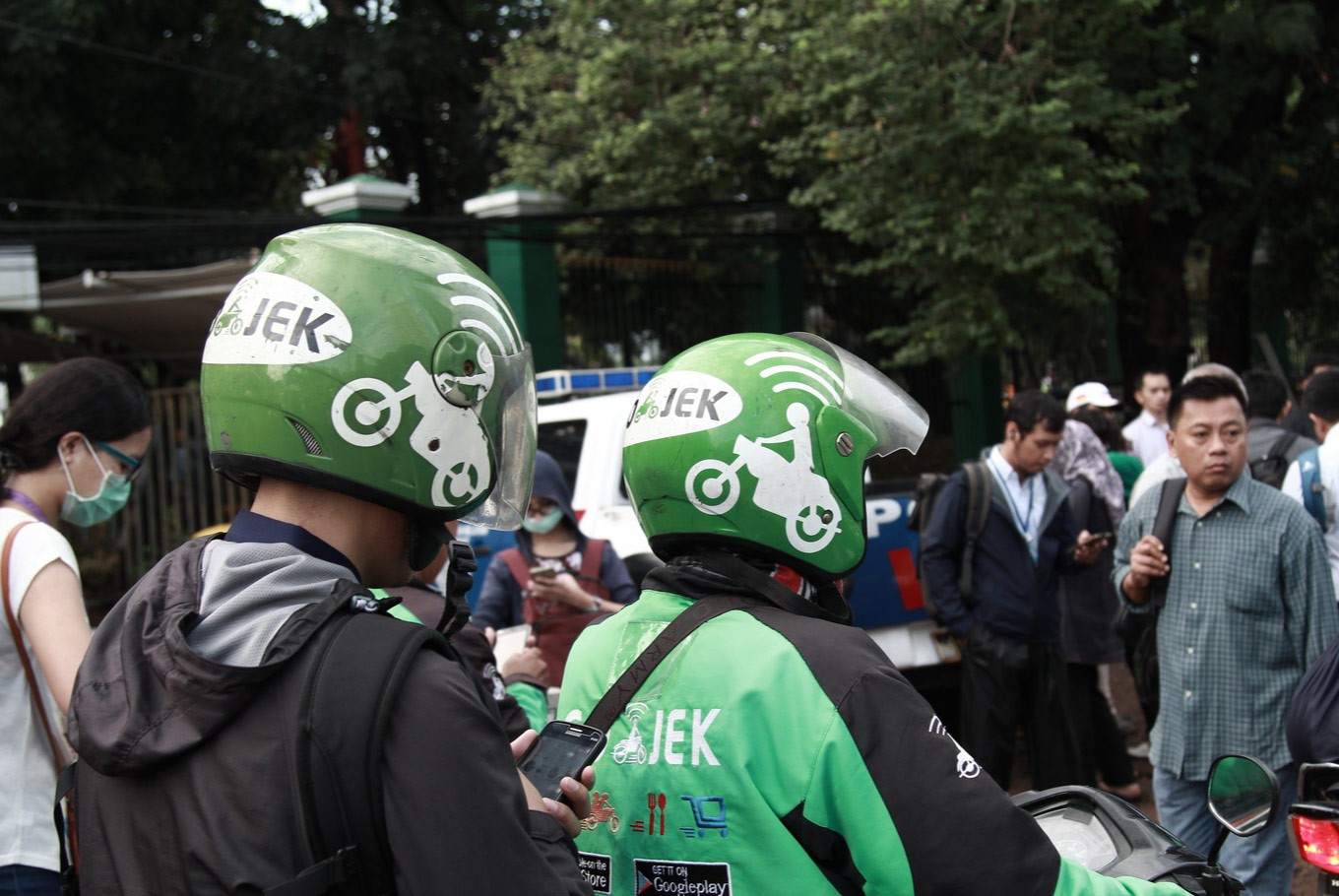 Gojek driver with a passenger. (Shutterstock.com/findracadabra )
The growth of the gig economy and app-based service providers such as Go-Jek and Grab have changed the way we go about our daily lives. Starting out by offering on-demand transportation services, these companies have expanded to offer food and parcel delivery, as well as mobile massage, cleaning and mechanical services.
The advances that these tech companies have unlocked should be acknowledged for their contribution to economic development. More than offering expanded choice, everyday convenience and better protection for consumers, these companies have institutionalized efficiency and created employment for over a million people, with McKinsey & Co saying in a 2016 report that these services could deliver a productivity windfall worth US$120 billion a year to the national economy within the next decade.
Criticisms of these companies, however, are abound, the most prevalent being that they have expanded phenomenally on the backs of exploited workers. Gig economy workers are typically classed as "business partners", yet voluminous research shows they are not nearly as autonomous as tech companies would like us to believe, a worker-employer relationship labeled as "disguised wage labor" by University of Oxford professor Barbara Harris-White.
These criticisms, certainly valid, are generally targeted at the short-term welfare of the workers themselves. Yet there are deeper issues that concern all of us, consumers as well as workers, pertaining to the macroeconomic health of the national economy, especially a middle-income country such as Indonesia.
In the short-term, while these services have unlocked bottlenecks in economic development, they are no miracle for growth - they simply and efficiently match supply and demand. They improve upon the key drivers of growth, but do not create new ones or shift the economy to a higher stage of production.
Crucially, in the medium- to long-term, they ensnare a sizeable portion of the labor force into a skills trap. A Go-Jek driver, for example, will always be a Go-Jek driver. He or she cannot upskill in their craft or take on a management role. They quite simply drive all day.
Indeed this skills trap contradicts the sustained growth model that industrialization and technology should bring as described by Russian-born economist Simon Kuznets.
Kuznets argued that industrialization created sustained growth, because industrialized work required more skills and education than agricultural work. Workers benefited from learning and contributed to cultural change, urbanization and business growth. New technologies and large-scale production methods could not have been exploited if people were illiterate, unskilled or tied to the village.
Succeeding generations, Kuznets said, continued to benefit from these cultural and industrial activities in a virtuous cycle as industrial methods and technologies improved, which helped to save labor and achieve economies of scale.
But with the growth of the gig economy that requires armies of low-skilled workers in order to scale up, we now appear to be seeing the reverse. Indeed this situation is a form of deindustrialization, with workers moving away from semi-skilled production to low-skilled services. Meanwhile, business executives and engineers are handsomely rewarded by tech companies, symptomatic of a dual economy.
What's particularly concerning is that these low-skilled jobs are attracting skilled young people. A survey on Go-Jek drivers in Jakarta, Yogyakarta and Banyuwangi by Gadjah Mada University (UGM) found that 49.74 percent of respondents were aged 19 to 30 and 29.1 percent were aged 31 to 40.
According to UGM researcher Rifki Maulana, young people were attracted to jobs in the gig economy because of a lack of alternative opportunities. This is unsurprising given that Statistics Indonesia recently reported that unemployment stood at 5.34 percent, with vocational and high school graduates respectively making up 11.24 and 7.95 percent of the unemployed. Analysts point to a skills mismatch between formal education and market demand.
Although opportunities in the gig economy can provide a stop-gap for the unemployed young, it is crucial that they find jobs that are more likely to offer opportunities for training and upskilling, vital to achieving higher incomes.
If this situation persists, national inequality is likely to rise. Economics professor at Beijing Normal University Li Shi argues that the gulf between cities and the countryside in emerging economies has narrowed thanks to the earnings of migrants employed in the gig economy. Indeed a University of Indonesia study found that the income of Go-Jek drivers, many of whom come from rural areas, contribute Rp 8.2 trillion (US$567 million) a year to the national economy.
But if these workers are unable to raise their incomes in the medium-term, or if they lose their jobs because of expanding public transportation or driverless technology, the urban-rural divide would widen again and the Gini coefficient would worsen. Statistics Indonesia data shows that Indonesia's Gini coefficient stood at 0.39 at the beginning of 2018. A coefficient above 0.4 is a warning sign of dangerous inequality.
So what happens when workers cannot improve their lot through upskilling or being rewarded for their greater experience? It will likely result in industrial disputes and social instability. Tech companies may be forced to raise wages, and thus prices, wiping out any productivity gains created in the first place.
While the term "emerging middle classes" has been popularized in recent times, a sizeable number of people still live a livelihood that is structurally precarious. Income levels and the supply of skills are still low, and gig economy workers are especially vulnerable to technological advances.
Another popular term In Indonesia, the demographic dividend, is also taken for granted. It could be a demographic time bomb if serious efforts are not made to upskill workers in the gig economy.
***
The writer is an advisor at the School of Social and Political Sciences of Gadjah Mada University on the nature of work in the era of disruptive technology. The views expressed are his own.
Disclaimer: The opinions expressed in this article are those of the author and do not reflect the official stance of The Jakarta Post.
Topics :
Join the discussions