Inquiry-based learning creates empathetic global citizens

Jakarta, Indonesia |

Wed, November 8, 2017

| 12:08 am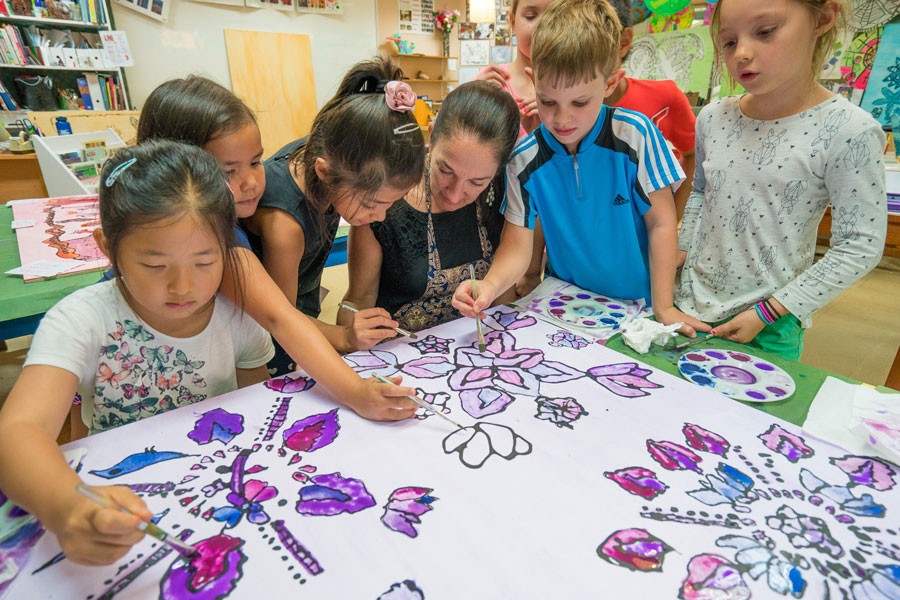 . (Photos courtesy of Jakarta Intercultural School/.)
Indonesia's Jakarta Intercultural School (JIS) continues to move forward in its efforts to nurture local talents who possess a flair for lifelong learning and who will evolve into global citizens contributing great things to the world, under the leadership of new head of school Tarek Razik, Ed.D.
JIS was established in 1951 as the Joint Embassy School as one of Indonesia's first private schools to offer an international curriculum. The school changed its name to Jakarta International School in 1978, and was renamed Jakarta Intercultural School in 2014.
The school offers four programs – early childhood, elementary school, middle school and high school – at its three campuses in South Jakarta: the Cilandak campus located on the Jl. Terogong Raya No. 33 and Pondok Indah campus, Jl. Duta Indah, the Pattimura campus in Kebayoran Baru, located on the Jl. Pattimura.
According to Razik, the uniqueness of the school's curriculum lies in its inquiry-based approach to learning, a defining characteristic of Western-style education.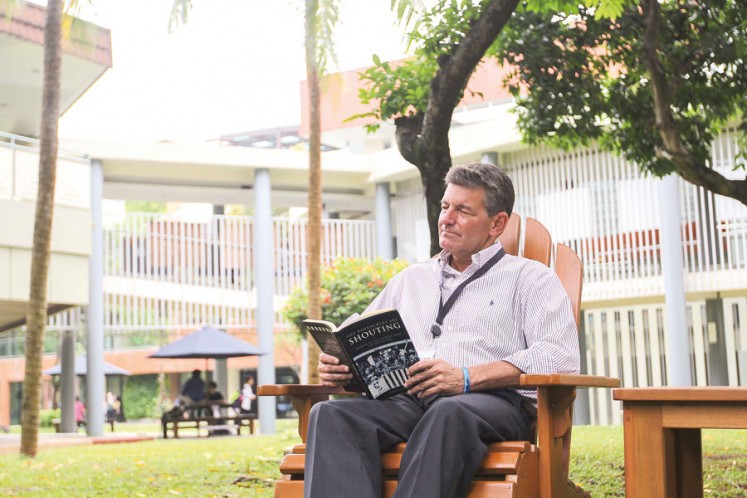 Tarek Razik, Ed.D, Head of School (Photos courtesy of Jakarta Intercultural School/.)
"A lot of our teaching is built around inquiry, extending thinking processes and developing critical thinking skills. We want children to ask why – why is the sky blue? Then they go out and find answers to that question," Razik told The Jakarta Post in a recent interview.
To achieve this, Razik said the school strove to create more problem-based learning projects in which teachers help students to translate the concepts they learned in real life.
"In a particular class, for example, we discuss respect for different cultures and nationalities. We ask the students to do some research first, then they are presented with different situations where their cultural values might come into conflict with those of another person. We ask them to solve this conflict in a respectful manner," he illustrated.
He said the output of this approach was not only quantitative, as measured by the students' grade averages or how many students get accepted to prestigious universities, but was also qualitative: They are equipped to become good citizens for the world by applying these thinking and emotional skills.
"We aren't saying we want to be the best in the world, because that implies competitiveness; we want to contribute to the world."
Best 'For' The World
"The world has so many conflicts because people don't show respect. This is an example of how our curriculum feeds our mission and tagline to help students strive to be the best for the world. We aren't saying we want to be the best in the world, because that implies competitiveness; we want to contribute to the world," he explained.
The school's effort to nurture global citizens involves people from both within and without its campuses. The school has a student body comprising 62 different nationalities, of which Americans, South Koreans, Indonesians, Australians and Britons make up the majority. Its teachers also hail from different countries, with most of them coming from North America.
Thanks to advancements in technology and related local facilities, the school is now able to connect its students with their counterparts overseas. Global connection is now become a reality to prepare the students in their development as global citizens.
"Let's say science students are studying the rainforest. The teacher might use Skype to connect them with a group of students in Brazil living in the Amazon and the students can ask, what's it like living in a rainforest?" Razik illustrated.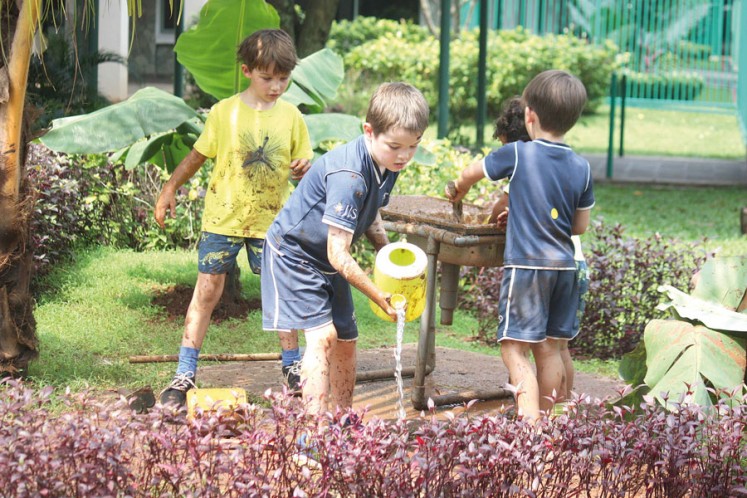 . (Photos courtesy of Jakarta Intercultural School/.)
Safe Environment And Professional Development
Razik said that inquiry-based learning was actually suitable for students, as children were inherently curious. Teachers, however, face an enormous task in nurturing this trait by providing a safe environment for children to explore and try things, as well as learning from their failures without feeling ashamed.
"Therefore, I continue to strive to create a safe environment for children, to protect them from cyberbullying, while providing a space where they aren't afraid to fail, instilling the idea that failure is OK as long as you learn from your mistakes and grow and move forward," he said.
Having recently arrived to his new post in Jakarta after his previous role as the head of the International School of Beijing in China, Razik said the Indonesian culture, which placed high importance on harmonious relationships among people, provided an ideal environment for education.
"Indonesians are also concerned about deep human relationships, rather than just taking care of business. I like it, because education is about deep connections," he said.
JIS provides constant professional development for its teachers, sending them to local and international workshops on inquiry methods.
"In the old days, teachers told [students] what you needed to know in front of the classroom and would give you a test. Now, teachers are more like facilitators. They have to structure lessons that will extend the learning process beyond content. Our trainings seek to equip them with such skills," Razik said.
Pedagogy exchanges for teachers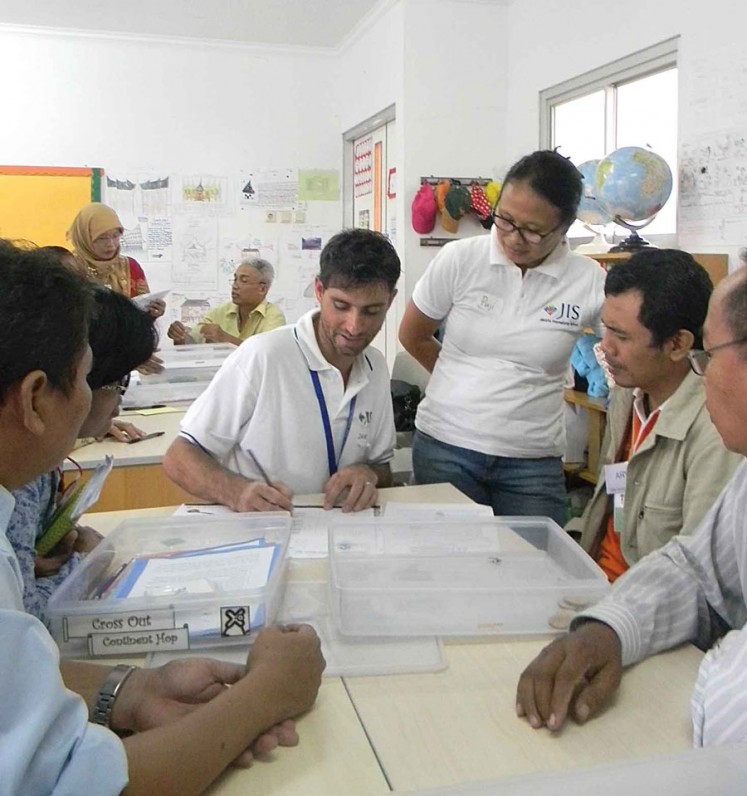 . (Photos courtesy of Jakarta Intercultural School/.)
Aside from equipping its own teachers with inquiry-based learning methods, JIS also partners actively with local Jakarta schools in a teacher exchange program to introduce the Western pedagogy approach to Indonesian teachers.
To make this goal a reality, the school has just established partnerships with the Emmanuel Foundation and Mentari School Jakarta, as well as launched the Innovative Schools Program (ISP) with the Jakarta Education Agency. The program involves the participation of teachers and principals of about 15 public elementary schools across Jakarta to strengthen their quality of education.
"Either we bring their teachers here for training or we send our teachers there. It's really an exchange; we also learn a lot about Indonesia from the local teachers," Razik explained.
"We want our teachers to grow together as Indonesia grows. We want to be supporting this [socio-economic] growth in Indonesia," he added.
In order to reach out to a wider segment of Indonesians, Razik was eager to cooperate with relevant national education stakeholders to expand the ISP to schools beyond Jakarta.
Key words/ topics : JIS, Jakarta Intercultural School, jakarta international school, life long learning, inquiry based, global citizen
You might also like :