'JP Now': Enhancing your media usage experience
PT Bina Media Tenggara

The Jakarta Post
Jakarta, Indonesia |

Fri, March 9, 2018

| 09:28 am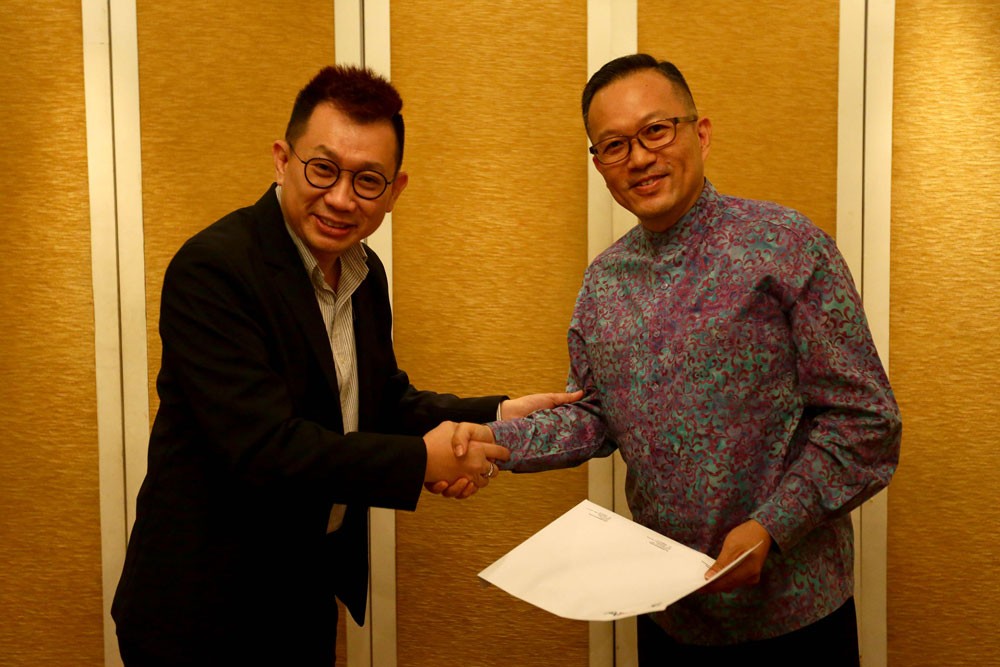 The Jakarta Post CEO Yudhistira Wanandi (right) shakes hand with AIQ Pte Ltd CEO Marcus S. Tan after the signing of a memorandum of understanding in Jakarta on March 6. (JP/Wienda Parwitasari)
The rapid expansion of the internet has enabled more and more individuals to pursue their interests through in-depth information hunting online. Media outlets are now catching up with this development by making use of the internet and augmented reality technology to offer readers interactive and enhanced experiences while consuming media.
Recently, PT Bina Media Tenggara, the publisher of Indonesia's only English-language newspaper — The Jakarta Post — and online media outlet thejakartapost.com, signed a memorandum of understanding (MoU) with Singaporean technology company AIQ Pte Ltd on the development of an interactive application called JP Now to seek to enhance the reader's experience.
The MoU was signed by PT Bina Media Tenggara Executive Director Judistira Wanandi and AIQ Pte Ltd Chief Executive Officer Marcus S. Tan on March 6 at the Plaza Senayan shopping center. The application itself will be launched formally in April 2018. This technology is the first of its kind in Indonesia.
Besides helping PT Bina Media Tenggara develop the application, AIQ Pte Ltd will also conduct training for The Jakarta Post's staff members and clients to make maximum use of the application.
The Post, which has earned a long-standing reputation in Indonesia and abroad since its establishment as a daily newspaper in April 1983, is known for its accuracy and high reporting standards and has also expanded into online operation through its website thejakartapost.com.
AIQ Pte Ltd, meanwhile, is a Singaporean technology start-up with expertise in artificial intelligence solutions aimed at transforming the way readers consume offline content by linking offline and online consumption through Carrot Visual Technology.
The technology allows various platforms and channels to be integrated.
The new application gives users faster access to the newspaper's premium content as well as to all articles and features published on thejakartapost.com.
The application allows faster access to the website as it consumes less data. When you access the website through your internet browser, it takes longer to load the whole page. The application, however, will allow the whole page to pop up within seconds.
The application also allows readers to enjoy all its contents without being disrupted by banner ads, which often block website content when accessed through an internet browser.
Downloadable on Android or iOS phones, the application features sophisticated augmented reality technology through AiQ artificial intelligence, which allows you to scan the items you are reading to discover more information about them.
The AiQ technology allows readers to scan any item – be it an image, a whole article, banner advertisement or photograph – in their newspaper and be immediately provided with further information relating to the items, such as behind-the-scenes photographs, follow-up articles, or videos detailing product specifications from advertisements.
"The key aspect of the collaboration is to enhance our business through advertising so our clients can benefit from the application. We would also like to help our readers and clients take advantage of the new technology," Judistira said on the sidelines of the MoU signing.
He added that the new technology could help overcome the limitations of newspapers and conventional online news portals in terms of content.
"Through the application, readers can enjoy more features linked to both our newspaper and online content, which will allow them to see, for instance, more photographs that could not be provided on either platform because of their limitations," he said.
Marcus, meanwhile, said he was excited to work with the Post, his company's first Indonesian partner in artificial intelligence development.
"Readers are now able to interact with the newspaper. When they look at a car advertisement in the newspaper, for instance, they could just scan it with the application and they will be taken straight to videos detailing its product specifications and so on," he said.
According to Marcus, this interactive means of consuming media content – both editorial and advertisements – will help the Post to secure greater revenue by reaching out to more readers, advertisers and partners through the benefits the new application offers.
Welcome to a more exciting way of consuming media.
You might also like :