BPJSTKU application wins ASSA Recognition Award in Vietnam

Jakarta, Indonesia |

Thu, September 20, 2018

| 03:09 pm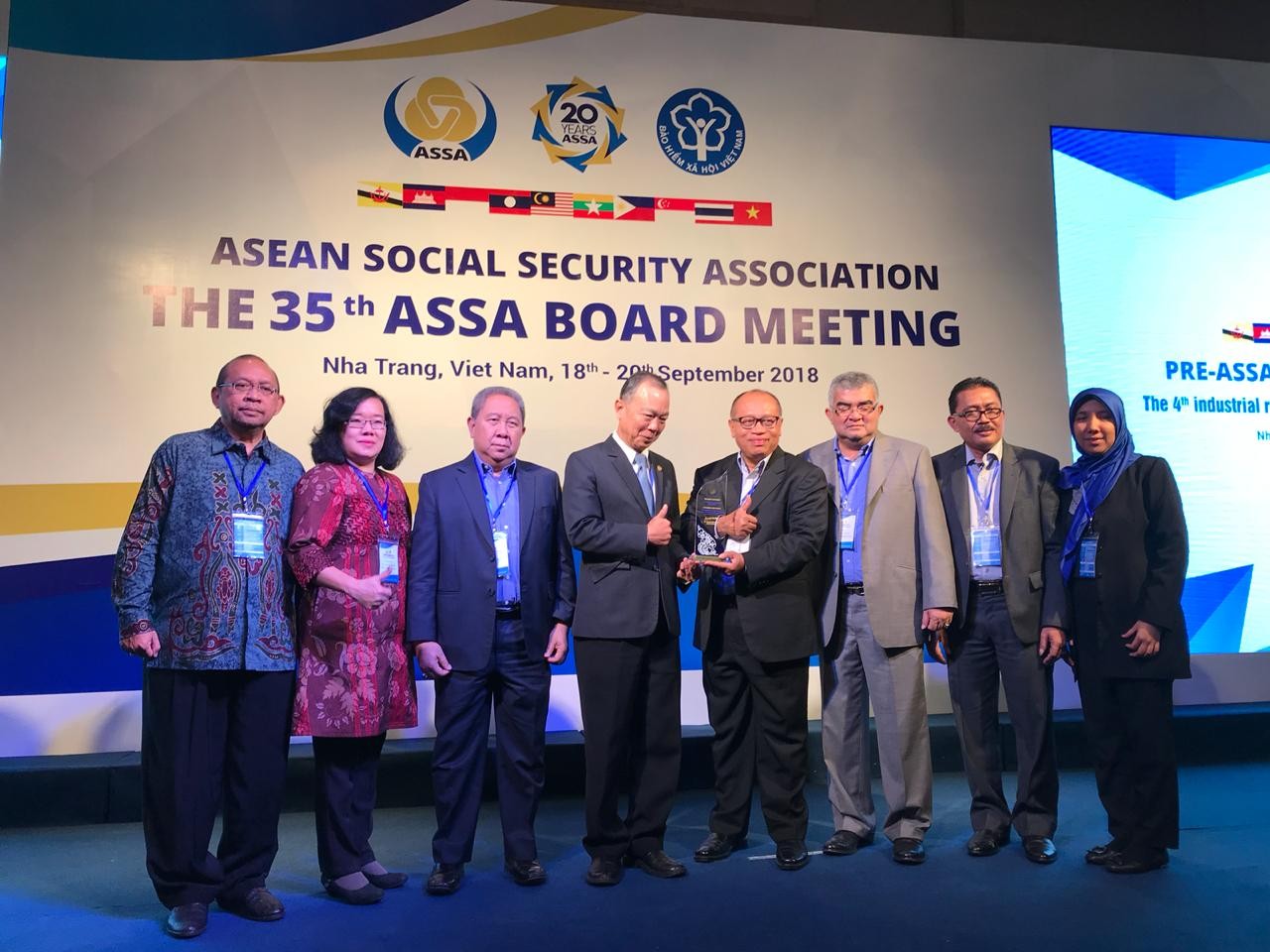 . (./.)
The Workers Social Security Agency (BPJS Ketenagakerjaan) made another international-scale achievement after winning an ASEAN Social Security Association (ASSA) Recognition Award in the information technology category.
ASSA awarded BPJS Ketenagakerjaan for empowering Indonesia's social security through its BPJSTKU mobile application.
ASSA chairman Suradej Waleeittikul presented the award to BPJS Ketenagakerjaan president director Agus Susanto during the 35th ASSA Board Meeting in Nha Trang, Vietnam, on Tuesday in front of the representatives of 20 social security organizations in ASEAN.
ASSA recognized the BPJSTKU application for its digital service that provides ease of use for all members of the Workers Social Security program across the country.
"This award serves as motivation for us to keep developing our digital service facility in response to participants and members of the public who desire fast access to information and services in this digital era," Agus said.
BPJSTKU, a development from the previous application BPJSTK Mobile, is the latest innovation of BPJS Ketenagakerjaan in providing information and services to its participants.
Since being developed in 2017, the BPJSTKU application has been downloaded by more than 1 million users and has stayed on top of the financial application ranking on Google Play Store.
The latest version of the BPJSTK mobile application offers various new features, such as program information, new membership registration, balance inquiry and digital card that eliminates the hassle of carrying a physical card.
Through the application, members can also check social security payments made by their employers and receive instant notification from BPJS Ketenagakerjaan of possible payment mismatch in their accounts.
Members can easily claim social security through the e-claim feature and skip the line through the online queuing facility.
The BPJSTKU application also offers a list of merchants, restaurants and hotels across Indonesia that partners with BPJS Ketenagakerjaan.
Now, nonwage recipients (BPU) can register through the application so they can receive their social security benefits instantly without having to visit a BPJS Ketenagakerjaan office.
The application also enables Indonesian migrant workers overseas to register and avail of the benefits of the BPJS Ketenagakerjaan program. BPJS Ketenagakerjaan has been providing social security coverage for Indonesian migrant workers since Aug. 1, 2017.
BPJS Ketenagakerjaan will continue to perfect the application to face the digital era and in response to the shift to the digital paradigm. The agency will also continue to offer services at is offices to cater members who choose not to use the application.