Experiencing Tokyo Disneyland to the fullest

Jakarta, Indonesia |

Tue, October 30, 2018

| 12:01 am . (Photo Courtesy of Tokyo Disney Resort/.)
You perhaps think that a theme park will give more joy to the kids than to you.
However, it is not the case if you spend the holiday in one of the happiest places on earth, Tokyo Disneyland, which features Mickey Mouse and the rest of the Disney Characters that you watched growing up. At Tokyo Disneyland in Tokyo Disney Resort, your whole family will see Mickey and Donald come to life and sweep you away into the fantastic world.
The little ones will be immersed in the Toy Story universe in Buzz Lightyear's Astro Blasters, a laser-shooting game attraction, where they will join forces with Buzz Lightyear to defeat the evil Emperor Zurg.
A very exciting parade will come your way after you have lunch. The daytime parade "Dreaming Up!" is celebrating the 35th anniversary of Tokyo Disneyland, and Mickey, Cinderella, Snow White, Peter Pan and other pals will appear. You will be impressed by colorful floats, the unique costume of each character and the bouncy music.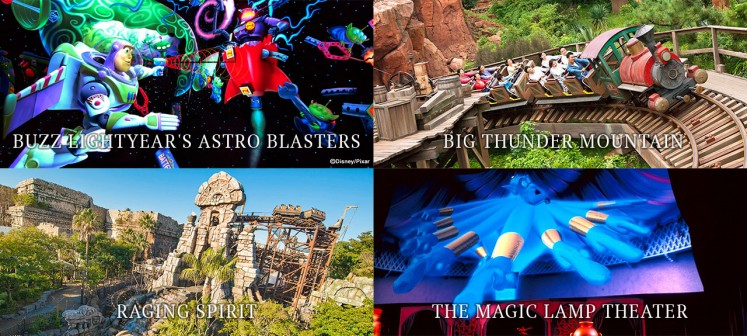 . (Photo Courtesy of Tokyo Disney Resort/.)
Tokyo Disneyland is brimming with rides and other attractions that suit all ages and tastes, from the whimsical adventure with Winnie the Pooh in Pooh's Hunny Hunt to the wild train ride through the old, abandoned gold mine in Big Thunder Mountain.
The Tokyo Disney Resort Vacation Packages also feature a Passport ticket that enables your family to hop between Tokyo Disney Resort's two parks: Tokyo Disneyland and Tokyo DisneySea – the only Disney Park in the world inspired by the sea. You will get Disney Resort Line Day Passes so you can ride the Disney Resort Line monorail to reach the Parks and other destinations in Tokyo Disney Resort.
There is also so much to do, see, ride, explore in Tokyo DisneySea, including Raging Spirits, an exciting roller coaster with a 360-degree loop, and The Magic Lamp Theater, a magic show with the world's "greatest" magician, Shaban, and the Genie.
But you explore in the Parks from morning and you may get too tired to wait in long queues. With Disney FASTPASS tickets included in Tokyo Disney Resort Vacation Packages, you can enjoy a selected number of attractions with less waiting time.
As the sun goes down, it will be perfect to end your Tokyo DisneySea adventure with "Fantasmic!", a spectacular show of water, lasers and fire where Mickey Mouse uses his powers of imagination to create a magical world of fantasy on the waters of Mediterranean Harbor.
Tokyo Disney Resort Vacation Packages offer everything that your family needs to have a comfortable, memory-filled adventure in Tokyo Disney Resort. The packages include a Free Drinks Ticket for you to grab a selection of free drinks at participating locations in the Parks. Each visitor can also take home one of the Vacation Package original goods.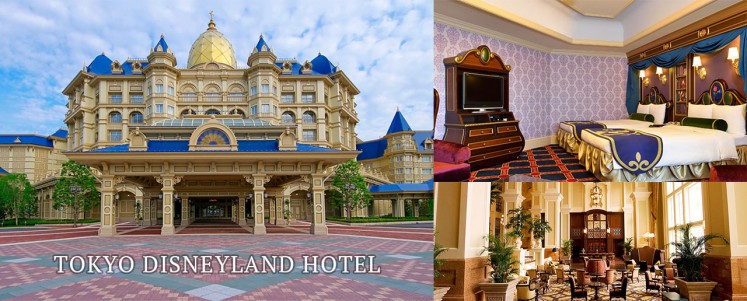 . (Photo Courtesy of Tokyo Disney Resort/.)
If you are interested to have a Disney experience during your entire stay, Tokyo Disney Resort Vacation Packages offer you the choice of staying in one of the Disney hotels, such as the Victorian-style Tokyo Disneyland Hotel or the Disney Ambassador Hotel, which combines Art Deco style with Disney magic.
The standard plan of Tokyo Disney Resort Vacation Packages includes hotel accommodations for one or two nights and breakfast; multi-day Passport tickets; and free drink tickets for two or three days. Each person will get three to five Disney FASTPASS Tickets, a show ticket and Vacation Package original goods.
The "Enjoy Lots of Attractions" Package Plan is perfect if your family wants to spend the entire day at the Parks as the package plan offers more FASTPASS tickets – six to eight tickets per person – aside from hotel accommodations and breakfast, Park tickets, and free drink tickets similar to the standard plan.
Get ready to have a convenient, fantasy-filled adventure with Tokyo Disney Resort Vacation Packages.
You can find out more about Tokyo Disney Resort Vacation Packages here.