UI organizes open house filled with talk shows, campus tour
Inforial

The Jakarta Post
Jakarta, Indonesia |

Fri, November 23, 2018

| 01:49 pm Public event: Participants crowd the University of Indonesia's (UI) campus auditorium in Depok, West Java, for an open house on Nov. 17. The event sought to create a discussion and engaging platform between UI and the public. (Photo courtesy of UI/.)
The University of Indonesia (UI) recently held its 18th open house to introduce its campus to the public and engage with the wider community.
Through the open house program, UI aims to change people's perception that the university is an exclusive community open to its faculty only.
This year, UI opened its doors of its compound in Depok, West Java, on Nov. 17 and 18, presenting talk shows by the university's alumni who had become successful their respective fields, along with a campus tour using UI's famous yellow bus Bikun, short for bis kuning (yellow bus).
This year, UI themed its open house, Perceptions, in line with its effort to alter the public perception of higher education institutions. UI seeks to let the public know that these institutions, including UI in particular, are inclusive and are striving to engage a wider public in its intellectually enriching activities.
The open house comprised three main events: university insight, which featured talk shows from successful UI alumni; school insight, which gave participants a campus tour to visit the university's various schools; as well as the department insight, where the university set up booths informing participants on the curricula of its various study departments.
Highlights of the event included the talk shows, featuring prominent UI alumni, such as news show host Najwa Shihab, who had graduated from UI's school of law before pursuing a career in television and going on to get her master's degree from Melbourne University in Australia in 2008.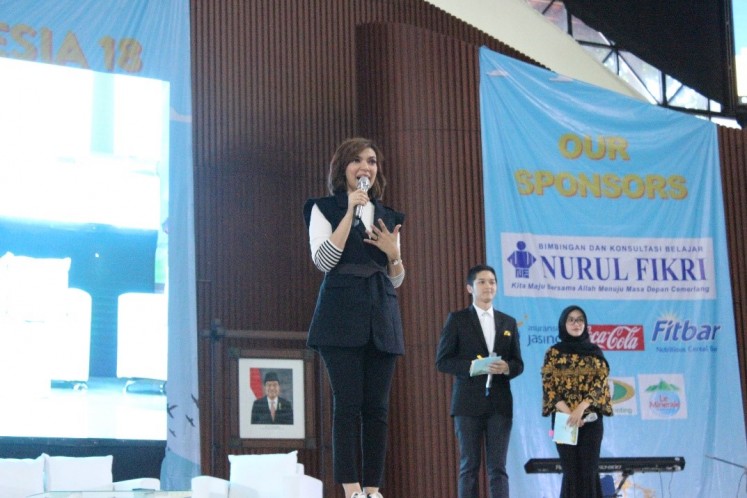 Pep talk: Successful news show host Najwa Shihab, an alumna of the University of Indonesia's (UI) school of law, shares her secrets to success during a talk show at the UI open house on Nov. 17. Najwa advised students to read a lot to be a successful professional. (Photo courtesy of UI/.)
Najwa is famous for her television show Mata Najwa (Najwa's Gaze), where she scrutinizes public officials, politicians and other public figures in an analytical talk show. During her sharing session, she said that she had become a critical thinker who could dissect complex socio-political issues thanks not only to her training in law school, but also owing to her voracious reading habit.
"To become a successful Indonesian youth, there is one key you should always use: read a lot," she emphasized during her presentation.
A different panel of the event's talk show series featured actresses and singers Rachel Amanda and Alika Islamadina, who also studied at UI. Alika, for one, graduated from the university's economics and business management department.
Although working in the show business industry kept Alika extremely busy, she said she had committed herself to attend to her studies properly and divide her time wisely in between gigs so she would still be able to earn her degree.
"By adhering to this commitment strongly and with strong determination, I became not merely a well-known singer and actress, but I also became an individual who possesses sound intellectual capabilities," she said.
Besides Najwa and Alika, who have become famous individuals, UI also has a low-profile student with an equally fascinating life story. He is Dzulfikar Cordova, who is currently studying at UI's economics and business school's Islamic economy department. In order to graduate from senior high school, he had to make a living by street busking in more than 100 cities across Java Island.
Fortunately, he could receive a scholarship from UI to pursue a bachelor's degree in his field.
The tour part of the open house, meanwhile, provided participants an opportunity to go to any UI school that interested them. In each school building, UI provided a tour guide, who told the participants interesting facts about the school's history and curricula.
For instance, UI's economics and business school is known as the architect of the national economy, because the school had produced two ministers, such as our current Finance Minister Sri Mulyani Indrawati and National Development Planning Minister Bambang Brodjonegoro.
To discover more about the study departments they were interested in, participants could visit booths to learn more about each department's study prospectus.