Restoration program protects critical forest ecosystem in Riau
Inforial

The Jakarta Post
Jakarta, Indonesia |

Mon, December 3, 2018

| 06:37 pm Huge area: RER manages 130,000 hectares in Kampar Peninsula, an area twice the size of Singapore (Courtesy of RER/.)
Indonesia's peatland forests are some of the most sensitive and biodiversity-rich ecosystems in the world. The Kampar Peninsula in Sumatra represents one of the last remaining Sundaic lowland tropical peat forests, providing forest habitat for various endangered species, while protecting significant reserves of carbon.
Five years ago, Restorasi Ekosistem Riau (Riau Ecosystem Restoration, RER) was set up as a collaborative project to bring together private and public sector organizations to protect and restore forest in this unique environment through numerous programs.
Located on Sumatra's eastern coastline, RER comprises 150,000 hectares of peatland forest, of which 130,000 hectares sits on the Kampar Peninsula - an area about twice the size of Singapore. A further 20,000 hectares are located on the nearby Padang Island.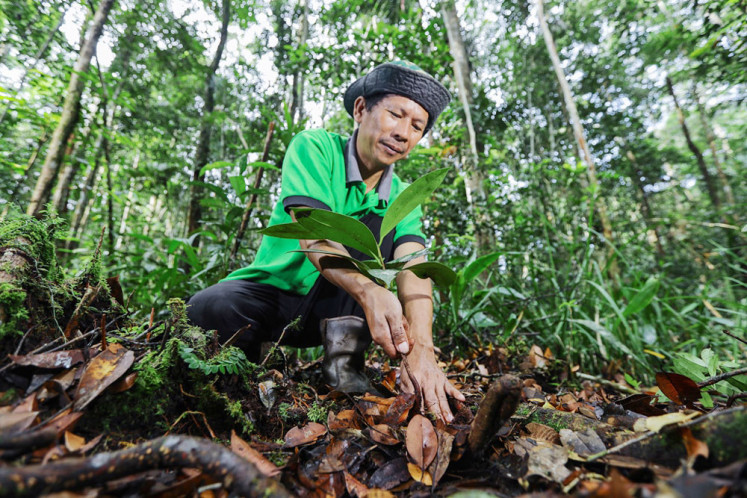 Restoration: Forest restoration at RER involves growing seedlings of native tree species from the forests it manages (Courtesy of RER/.)
Set-up by APRIL Group, a leading producer of fiber, pulp and paper, RER is managed under 60-year ecosystem restoration licenses issued by the government of Indonesia. A key element of the program is the use of an integrated production protection ring landscape model, where plantation operations on the perimeter of the restoration area not only provide protection from fire and encroachment, but also support ecosystem restoration and forest protection.
The RER program has achieved some extraordinary results since work began, including the documenting of the presence of hundreds of species of fauna and flora and the total absence of fire from the concessions. As of June 2018, there are now 757 recorded plants and animal species resident in the RER area, ranging from birds, reptiles to diversify trees and plants.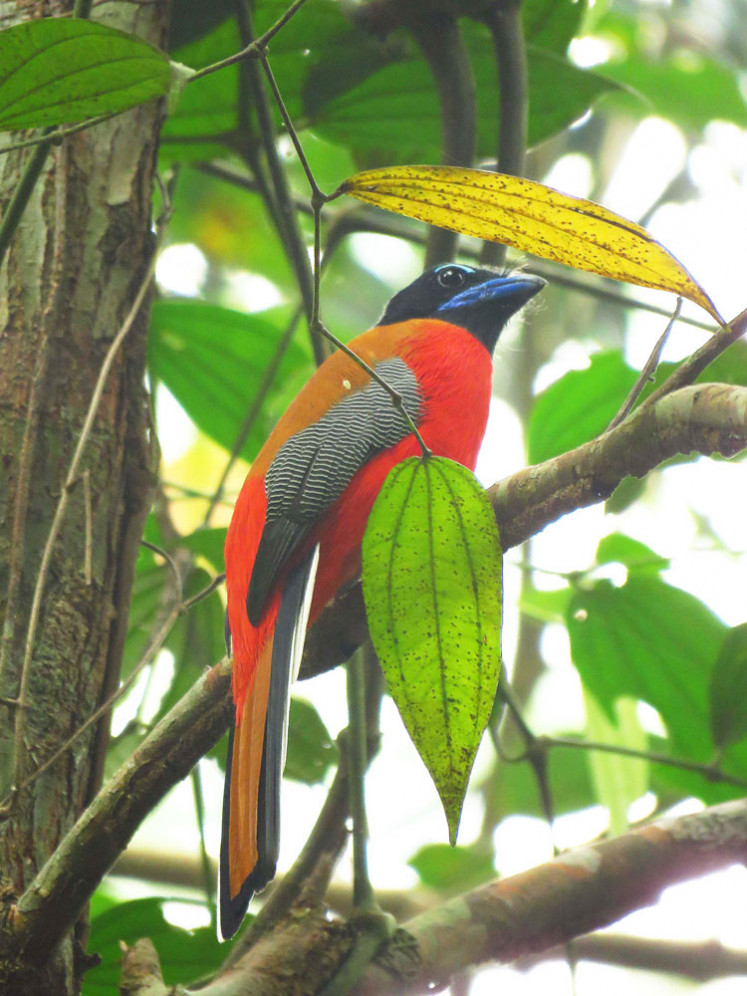 Rare bird: A male scarlet-rumped trogon, one of the resident species at RER Kampar Peninsula, is largely limited to closed-canopy lowland forest. (Courtesy of RER/.)
This builds on RER's initial biodiversity count following field studies conducted by RER partner Fauna & Flora International (FFI) in 2015. With the help of FFI and two social NGOs, BIDARA and Laskar Alam, RER has established sound working relationships with the communities surrounding the area.
Speaking recently at a reception in Singapore hosted by APRIL to mark the RER's fifth anniversary, APRIL Group Chairman and RER Advisory Board Chairman, Bey Soo Khiang, explained the motivation behind the company's support for the program.
"We support the RER because it is in line with our business philosophy that whatever we do must be good for the community, the country, the climate and our customers and only then will it be good for company," he said.
RER contributes to APRIL's commitment to conserve one hectare of forest for every hectare of plantation. The RER programs are supported by a US$100 million investment by APRIL to support and secure long-term conservation and restoration initiatives, which was announced in 2015.