Indonesia could play key role in tackling aviation impacts
Elly Burhaini Faizal

The Jakarta Post
Leipzig, Germany |

Fri, May 20, 2016

| 11:33 am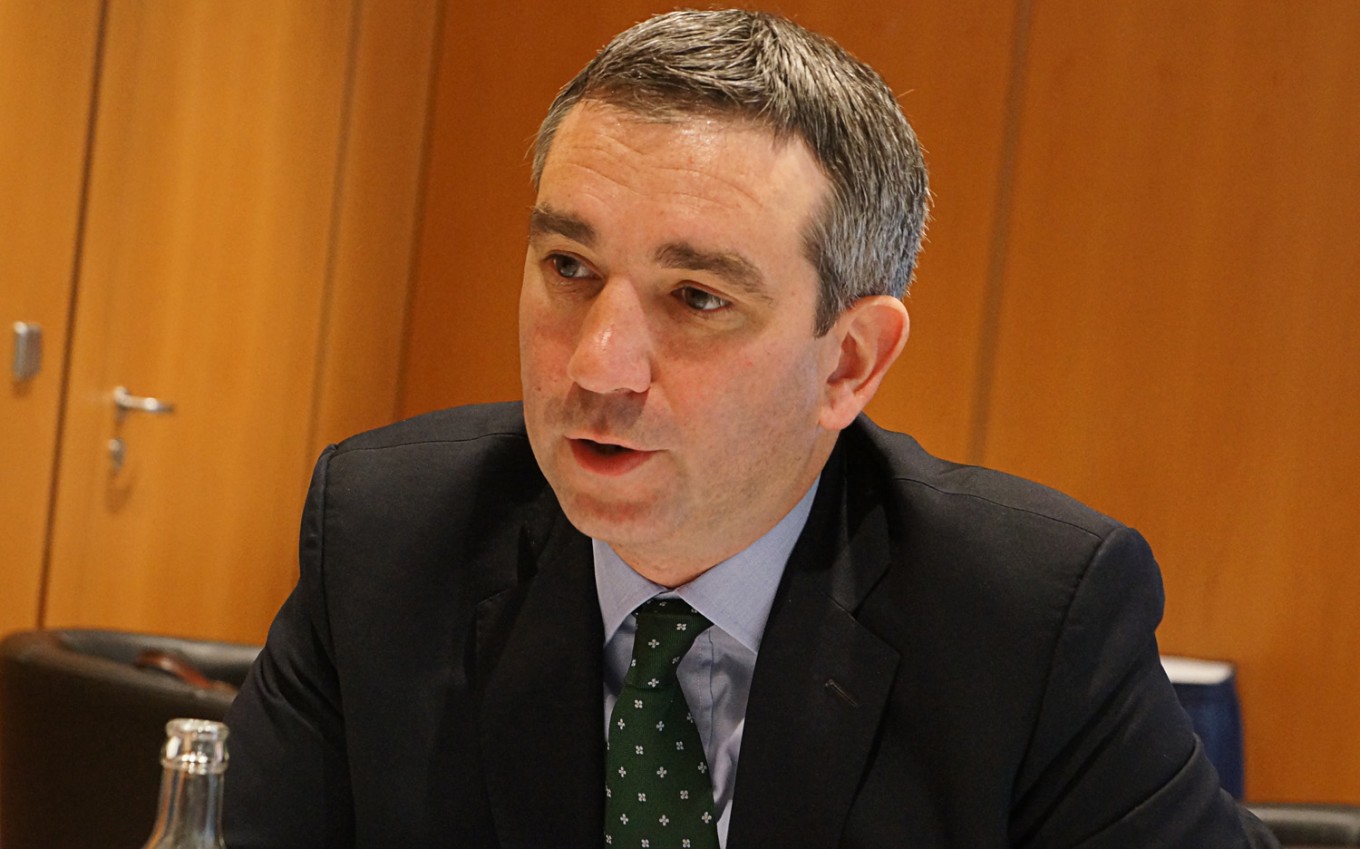 Green aviation – Air Transport Action Group (ATAG) executive director Michael Gill discusses green aviation initiatives with journalists on the sidelines of the 2016 International Transport Forum (ITF) Summit in Leipzig, Germany, on Thursday. (thejakartapost.com/Elly Burhaini Faizal)
With its significant market growth, Indonesia has the potential to achieve a balance between allowing the country's aviation industry to continuously expand and ensuring that it grows with a responsible approach to climate impacts, an expert has said.
Air Transport Action Group (ATAG) executive director Michael Gill said that with four key areas set up by the International Civil Aviation Organization (ICAO), the world's aviation industry could continue to grow while simultaneously taking a cost-effective approach to deal with its environmental impacts.
The four key areas are technology and sustainable alternative fuels, operations, infrastructure and market-based measures.
"We want that Indonesia's aviation industry can continuously grow to provide social and economic benefits to its society. But, we'd also like to balance the ability of the aviation industry to grow with a responsible approach to climate impacts. And that's why we've set the four key areas to help us achieving our climate targets," Gill told thejakartapost.com on the sidelines of the 2016 International Transport Forum (ITF) Summit in Leipzig, Germany, on Thursday morning, local time.
During the 2015 meeting, leaders from the aviation industry and the global business community set up three carbon reduction goals: first, to improve the fuel efficiency of the world fleet by an average 1.5 percent per year, a goal the industry claims it has exceeded; second, to stabilize net aviation CO2 emissions at 2020 levels through carbon-neutral growth; and third, to halve aviation's net CO2 emissions by 2050, compared with a 2005 baseline.
"We will achieve them with four pillars of strategies, which are focused on new aircraft technology and the development of sustainable alternative fuels, better use of operational measures, more efficient aviation infrastructure, and the development of economic measures, market-based measures for aviation in form of a mandatory global off-setting scheme," Gill said.
It is expected that the global market-based measures for aviation, which will be developed through the ICAO, will be in place from 2020 onwards. The industry considers a single global carbon offsetting scheme to be the swiftest and most effective approach.
Gill said one significant area in Indonesia was the country's commitment to develop sustainable alternative fuels. "I'm sure that the Indonesian government is currently examining the implementation of its sustainable alternative fuel mandates, [under which] fuels must come from sustainable sources. We believe it is an area Indonesia [in which] can become a leader," he said.
Gill further explained that new aircraft and new types of engines were expected as the aviation industry invested billions of dollars every year in new technology. Citing ICAO data, he said civil aerospace spent US$15 billion per year on efficiency-related research and development (R&D).
"This is what we currently spend. What we need to support us to meet the 2020 target is in the area of economic regulation, on the market-based measures. When you combine that with the current level of investment in new technology, initiative in infrastructure and operational spaces, we will meet the 2020 goal," said Gill.
"The important thing [...] is to see more significant investment in new technology, and the use of sustainable alternative fuel sources to achieve the 2050 goal. So, our message to the governments is to continue to invest in new technology, R&D. We don't want to mention the figure, but we want to just call on the governments to support the aviation industry," he went on.
Climate talks – Canadian Transport Minister Marc Garneau discusses green, efficient and inclusive transportation during the opening plenary of the 2016 International Transport Forum (ITF) Summit in Leipzig on Wednesday. (thejakartapost.com/Elly Burhaini Faizal)
Earlier, International Air Transport Association (IATA) director general and CEO Tony Tyler said the mandatory offsetting scheme would reduce CO2 production in the aviation industry. He rejected the idea of carbon taxes,which many people have praised as a measure to mitigate the environmental impacts of aviation.
"Arguments, which say that by making fuel a lot more expensive then people will stop using it, will lead the aviation industry to shrink," Tyler told journalists after the 2016 ITF Summit opening plenary on Wednesday.
"Nobody wants aviation to shrink. Aviation is a powerful engine of economic development, particularly for developing countries. If they want to be successful in the economy, they need aviation. […] So just simply making fuel a lot more expensive will not reduce the fuel being burned," he went on.
Tyler praised the government's progress in improving the country's aviation industry. "The prospects of the aviation industry in Indonesia are very positive. It's a country with a huge population. It has islands. Aircraft are a lot faster and a lot more efficient. It's very safe as well," he said.
"The [Indonesian] government has made good investments in infrastructure, building airports. It's a very good investment. We see new carriers with new aircraft. Garuda transformed itself recently. It provides a good service and it's a good airline."
In 2013, during the last ICAO General Assembly, which takes place every three years, governments decided to develop market-based measures for aviation that could be implemented from 2020. "We have been focusing our works both on a technical level and implementing processes and standards that we need so the system can work on a global scale," said Gill. At the political level, the process is ongoing to redefine the parameters of the agreement and obligations that need to be followed.
"The process has been running in a good fashion; we are encouraged by the way the discussion has come forward," said Gill.
"The latest development was last week, in which there was a high level meeting in Montreal, our meeting to negotiate and discuss the future of market-based measures. What we want to happen is the achieving of an agreement in the next ICAO Assembly in September 2016," he said.
Topics :
You might also like :
Comments