Another alleged Santoso follower nabbed
Ruslan Sangadji

The Jakarta Post
Palu, Central Sulawesi |

Fri, June 17, 2016

| 11:59 am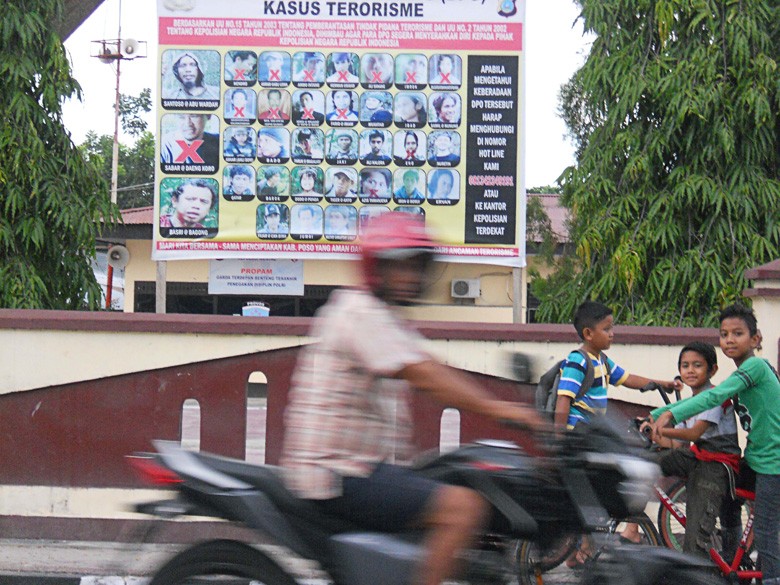 Wanted – Billboards emblazoned with pictures of terrorists on the police's most-wanted list have been set up in several strategic places across Poso regency, Central Sulawesi, including in front of the Poso Police office on Jl. Pulau Sumatera. (thejakartapost.com/Ruslan Sangadji)
An alleged follower of Indonesia's most-wanted terrorist Santoso was arrested by the Operation Tinombala task force on Thursday evening in a village in Poso Pesisir subdistrict, Poso regency, Central Sulawesi.
Security personnel arrested Samil, aka Nunung, at 6:50 p.m. after maghrib prayer, Central Sulawesi Police chief Brig. Gen. Rudy Sufahriadi said on Thursday.
"He was arrested when hiding at his family's house in Lape village, Tamanjeka," he said, adding that a local tipped off security personnel about Samil's presence in the village.
After receiving the information around 2 p.m., Operation Tinombala personnel confirmed the news by visiting the village. After establishing Samil's whereabouts, security personnel from several posts gathered in Tamanjeka to conduct a raid and apprehend Samil.
Rudy did not provide further details about Samil's return to the village.
Samil was taken to Lape village by security personnel for further questioning.
Following the arrest, the number of East Indonesia Mujahidin terrorist group members, led by Santoso, is believed to be down to 20 people. The guerilla group, which is hiding in mountainous forested areas of Poso and is notorious for security disturbances and violence against the police, is the target of the 3,500-member Operation Tinombala, launched in January. (rin)
Topics :
You might also like :
Comments