NEWS ANALYSIS: Green cars support auto sales in second quarter
News Desk

The Jakarta Post
Jakarta |

Mon, August 8, 2016

| 06:51 am Journalists check out a low-cost green car (LCGC) during an exhibition last year. (JP/R. Berto Wedhatama)
National automotive sales have recovered in the second quarter of this year compared with the same period last year.
According to the Association of Indonesian Automotive Industries (Gaikindo), the automotive industry sold 264.000 cars from April to June 2016, 9 percent more than in the same period of last year.
Indonesian market leader Astra International sold 146.000 cars in the three-month period, up 16 percent from the same period in 2015. But the higher unit sales did not translate into a similar increase in revenue.
Astra, which controls 54 percent of the national car market, reported a 1 percent decline in revenue in the second quarter 2016 from the same period last year.
The company posted sales of Rp 24.8 trillion (US$1.9 billion) in the April-June quarter, down from Rp 25.1 trillion in the same period last year.
(Read also: Car makers start to see sales improvement)
Other players also witnessed falling sales, including Suzuki and Nissan's distributor Indomobil, which booked Rp3.12 trillion in sales in the second quarter this year compared with Rp 3.6 trillion in the same period last year.
A closer look at the data shows that low-cost green cars (LCGC) dominated the Indonesian automotive market in the second quarter, attracting lower-income buyers but reducing overall sales.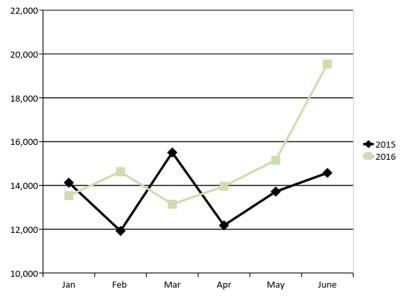 Chart: National LCGC sales (in units) Jan-June 2015 & 2016 (Data/Bareksa)
According to the data, LCGC sales rose 20 percent year-on-year to 48.600 units in the second quarter, while conventional cars sales only grew 9 percent this year.
Astra, which commands a market share of more than 60 percent with two mainstays, Agya and Ayla, sold 30.000 of the small-engine cars in the second quarter 2016. Although the overall sales value fell, simultaneously falling production costs for LCGCs saw margins improve.
Astra's automotive operating margin increased to 12 percent this year from 11 percent last year. Profit from automotive sales also increased significantly, rising 26.8 percent year-on-year to Rp 2.2 trillion from Rp1.8 trillion last year.
Welcoming this trend, Astra launched two new variants of LCGCs, the Toyota Calya and Daihatsu Sigra. Offered at prices from Rp100 million to Rp150 million per unit, those models are expected to repeat the success of the Toyota Avanza and Daihatsu Xenia.
The country's second biggest automotive player, Indomobil, also recorded an operating margin of 12 percent this year, up from 11 percent in 2015. The company, however, booked a net loss due to significant interest expenses.
Indonesia's car sales slumped by 16 percent to 1.01 million units last year from 1.2 million in 2014. Gaikindo has projected that car sales will hit around 1.05 million units this year, while market research company Frost and Sullivan has predicted a 4.3 percent decline. (dan)
Source and data by Bareksa
Topics :
You might also like :
Comments