Defamation article highlighted in social media literacy campaign
Arya Dipa

The Jakarta Post
Bandung, West Java |

Thu, September 1, 2016

| 01:55 pm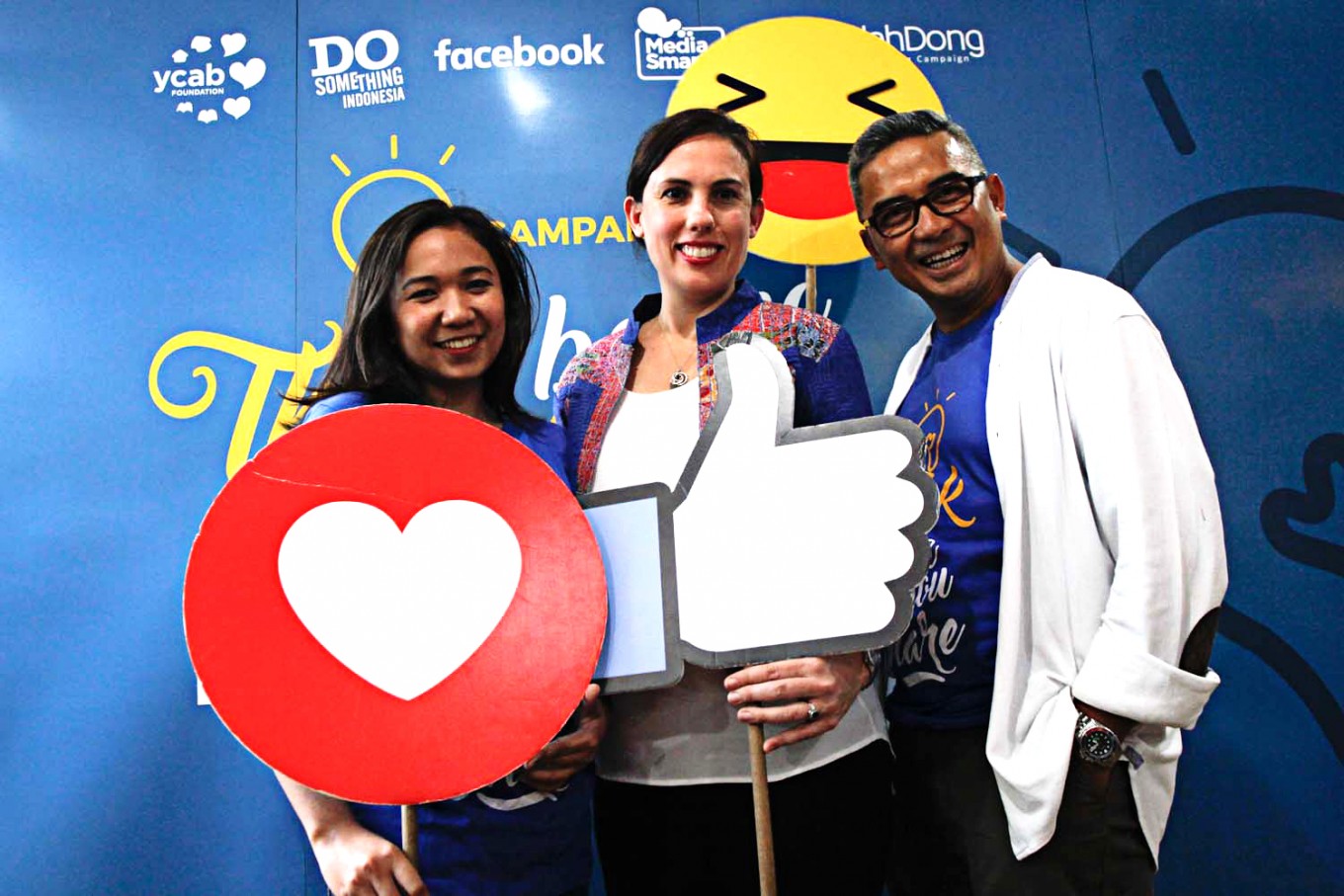 Stop bullying – Antibullying community Sudah Dong spokesperson Fabelyn Baby Walean (left to right), Facebook's head of Asia Pacific economic growth initiatives Clair Deevy and youth development foundation Yayasan Cinta Anak Bangsa's (YCAB) secretary-general Muhammad Farhan pose for a picture after the launch of the Think Before You Share campaign at Eduplex in Bandung, West Java, on Wednesday. (thejakartapost.com/Arya Dipa)
A controversial article on online defamation in the Internet and Electronic Transactions (ITE) Law has become one of the main points highlighted in a recently launched social media literacy campaign.
Initiated by youth development foundation Yayasan Cinta Anak Bangsa (YCAB), the Think Before You Share campaign began from a widespread fear over the growing use of social media, which allows anybody to share unlimited content via the internet.
YCAB secretary-general Muhammad Farhan said social media had been used to spread not only positive but also negative content, including bullying.
"We are calling on Indonesian youth communities to first think thoroughly about the impacts that may come from messages they want to spread via social media networks," Farhan said during the campaign launch in Bandung, West Java, on Wednesday.
"We also want to spread guidance [on the use of social media] for parents because families play a crucial role in shaping children's mindsets and behavior."
The Think Before You Share campaign, a collaboration between YCAB and antibullying community Sudah Dong with support from Facebook, aims to provide young Indonesians and their parents with tips and tricks on positive content sharing via social media.
"Hopefully, during adulthood, they can exercise their right to freedom of expression in a responsible way," said Farhan.
The campaign has taken place in several cities such as Bandung; Balikpapan, East Kalimantan; Denpasar, Bali; Malang, East Java; and Palembang, South Sumatra.
"Empowering the community is very important for us. They can make a report to us if something has gone wrong. We have the tools to help the community," said Clair Deevy, head of Asia Pacific economic growth initiatives at Facebook. (ebf)
You might also like :
Comments