Police seize suitcases of fake cash following arrest of 'money multiplier'
Andi Hajramurni

The Jakarta Post
Makassar |

Tue, October 4, 2016

| 10:30 pm South Sulawesi Police chief Insp. Gen. Anton Charliyan on Tuesday shows the fake money confiscated from the late Najmiah, supposedly a victim of fraud of Dimas Kanjeng Taat Pribadi. (JP/Andi Hajramurni)
South Sulawesi Police in Makassar have confiscated a chest containing 500 bars of fake gold and three suitcases of fake money from the house of a deceased property agent at Hasanuddin University's lecturer housing complex.
The incident on Tuesday seems to be connected to the recent arrest of Dimas Kanjeng Taat Pribadi, who rose to prominence for his supposed ability to multiply money.
Police chief Insp. Gen. Anton Charliyan said the property agent, Najmiah, had joined Dimas Kanjeng Taat Pribadi's group in 2013 and had sent a total of Rp 202 billion (US$15.5 million) to Kanjeng gradually, sometimes in cash, sometimes in bank transfers.
She apparently believed Kanjeng could multiply her money, not realizing that the gold bars and cash sent to her from Probolinggo, East Java, were fake.
Najmiah, who died in May, received nine suitcases of fake money, but she sent five back for containing fake money. She also kept the chest, called the magic chest. The suitcases contained money, while the chest held gold bars of 999.9 grams each, all fake, according to Anton.
The fake money was in several currencies besides rupiah, namely in euro, won, baht, Cambodian riel, and Iranian rial. It was printed on regular offset paper.
The chest and the suitcases were stored in a new house next to Najmiah's house.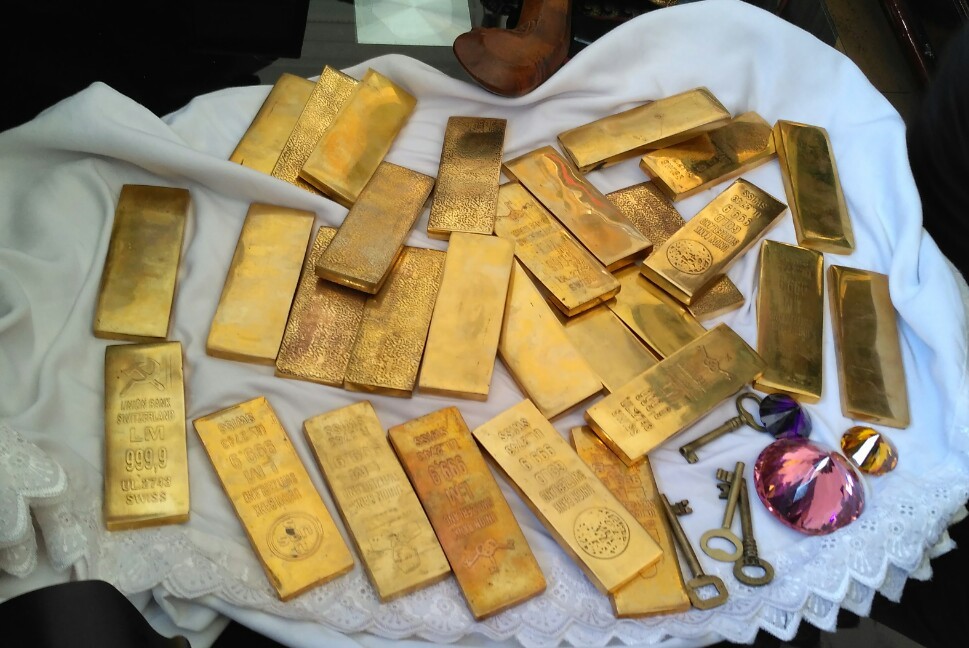 South Sulawesi Police seized fake gold bars from the house of a person connected to suspected fraudster Dimas Kanjeng Taat Pribadi in Makassar.(JP/Andi Hajramurni)
The chest and suitcases would be sent to East Java Police, where Kanjeng is detained, Anton said. It was Najmiah's son who had reported Kanjeng for fraud.
Ali, 45, Najmiah's relative, said Najmiah had visited Kanjeng several times because she had known that the money and gold bars were fake. She died several days after she had gone to see Kanjeng, according to Ali.
Police said the money Najmiah had sent to Kanjeng was not all hers. She was not only Kanjeng's loyal follower, but also a recruiter of more followers. Najmiah was the wife of an emeritus professor at Hasanuddin University, Abdul Muin Liwa.
Andi Mahir, 42, a resident in the housing complex, said Najmiah would receive guests every day. Many people wanted to join Kanjeng after hearing Najmiah's explanation, including Mahir herself. "First she took me to a Quran recital and then to join Kanjeng. Najmiah said if we sent money to Kanjeng, we could get it back multiplied by 100", she said. Mahir said she had wanted to join two years ago, but when she told her husband and children, they prohibited her from joining, saying it didn't make sense.
After 2015, many people reportedly came to Najmiah's house to ask for their money. She suspected that Najmiah was under a lot of stress because of that.
Anton said there were an estimated 3,000 followers of Kanjeng in South Sulawesi, but none of them had reported Kanjeng to the police. (evi)
You might also like :
Comments