Angkasa Pura I sells bonds for airport development
Jakarta |

Tue, October 18, 2016

| 07:56 am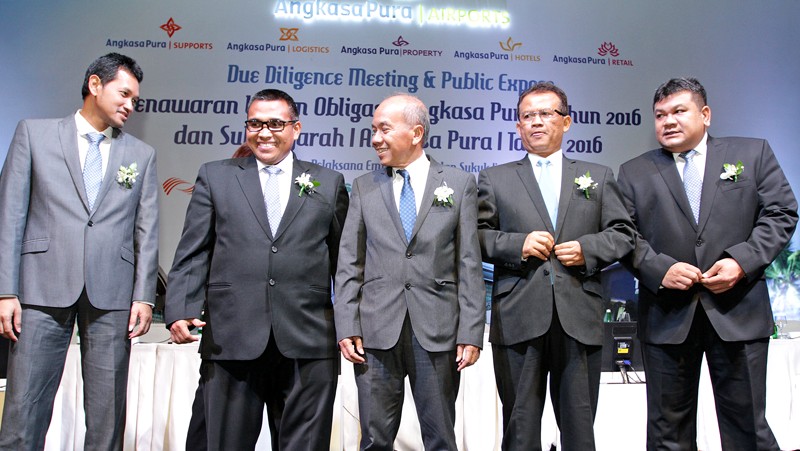 Get ready: State airport operator Angkasa Pura I's human resource development and general affairs director Adi Nugroho (from left to right), financial and IT director Novrihandri, president director Sulistyo Wimbo Hardjito, marketing and business development director M. Asrori and operational director Wendo Asrul Rose prepare for a photo session following the public expose event of Angkasa Pura I's bonds issuance to raise Rp 3 trillion (US$229.81 million) for expansion. (JP/Donny Fernando)
State-run airport operator Angkasa Pura I (AP I) is set to sell debt papers to finance the development of five airports in Java, Kalimantan and Sulawesi.
The company, which operates 13 airports in central and eastern Indonesia, hopes to generate Rp 3 trillion (US$229.81 million) in fresh funds, consisting of Rp 2.5 trillion from the sale of conventional bonds and Rp 500 billion from Islamic bonds or sukuk.
The proceeds will help finance the development of Yogyakarta's new airport in Kulon Progo and improvements at Ahmad Yani International Airport in Semarang, Central Java; Juanda International Airport in Surabaya, East Java; Syamsudin Noor International Airport in Banjarmasin, South Kalimantan, and Sultan Hasanuddin International Airport in Makassar, South Sulawesi.
As much as Rp 7 trillion is needed for the five projects by the end of this year. In total, AP will need Rp 39 trillion for the next four years.
AP I technical director Polana B. Pramesti said on Monday the projects in Semarang and Banjarmasin aimed to accommodate up to 6 million passengers and would be completed in the middle of 2018.
Meanwhile, the construction of the new airport in Yogyakarta is expected to begin in 2017.
"We have disbursed around Rp 2.1 trillion in funds from the Rp 4.1 trillion allocated for land purchase. I hope the process can be completed by the end of this year," Polana said on the sidelines of a press conference on the bond issuance.
The new airport will be able to accommodate 15 million passengers.
President Joko "Jokowi" Widodo has called on the company to finish the construction of the new airport by 2019 as passenger traffic continues to rise at the current Adisutjipto International Airport, which is a military airfield shared for commercial purposes.
The Adisutjipto airport has an intended capacity of only of 1.5 million passengers annually but in fact serves 3.5 million passengers per year.
Expansion work at the airports in Surabaya and Makassar is expected to be completed by 2020.
AP will expand the existing terminal at Sultan Hasanuddin and construct one new terminal and two additional runways at Juanda. However, it says it needs to carry out feasibility studies to obtain proper projections.
AP I finance and ICT director Novrihandri said 75 percent of the bond issuance proceeds would be allocated for the expansion of the five airports, while the remaining 25 percent would be used to improve the quality of current services at those airports.
"We also want to upgrade our existing services by providing more parking areas and Wi-Fi," he said.
The book building period of the bond sale will run until Oct. 31, while the offering period will be from Nov. 14 to 15. The debt papers will be listed on the Indonesian Stock Exchange (IDX) on Nov. 21.
AP I has appointed Bahana Securities, Danareksa Sekuritas, Mandiri Sekuritas and BCA Sekuritas as underwriters for the bonds, which consist of three series.
The A series will offer between 7.45 percent 8.20 percent in coupon rate and will mature within five years. The B series carries a coupon of 7.95 percent to 8.70 percent and will be due after seven years.
The C series will comes with a coupon of 8.10 percent to 8.85 percent and a maturity period of 10 years.
The company secured Rp 4 trillion worth of syndicated loans from five financial institutions in August for a number of new construction and renovation projects.
The institutions are state infrastructure financing companies Sarana Multi Infrastruktur (SMI) and Indonesia Infrastructure Finance (IIF), state-owned lenders Bank Mandiri and Bank Rakyat Indonesia (BRI) and private lender Bank Central Asia (BCA). (wnd)
Topics :
You might also like :
Comments